40 Cheap Things That Make Your Backyard 10x Nicer
Easy, affordable ways to upgrade your outdoor seating, lighting, and decor.
by Christina X. Wood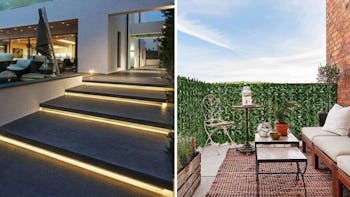 Amazon
We may receive a portion of sales if you purchase a product through a link in this article.
When the weather is nice, I want to go outside and enjoy it — and my favorite place to hang out is my own backyard. If you're as determined as I am to create an outdoor haven, there are tons of cheap things that make your backyard so much nicer, and I've collected some of my favorites below. And since you'll be hanging out at home, these items can also help you save money in the long run.
For example, instead of spending a small fortune at the movies, you can have your own outdoor movie night with a mini projector and portable movie screen. And instead of going out for dinner and drinks, you can cook on a portable charcoal grill and fill up this cooler with your favorite beverages. Bonus: The cooler also doubles as a table, so you'll have a place to rest your drink while you relax. That's not all — you'll also find ways to upgrade your outdoor seating, lighting, and decor, and each item is easy to set up in no time.
If you're ready to make your backyard way nicer without spending a lot, read on for affordable items that'll make your outdoor space inviting and comfortable.
1. These hanging plants for no-labor greenery
You can instantly create a lush atmosphere in your backyard with these artificial hanging plants. Sold in a set of three, each of these fabric ivy plants is over 3 feet long and 9 inches wide, so they will create lots of believable greenery that requires no maintenance or care.
2. These raindrop LED lights to brighten up your space
These raindrop lights easily hang from strings around your space and create a stunning light display. They come in a pack of 10 that you can hang in a row, or distribute around your space to disperse light and good vibes. They're available in several colors within the listing.
3. This quick privacy fence that looks like ivy
Just unroll this artificial ivy privacy screen and attach it to your fence or balcony to create a backyard hideaway. The durable, fade-resistant ivy looks lush year-round, and you don't have to wait for actual plants to grow or water anything. The privacy fence is easy to install with zip ties or double-sided tape, and there are six sizes to choose from.
4. This set of solar torch lights for the lawn
These solar torch lights create a flickering flame effect that looks like the real thing — but these are flameless and waterproof, so they'll never burn out. They charge with the sun and turn on automatically at sunset, providing up to 12 hours of light in the summer. Choose from packs of two and four.
5. This fun backyard game that's so easy to play
Backyard games are a super fun way to liven up your space, and this popular yard game is easy to play. You put a glass of water or a drink on top of each of the stands and take turns trying to knock them over with a frisbee. This is a best-seller on Amazon for a reason: It's really fun to play.
6. An insect-trapping device you can use for buggy backyards
This device uses electricity, UV light, and suction to trap any mosquitoes or insects in your space. Reviewers also love using this to help catch bugs that are lurking near their outdoor plants. One reviewer says, "Totally worked to save our outdoor potted plants during the winter! My husband was thankful I didn't see any fruit flies in the house!!"
7. Clips for hanging string lights without any damage
A string of lights can elevate any space, but they can be tricky to hang in your space especially if you're looking to avoid damaging paint or surfaces on your house. These deck clips make it easy to clip any string of lights wherever you want, so you can create a fantastic outdoor atmosphere and enjoy your yard late into the evening.
8. This bench that easily converts to a table
If you have a spot in your yard that's begging for a bench, this convertible frame is a fast, easy, and inexpensive way to turn that spot into a place to pause and rest. It quickly converts from a bench to a table with seating on one side. You can fit this clever frame with any wood you like to create a customized bench and table that match your aesthetic and budget.
9. A patio umbrella to shade you from the sun
If the thought of too much sun exposure is keeping you indoors, set this patio umbrella down next to your lounge chair to create the perfect shady spot. The umbrella has a 7.5-foot diameter and the heavy-duty fabric shade tilts to create a comfortable angle. Plus, the lightweight aluminum pole comes apart for easy storage. Choose from five styles.
10. A collapsible ring toss game made of durable materials
Made of real wood with thick woven rope rings, this ring toss game will last through countless backyard parties. It takes just seconds to set up and, because it can be taken apart, is easy to carry along in the travel bag that is included when you want to bring it to the beach or on a family camping trip.
11. This shade sail that protects outdoor spaces from sun
Stretch this simple and elegant shade over an entire outdoor area to create a sheltered space for humans, pets, and plants. It's available in 13 sizes and installs easily to shade the patio or a portion of the yard that gets too much sun. The canopy comes in four colors — sand, terra, graphite, and cream — and boasts over 4,000 five-star reviews.
12. This hammock chair that creates a refuge anywhere
Hang this chair hammock from a tree or a support beam to create a relaxing refuge in your yard. It requires only one suspension point and features a roomy and comfortable canvas seat that's large enough to nap in but upright enough that you can read. The hammock comes in two sizes and two colors: white or light gray.
13. This nozzle for your garden hose that has eight settings
One surefire way to make your backyard look nicer is to invest in the grass and green spaces of your yard. This nozzle attaches to your garden hose and can change to one of eight settings, so you can find the perfect pressure and pattern for your space. It's beloved by thousands of Amazon users who use this to keep their yards looking green and healthy.
14. This gardening kit for growing colorful salad veggies in your yard
This sprouting kit comes with seeds so you can create a backyard garden of arugula, basil, chard, and beets. It also comes with everything you need to upgrade your yard to a vegetable garden, including biodegradable pots, soil discs, and a guide for how to get started.
15. A reversible couch cover that resists water
If you have a couch on a covered deck, throw this reversible slipcover over it to keep it dry and free of pet hair, so you only have to wash it occasionally. This soft, water-resistant cover comes in seven colors, and it's machine washable. It'll protect your couch from damage, so you can use it year after year.
16. This buffalo plaid rug to upgrade your entryway
Set this buffalo plaid rug at the entryway, either on its own or under a smaller doormat, to create a charming and warm welcome. It will also stop dirt, mud, and other debris from crossing the threshold on the feet of people and pets. Over 3,600 Amazon reviewers have given it five stars, and it's available in four colors and a range of sizes.
17. These rectangular throw pillow covers
Even throw pillows on covered porches can fade from sunlight, but you can spruce them up with these inexpensive and colorful covers. Pick the color that matches your decor and zip them over the pillows you have. They come in 32 colors and there are sizes to match just about any pillow.
18. A sun shade that blocks 95% of UV rays
Cool off underneath this sun shade that doesn't require an umbrella base. It comes in a ton of different sizes and colors so that it can work with any space you have. And despite being rectangular, it has curved sides, enhancing pull strength and preventing drooping. While thick, it is still permeable, ensuring that rainfall won't collect on top.
19. These flameless candles for perfect lighting
Candlelight creates a wonderful ambiance outside as well as indoors, and these flameless candles are safe and easy to use. The water-resistant candles can tip over without causing a problem, and you can turn them on and off using a remote. The set includes 12 candles, and each one is powered by two AA batteries (sold separately).
20. These artificial succulents that light up
Create a decorative centerpiece with these artificial succulents, which feature LEDs in the base. The battery-powered boxes are easy to place anywhere and feature a simple on/off switch. Use them to quickly create a zero-maintenance decoration on your deck, pool, or patio. Each set includes three plants.
21. These versatile solar-powered string lights that can be bent into different shapes
Wrap these string lights around a tree, your patio railing, or your fence to transform your backyard into a wonderland. Or, because they're made of copper wire, you can bend them to create beautiful shapes to hang up on the side of your home. Each string in this pack of two has 100 LED bulbs that give off a pure white glow and are completely waterproof. And because they're solar-powered, you don't have to worry about keeping them near an outlet.
22. Waterproof & solar-powered lamps for decorating your yard
Once you hang these waterproof solar lamps on your patio or in a tree, they will take care of the rest. They charge themselves with sunlight during the day and automatically glow for up to 12 hours at night. They're built to be resistant to rain, frost, and heat, and they also have an on/off switch in case you'll be out of town and want to keep them off for a period of time.
23. This cotton swing chair that can hold 400 pounds
Adding more seating options is never a bad idea — especially when it comes in the form of this swing chair. The airy piece has triple-sewn cushions to support your back and neck and a built-in pocket to hold your book or phone. The spreader bar is made of solid wood which gives it the strength to support up to 400 pounds.
24. This LED patio light that attaches to the umbrella pole
If proper lighting is lacking during your nighttime yard hangs, this LED umbrella light is here to illuminate things. It installs in seconds via a clamp that automatically adjusts to fit the pole. The included remote control features a dimmer, an automatic-off timer, and power on/off capabilities and lets you helm the lights from up to 50 feet away.
25. These stunning gold lanterns that hold fairy lights
These lanterns can upgrade any table scape or patio, and they come with a built-in strand of battery-operated copper fairy lights. There's an auto timer that turns the lanterns off after six hours, and these come with batteries included.
26. A water fountain for rustic backyard decor
Create rustic backyard decor with this two-tier barrel waterfall. The weather-resistant fountain is easy to install — just plug it into an outdoor outlet, fill the top levels with water, and enjoy the soothing sound. The decorative fountain is the perfect size for a patio or backyard and boasts hundreds of five-star reviews.
27. A popular magnetic screen door for a hands-free entrance
You don't have to block out that cooling breeze in order to keep bugs from sneaking into your home. Just install this magnetic screen door that has over 46,000 five-star reviews to keep out insects but still allow for easy entrance. The center is lined with 26 powerful magnets that won't separate until you push through with your body.
28. This handy all-in-one steel caddy that's rustproof
Hang up a roll of paper towels, line up the condiments, and keep utensils at easy reach with this steel caddy. It's the perfect thing to keep on the table so you don't have to constantly go back inside to pick up everything you need in order to properly enjoy your outdoor lunch. It can also be used for grilling tools or cleaning supplies.
29. This inflatable pool big enough for adults
Remember that kiddie pool you enjoyed as a child? This is the grown-up version and it's deep enough to lounge in. The inflatable pool sets up quickly — just inflate the top ring and fill the base with water. You can choose from four sizes.
30. This sprinkler for green grass and a fun place to play
With this lawn sprinkler, you can keep the grass looking lush and have a fun way to cool off on hot summer days. The affordable sprinkler offers adjustable spray and coverage of 3,600 square feet, giving you an easy way to maintain medium and large yards.
31. This cushion that turns up the comfort on your lounger
Make your outdoor seating more comfortable with this chaise lounger cushion. It's long enough to fit a zero-gravity lounge chair — about five feet — and thick enough to provide comfortable cushioning on your chair. Plus, it ties into place at six points so you don't have to adjust it constantly. The polyester cushion comes in two colors: gray and wine red.
32. A decorative solar glass ball that's handmade
For a touch of handmade elegance right on your patio table, add this solar glass ball to your cart. The colorful mosaic will light up after charging in the sun for a gorgeous display on the surface below and around it. Plus, it's not just waterproof but completely weatherproof, allowing it to be left out all year long.
33. These waterproof curtains for adding a little privacy
For a bit of privacy even when on your patio, set up these outdoor curtains. They come with rustproof silver grommets and are available in 13 different colors so you can personalize the look. They're completely opaque and can even keep out rainwater without getting damaged. Plus, they're machine-washable.
34. These magnetic flashlights with a 360-degree flexible neck
This set of two magnetic flashlights lets you add a touch of targeted light anywhere in the backyard and is particularly useful with grilling after dark. Their sturdy base can stick to any metal surface and their flexible gooseneck can be positioned to illuminate your working area. They're also weather-resistant for outdoor use. Each flashlight runs on three AAA batteries and your purchase comes with six batteries.
35. A set of candles that look nice and chase mosquitoes away
These oversized soy-based citronella candles are perfect for the deck or yard. Each one has three wicks to throw beautiful light on your outdoor activities. And because they are infused with citronella oil, they'll keep mosquitoes away, too. They even have a lid to match the base so they won't fill with water.
36. A fun game that doesn't take up much space
Don't be fooled — this ring toss game is not just for the kids in the family. Everyone will enjoy getting in on the competitive fun. The compact board is made of genuine bamboo that can be mounted on a wall or even a tree. It takes just a few minutes to set up before you can start playing.
37. This volleyball-style game that adults & kids will love
This Slammo game is a lot like volleyball — especially the spiking part — and it's easy to set up in the backyard or take to the beach. The set includes a target, two competition balls, and one training ball, and there's a travel case for portability. The game is fun for ages 12 and up and boasts over 3,200 five-star reviews.
38. This concrete sealer that'll protect your backyard patio
Any outdoor flooring surface, even concrete, can get a little weathered over time. That's why this concrete sealer is such a smart purchase for your backyard. It can cover up to 1,500 square feet of concrete and will protect it from wear, tear, and damage.
39. This portable screen so you can watch a movie anywhere
This projector screen folds up small enough to fit in a backpack and is easy to set up. Use it in the yard, take it on camping trips, or mount it in the family room and you can watch a movie on a 150-inch screen as soon as the sun goes down. It comes with clips and ropes, which — according to reviewers — work quite well to hang it from anywhere.
40. An adorable LED light statue for adding a touch of personality
If you feel that you're backyard is lacking personality, all you need is an adorable garden statue like this one. It comes in the shape of a turtle, frog, rabbit, gnome, or angel within the listing. Each is decorated with solar-powered lights that can run for up to eight hours and shine bright even in the rain. The handcrafted piece is made of durable resin that will withstand any weather.