Bloodborne Remake Could Happen Way Sooner Than You Think
Spooky season 2023? It could happen.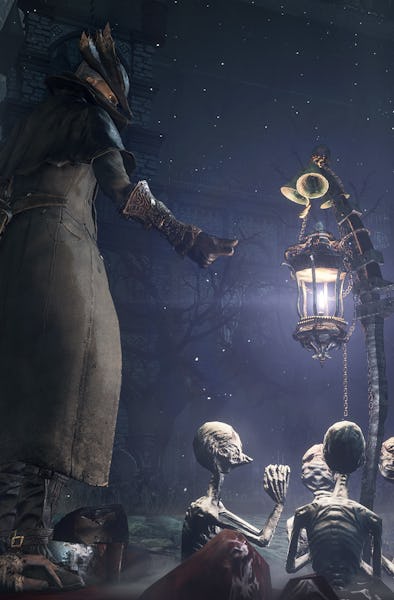 Several years before developer FromSoftware shook up the gaming industry by applying Breath of the Wild's open-world formula to Dark Souls in Elden Ring, the action game that put the studio on the map was Bloodborne.
Its take on Lovecraftian horror set in a literal nightmare makes for a gripping world, and gameplay iterates upon FromSoft's previous games in novel ways. But now that Bloodborne is more than eight years old, its age has begun to show — particularly because the classic PS4 game remains trapped at 30 frames per second, even on the PS5.
A remake gets more likely as time passes, doubly so in an era when video game remakes are in vogue (most of 2023's best games are remakes!). And according to at least one industry vet, some kind of Bloodborne update, remake, or remaster may finally be announced very soon.
During a May 9 livestream, God of Wår creator David Jaffe fielded some chat questions related to Sony's plans for the rest of the year. Beyond Marvel's Spider-Man 2 being included in financial documents indicating its release in 2023, PlayStation's ongoing slate seems pretty sparse. If we're lucky, Bloodborne may be on the horizon.
"I don't know if it's a remaster. I don't know if it's just a PC version, but we know it's in development," Jaffe said. "But when are they gonna show it?" One strong possibility would be during a State of Play sometime in the next month.
Jaffe cites a rumor that's been circulating from a "couple of people" including GamesBeat's Jeff Grubb and Video Games Chronicle's Andy Robinson.
Grubb regularly posts what he calls the "Summer Game Mess" schedule rounding up the slew of gaming events and livestreams, and the latest iteration includes a PlayStation showcase the week of May 25. Similarly, Robinson tweeted that he heard a Sony showcase would be happening "in the usual late May / early June window."
Jaffe claims Sony will announce the showcase the week of May 15 and host it the following week. This is consistent with the company's June 2 showcase from last year, which was on a Thursday, so this year's could occur on May 25. What are the odds that Bloodborne is included?
One of the few highlights from the PlayStation 5's lineup of launch games was a Demon's Souls remake from Bluepoint Games. The original 2009 game was the first title that established the "Souls" formula used in the Dark Souls series, Bloodborne, and Elden Ring. So Bluepoint seems like an obvious fit for a Bloodborne remake as well.
But it may not be so simple.
According to Jeff Grubb, FromSoft would have to "sherpa" any outside studio through the remake development process, and the team has been "too busy" for some time with Elden Ring DLC development and other updates.
"My understanding is that FromSoftware built that game in such a way that you couldn't just hire a team to go in and do the work for them," Grubb said on the Xbox Expansion Pass podcast back in September 2022. "You'd have to work in conjunction ... FromSoftware would have to be there with keys in hand to unlock the doors to the part of the code [which is] a little bit spaghetti and a little bit messed up."
Sony acquired Bluepoint back in September 2021, and it's unclear what the studio has been working on since. Bloodborne is a strong possibility. However, other rumors related to this summer PlayStation showcase suggest that Sony is working on a Metal Gear Solid 3: Snake Eater remake. If that turns out to be true and Bluepoint is behind it, then the chances of anything Bloodborne any time soon becomes that much less likely — unless Sony is handling it in-house.