Yellowjackets Season 2 Takes the Teen Terror to Bewildering New Heights
In Yellowjackets Season 2, hell is a teenage girl (trapped in the woods).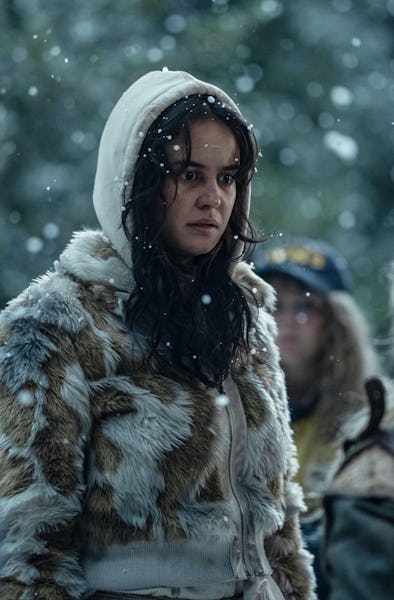 "We're all like this, aren't we?," one character flatly says to another while eating lunch in Yellowjackets Season 2. Her mouth is silently screaming in this moment of self-awareness, her forehead is lined with the exhaustion at her sudden realization. But the other character she's speaking to stares at her, puzzled, unable to grasp what "like this" actually means (in spite of their shared experiences).
Yellowjackets Season 1 delved into the concept of "the body keeping the score" — or, the way that trauma is deeply ingrained in us physically and mentally from its conception, etched into our personalities and informing our quirks. "The Body Keeps the Score" was coined and popularized by renowned psychiatrist Bessel van der Kolk in his book of the same name. It's this trauma that makes the titular Yellowjackets "like this": trapped in the hell that was wrought upon them as teenagers by unforeseeable events, and trapped in the hell that they wrought upon themselves (and continue to wreak) through a series of selfish decisions as adults.
By the end of Yellowjackets' freshman year, its characters aren't out of the woods — they're more lost in them than ever.
While the trauma of its (un)lucky survivors are still a primary focus of Yellowjackets Season 2, it's not just their bodies (and minds) keeping the score. This time, the Wilderness keeps the score too, driving the story — and its performances — to new, bewildering heights.
Created by Ashley Lyle and Bart Nickerson for Showtime, Yellowjackets proves in its sophomore outing that it is worthy of even more of the sonorous buzz it received from critics and audiences alike throughout — and long after — its first season's debut in 2021. In Season 2, Yellowjackets continues to sting sharply as a psychological thriller, expanding on its plot's intricate puzzles in unique, smart ways as a mystery, and packing plenty of gut-wrenching emotional (and physical) punches as a teen drama.
Picking up from the first season — which saw a talented high school girls' soccer team stranded in the Canadian backwoods after a plane crash in the '90s, leaving the adult survivors traumatized and dealing with blackmailers threatening to reveal their teen misdeeds — Yellowjackets Season 2 beefs up the dramatic leftovers from Season 1. And the season also intensifies the enigmas teased in its first season, finally providing answers to some of its juiciest plot points— yup, even those rumors.
In Season 2, adult Shauna (Melanie Lynskey), Natalie (Juliette Lewis), and Misty (Christina Ricci) reliably bring to life their deeply (and simultaneously) likable and unlikeable characters — especially as the stakes heighten with the coverup of last season's unfortunate murder. The three of them are a standout, adding more emotional layers to their respective performances to echo their characters' own growth (or regression).
Most impressive of the returning cast, however, is older Taissa (Tawny Cypress), who tackles the aftermath of her characters' trauma with a spine-chilling tenacity missing from Season 1 — in part because Cypress has more scenes to steal in Season 2. Similarly, Steven Krueger, who plays Coach Ben Scott, is given far more to do in Season 2, resulting in a stunning performance wherein Krueger represents what a shattered future does to a man who had so much to look forward to, and how a loss of hope can be even more dejecting than the loss of a limb.
A special shoutout must be given to Sarah Desjardins, who plays Shauna's daughter, Callie Sadecki. Her role is thankfully elevated to a more proactive position in the plot. Desjardins maneuvers this Callie 2.0 well, a character that goes from being a daddy's girl to the apple that doesn't fall far from the (mother's) tree, resembling Shauna a little too closely in her self-destructive impulsivity.
But it's the new cast members that inject new energy into this season. Elijah Wood (The Lord of the Rings) is a citizen detective whose cunning and forced charisma perfectly mirrors Misty's, but whose convictions prove to be a foil to hers — a nuanced role which offers both comedic relief and relational tension that Wood plays exceedingly well. Rounding out the cast are newbies Simone Kessell (Reckoning) as the adult Lottie, a soft-spoken, ethereal-looking "wellness center" leader, and Lauren Ambrose (Servant) as the adult Van, who retains teen Van's spunk, sweetness, and her scars. Kessell and Ambrose now make the cast feel so complete that it's honestly hard to rewatch Season 1 without their presence. Kessell in particular dominates her role, fashioning Lottie as both an enlightened adult who deserves the audience's confidence and a witchy guru which audience's would be wise to remain skeptical about.
Aside from its stellar, Emmy-level performances from both its recurring cast and standout additions to the team, it is Yellowjackets' delivery of its previously made promises — of unfurling its grotesque mysteries taunted in Season 1 — that makes Season 2 even better than its predecessor.
Rather than keeping its audiences trapped in the proverbial woods frustrated by the narrative's many ciphers, Yellowjackets Season 2 either answers most burning questions satisfactorily. It is evident in watching the first six episodes of Season 2 that the show's writers were meticulous in their selection of which riddles merited a satisfactory wrap-up, and which webs needed more weaving. Viewers will be pleased by the running fan theories that are either proven or dispelled in Season 2, including the fate of Shauna's baby, the whereabouts of Javi, why Misty is... Misty, the consumption of fellow Yellowjackets. And viewers will be equally pleased with the show's conundrums that are still yearning to be unraveled. Yellowjackets' Season 2 script excels in a way that many modern mystery shows do not— it isn't afraid to give away a couple of answers.
But, make no mistake about it, those answers aren't handed out easily. The direction of the show continues to be frenetic, bouncing not only from the past and the present, but also to the perceived past and the past that is true-to-events. At times this back-and-forth-and-back-again pacing can be frustrating, but it succeeds at capturing what traumatic memories and their rehash looks like: unreliable flashbacks and unsettling flash-forwards.
Despite the show's wonderful ability to veer between a psychological thriller, a mystery, and as a teen drama, Yellowjackets still has trouble with the horror genre aspect of the show. While it has scenes that certainly veer into the supernatural, and even the sublime, it has yet to graduate from establishing a spooky atmosphere to providing actual spooks. (The scares in the six episodes provided to critics to review have been tepid at best.) This is especially confounding given that so many horror alums are in the show's directing and writing teams, including Eduardo Sánchez (The Blair Witch Project), Liz Phang (The Haunting of Hill House), Julie Bicknell (The Haunting of Bly Manor), and Karyn Kusama (Jennifer's Body).
The teen chaos in the wilderness (and its resulting trauma) have been explored plenty, but it's now time for dessert. Is Yellowjackets waiting by the fire, slow-burning its overall story a little more before it's ready to go fully feral, serving a plateful of terror? The narrative Yellowjackets has been building up throughout its two installments has the potential to take it there. But for now, we'll be grateful for what we've been given — we're hungry for more from Yellowjackets, but what we've been served is satisfying.
Yellowjackets Season 2 premieres on Friday, March 24 for Showtime subscribers before airing on the network on Sunday, March 26, 2023, at 9 p.m. ET/PT.