Yellowjackets Season 2 Premiere's Ending Answers the Show's Biggest Mystery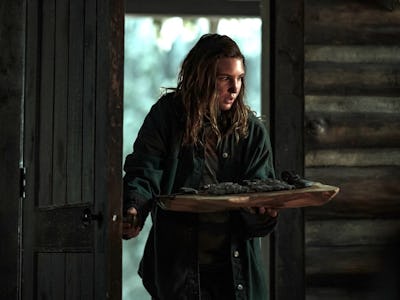 Showtime
"Buckle up, Shipman," Yellowjackets team captain Jackie Taylor tells her best friend, Shauna. "Your future is decided."
Is this a scene from the past, or a scene from the present (or a scene from something else)? Yellowjackets viewers quickly learn at the onset of Season 2 that something kooky is very much afoot in the Canadian wilderness, where the stranded soccer stars, their coach, and one of their other coach's sons are struggling to survive the winter.
Jackie (Ella Purnell), if you recall, does not — opting to freeze to death outside rather than letting her formerly submissive shadow, Shauna (Sophie Nélisse), shatter her ego and take her place as Queen Bee. Shauna's game of M.A.S.H. with Jackie is nothing but a hallucination, a twisted coping mechanism out in a meat shed where her BFF's corpse is still blue and chilled to the bone. It sets the stage for a creepy Season 2 premiere.
Spoilers for Yellowjackets Season 2 Episode 1, "Friends, Romans, Countrymen."
Where else does everyone's storyline pick up in 1996? Taissa (Jasmin Savoy Brown) and Van (Liv Hewson) are attempting to suppress Taissa's weird new nighttime habit — sleepwalking and unconsciously getting herself into creepy situations — and Misty (Samantha Hanratty) is more of an outcast than ever following her "accidental" drugging of the entire group. Meanwhile, Travis (Kevin Alves) is frantic, desperate to find his missing brother, and Nat (Sophie Thatcher) grows more and more concerned for her crush and hunting partner's mental state. Lottie (Courtney Eaton) blesses Travis and Nat at the crack of every dawn before they go out searching for Javi (Luciano Leroux), invigorating them with witchcraft-y rituals as the group's de facto shaman and spiritual intermediary with The Wilderness, their deity.
Back in the future...
Lottie (Simone Kessell) is a wellness center (er, cult) leader, who echoes New-Age platitudes to a crowd of misty-eyed followers in purple; Nat (Juliette Lewis) has presumably been kidnapped by these purple people, tied to a bed in what appears to be a sleepaway camp-style cabin; Misty (Christina Ricci) is a citizen detective, trying to help Shauna (Melanie Lynskey) cover up a murder while simultaneously trying to find out what happened to Nat; Taissa's (Tawny Cypress) marriage is in shambles and her child's custody is in jeopardy following the unfortunate discovery of her alternate personality's horrifying basement shrine (RIP, Biscuit).
Caught up? Good. Buckle up, reader. We're going to speed through to the ending of Yellowjackets' deliciously eruptive sophomore outing on Showtime.
Why Did Shauna Eat Jackie's Ear?
While Nat and Travis' search for Travis' lost little brother Javi yields no results — except for an odd tree that shows signs of life like green boss — and Taissa's sleepwalking becomes more dangerous, Shauna is rapidly spiraling.
In her last hangout with Jackie's corpse in the meat shed, Ghost Jackie taunts her: "You're like, holding onto me or whatever. That's like Haunting 101," she says, rolling her eyes. Ghost Jackie adamantly demands that Shauna tell her exactly how her illicit romance with Jeff started, but Ghost Jackie is unconvinced by her response, calling Shauna out for performing guilt and for pursuing Jeff because she wanted to be just like her. Shauna gets frustrated with her own imagination, and pushes her frozen friend's corpse. Jackie's ear falls off, and she pockets it.
In the very last scene of Yellowjackets Season 2 Episode 1, as Tori Amos' "Cornflake Girl" plays, Shauna looks at Jackie's ear with ... hunger. Shauna takes a chomp, her face contorting with ecstasy before the end credits roll. (Now do you get the episode's on-the-nose title? Brush up on your Shakespeare: "Friends, Romans, countrymen, lend me your ears" is the first line of a speech by Mark Antony in the play Julius Caesar.
Is the lug-chewing just the byproduct of a bizarre pregnancy craving, or foretelling a cannibalistic custom among the involuntary campers? Maybe Season 2 Episode 2, entitled "Edible Complex," will provide viewers with answers to Yellowjackets' juiciest mystery.
Yellowjackets Season 2 is available to watch on Showtime and Paramount+.