In Vikings: Valhalla Season 2, motherhood becomes the battlefield
Frida Gustavsson, Jeb Stuart, and more discuss the bloody period drama's highly-anticipated return with Inverse.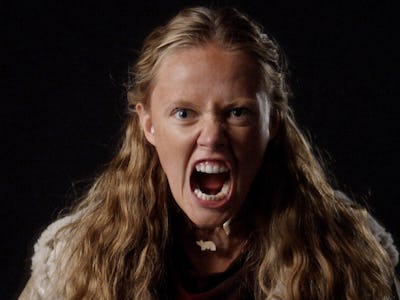 HBO shows are no strangers to gore, but House of the Dragon took the premium cabler's signature on-screen bloodshed one step further by making the birthing room a battlefield.
Macabre motherhood was a motif throughout the Game of Thrones prequel. We saw women perish in cruel, creative ways during childbirth (botched cesareans, immolation-by-dragon), women subjected to brutal and bloody humiliations post-childbirth, and women miscarrying mangled and mutated babies in graphic detail.
Vikings: Valhalla on Netflix, which returns with a sophomore season on January 12, 2023, may have similar — and more realistic and historically accurate — depictions of child delivery, and the ferociousness of "medieval" parenthood beyond birth.
By the start of Season 2, our heroes Freydís Eiríksdóttir (Frida Gustavsson), Harald Sigurdsson (Leo Suter), and Leif Erikson (Sam Corlett) find themselves suddenly scattered about in Scandinavia, refugees of Kattegat who must learn how to forge their destinies beyond the fjords — events that play out about 100 years after the History Channel show, Vikings.
Freydís and Harald are an item by the end of Season 1. The second installment Vikings: Valhalla explores the pair's navigation of parenthood in dire circumstances and harsh and unfamiliar environments.
"This season I had to really dive into motherhood and pregnancy and birth," Gustavsson tells Inverse. "I learned so much about the kinds of rituals that surround that process and how they would deal with birth, what kinds of gods they would pray to and make offerings to and what birth meant to them as a society."
Gustavsson read several chronicles on the lives of Viking women in the 11th century, including Valkyrie: The Women of the Viking World by Icelandic studies professor Jóhanna Katrín Friðriksdóttir, to prepare for the role.
Alongside the grisly maternity narratives of House of the Dragon, Vikings: Valhalla Season 2 (which filmed Seasons 1 and 2 back-to-back before the debut of HotD) shows a growing interest in Hollywood to de-romanticize conception, pregnancy, childbirth, and parenting, particularly in fantasy and non-fictitious epochs without modern medicine.
Vikings: Valhalla creator, executive producer, and occasional episode writer Jeb Stuart noted that, more broadly, Season 2 will see Freydís, Harald, and Leif forge their own paths by building their legacies — some more literally than others.
But how about building the legacy of the Vikings franchise? Stuart wants Vikings: Valhalla to retain its own identity and yet "enough of the DNA of the original that you feel like you're not letting the fans down."
"Part of that is writing original characters for the sequel that embody the [Vikings] DNA," he says. "There's also a continuity in terms of the authenticity of our stories that are similar to those of the original. We try to pay close attention to that, but we're also telling a totally new fresh story."
Vikings: Valhalla Season 2 drops on Netflix on January 12.