Edgar Wright Gets Personal About The World's End
Ten years after its release, Wright views the third Cornetto Trilogy film as his most personal.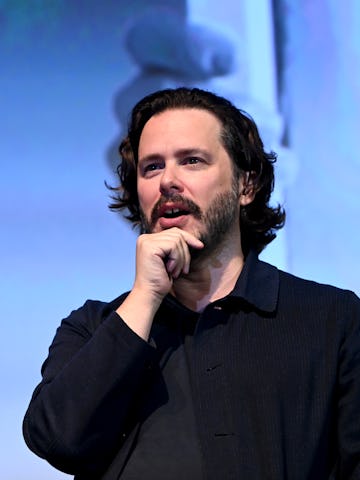 Kate Green/Getty Images Entertainment
Edgar Wright still stands by the controversial ending of The World's End. A decade after the release of his final Cornetto Trilogy installment, the director says he never considered any other alternative ending to his body-snatcher sci-fi, which ends with the world crumbling into an apocalyptic nightmare.
"It always felt like if you call a film The World's End and the world doesn't end, it's a cop-out," Wright tells Inverse.
Released in 2013, The World's End was the third and final film in Wright's Three Flavours Cornetto trilogy, a loosely connected collection of movies that also includes 2004's Shaun of the Dead and 2007's Hot Fuzz. The World's End follows Gary King (Simon Pegg) on a mission to recapture his glory days by reuniting his old school friends for a pub crawl that they failed to complete in their 20s. Now in their 40s, they return to their hometown to find it taken over by androids who plan to subjugate all of Earth for the good of humanity.
The World's End doesn't share a story in common with the other two films of the Cornetto Trilogy; rather, all three are directed by Wright and star Nick Frost and Pegg, the latter of whom co-wrote all three movies with Wright. They're all comedic spins on different genres — zombie movies for Shaun of the Dead, high-octane action flicks for Hot Fuzz, and alien invasion films for World's End — and, of course, they all feature the appearance of Cornetto ice cream in some way.
The title of the trilogy started as a joke — a reference in the first film to a hangover cure that Wright used to use. Then there was a brief reference in Hot Fuzz in an attempt to get free ice cream (it failed). The third and final appearance of Cornetto ice cream seemed like the biggest joke of the series: After a worldwide blackout causes Earth to enter a new "Dark Age," Andy (Nick Frost) gazes over the apocalyptic wasteland pondering humanity's fate as a Cornetto wrapper blows past in a breeze, briefly catching on a wire fence before Andy can grab it. But despite the comedic origins of the concept, and the three films' reputations as genre satires, Wright looks back at the trilogy with a much more sentimental, even wistful, attitude.
"All three of those films are much more personal than they might appear from the synopsis," Wright says in a conversation with Inverse ahead of the release of Netflix's Scott Pilgrim Takes Off, which he executive produces. "Obviously, I've never been in a zombie apocalypse, and I've never been a policeman, or been in an alien invasion, but there are so many aspects to it that are so personal for me and Simon, and in so many ways."
The Unlikely Beginnings of The World's End
The World's End is especially personal for Wright. The filmmaker had the "kernel of the idea" for the film back when he was 21 (he's currently 49 years old). He had written a script about teenagers on a pub crawl that he intended to be his second movie after his feature directorial debut A Fistful of Fingers, but abandoned the idea in favor of what would become Shaun of the Dead. Around the time of Hot Fuzz, Wright wondered whether that old script had some potential to it — not as a full-length movie, but as the first five minutes of an entirely new story.
"What if the film was about the guys in their late 30s, early 40s going back to try it again?" Wright recounts. "The idea of, 'You can never go home again,' and the place that you imagined that you grew up in just doesn't exist, but what if there was a reason for that: because the robots have taken over."
"There's an element where you are sort of yearning for something that doesn't exist anymore and probably didn't exist then."
That makes The World's End technically one of Wright's oldest movie ideas, and the one that grew with Wright as he got older. When he first came up with the idea, he was as young as the unruly Gary King (Simon Pegg) and his entourage during their first failed pub crawl. By the time Wright ended up making it, he was the one in his 30s wondering why his hometown had changed so much.
"At the time when I was 18, I was like the characters at the start of the movie where you have this ridiculous idea that you are like the Fonz in your hometown and that everybody knows you and everybody likes you," Wright says. "And then going back on different holidays over the years, you sort of realize that your imagined infamy didn't really exist and that nobody remembered you."
Wright remembers joking to a friend that returning home felt like a "body snatchers" situation, and something clicked: When he and Pegg sat down to write The World's End in 2011, "It all came pouring out."
"I remember very vividly writing that with him in the room together and it being [one of] the fastest scripts we've written," Wright says.
A Trilogy on the Trap of Nostalgia
When The World's End was released in 2013, it was received with more muted praise than Shaun of the Dead and Hot Fuzz, which were both hailed as instant genre classics. There were high expectations for The World's End to follow the lead of Shaun of the Dead, a pitch-perfect zombie apocalypse riff; and Hot Fuzz, which poked fun at high-octane action movies. While The World's End featured a similar genre spoof in its android takeover storyline, its ambitions were bigger, messier, and a little more sobering.
"There's an element where you are sort of yearning for something that doesn't exist anymore and probably didn't exist then," Wright says. "I sort of have an ongoing obsession with this idea of, 'Even if you could go back in time, is it really worth it? Is it really as great ... Is it really as great as it was in your head?' The answer's probably no."
"World's End was about [wearing] rose-tinted glasses to rhapsodize your youth."
The World's End, rather than being strictly a comedic spin on a well-worn genre, was about being trapped in the past. Gary King's greatest moment was the night of that failed pub crawl when the whole world was in front of him. By the time we catch up to him in his 40s, he's an alcoholic who has alienated all of his friends, and who has spent most of his life in and out of rehab. His homecoming to complete the pub crawl is a last-ditch attempt to recapture that youthful glory — or die trying.
Wright has called his Cornetto Trilogy a story about "the dangers of perpetual adolescence," but it's The World's End that truly retrofits all three films to be about nostalgia.
"In Shaun of the Dead, a big part of the movie is the acknowledgment that you have to let your childhood friend go at some point and move on," Wright says. "In Hot Fuzz, the problem is the villains are kind of harking back to the good old days, which maybe didn't exist. And then World's End was about [wearing] rose-tinted glasses to rhapsodize your youth."
The Lasting Legacy of the Cornetto Trilogy
Audiences at the time didn't totally get it. But despite The World's End's reputation as the black sheep of the Cornetto Trilogy, Wright noticed a growing fondness for the film in recent years, with people approaching him with a newfound appreciation for the film and its bittersweet elements.
"At the time that we made it, there was some kind of reaction to it, that it wasn't quite what people expected from us. That it was darker, or something like that," Wright says. "But over time, people have responded to it in a really personal way. I think as fans get older, there's different things that they take away from that film."
"We always liked the ending. It's not like we had any other ending. It was always the ending."
It's why he still stands by the ending, which he and Pegg always intended to be "novelistic." But despite the outrageous conclusion, the ending might be one of the elements that Wright deems the most personal, drawing from his and Pegg's upbringing in the '80s, under the looming shadow of the Cold War.
"Me and Simon are of the age where we grew up during the cruise missile crisis," Wright says. "The idea of a kind of nuclear apocalypse, in the early '80s, it was something you would think about a lot."
He cites the 1984 film Threads and the Frankie Goes to Hollywood song "Two Tribes" as partial inspiration for ending the film in a post-apocalyptic winter wasteland. But even with that bleak finale, Wright doesn't see the ending as, ahem, the end of the world.
"I like the idea of doing that, but also the characters finding their own happiness within that," Wright says. "Nick is farming. Eddie, even as an android, is back with his family. Steven and Sam have finally become a couple. Oliver is still working as an estate agent. And Gary is living his life and being his true self ... on a medieval quest with his robotic mates. So we always liked the ending. It's not like we had any other ending. It was always the ending."
The World's End admittedly brought the Cornetto Trilogy, arguably the defining sci-fi trilogy of the 2000s, to a strange and offbeat end. But reflecting back on the trilogy, Wright has less to say about the films' legacies as genre spoofs, or even their themes about nostalgia and coming-of-age. No, for him the biggest link between the three films is… the pub.
"Between Shaun, Hot Fuzz, The World's End, and Last Night in Soho, if I never have to shoot in a real pub again, it would be so great," Wright says. "I feel like The World's End is probably the last word on pubs for us."