Steven Spielberg is Turning Stanley Kubrick's Greatest Unmade Movie Into an HBO Series
The large-scale biopic about the French emperor will be parsed down into a seven-part limited series for HBO.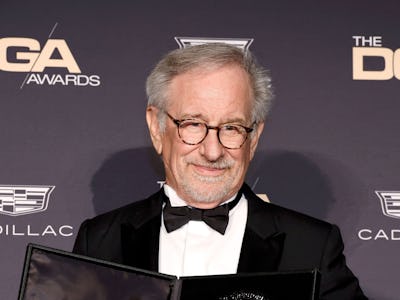 Frazer Harrison/Getty Images Entertainment/Getty Images
Full Metal Jacket, The Shining, Dr. Strangelove: Prolific director Stanley Kubrick's finished works are instantly recognizable and are lauded even today. But it is Kubrick's unfinished works that have kept fans of the director fixated — more specifically, a grandiose Napoleon Bonaparte biopic that never wound up in theaters in spite of being "nearly-but-not-quite-made."
In spite of an abundance of material left over from the director's meticulous and borderline obsessive planning for the biopic in the '60s — about two years worth of documentation — the movie about the short but mighty French political leader has largely been considered a lost project.
Steven Spielberg, a close friend of Kubrick's, is reviving the director's passion project. He officially announced at the 2023 Berlin Film Festival that he, along with the cooperation of Kubrick's wife Christiane and Kubrick's brother-in-law, Jan Harlan, will be mounting a large-scale production for HBO based on Kubrick's original script.
"We are working on Napoleon as a seven-part limited series," Spielberg added. Napoleon had previously been rumored to be in the works for the last seven years at HBO, and Spielberg was said to be attached to the project since at least 2013. This isn't the first time Spielberg has taken over one of Kubrick's unfinished titles, posthumously. Spielberg helmed A.I. Artificial Intelligence (2001) and based the screenplay's treatment on Kubrick's original directorial vision for the film.
After the success of 2001: A Space Odyssey (1968), Kubrick decided that his next subject would be about "one of those rare men who move history and mould the destiny of their times and of generations to come" — aka, Napoleon Bonaparte. A ruthless leader of the French Republic, eminent military commander, and eventual Emperor of France, Bonaparte's celebrity and controversy fascinated Kubrick. He dispatched researchers all over Europe in 1968 to obtain as much information as possible about Bonaparte. By 1969, Kubrick had written a preliminary 148-page screenplay of Napoleon. The script is said to have focused less on the chronological timeline of Bonaparte's life, and centers more on critical battles and the ruler's passion for his wife, Josephine.
Kubrick had lofty plans for the film — he wanted to borrow 50,000 men from the Romanian army to recreate the Napoleonic campaigns, and he was torn between offering the lead part to David Hemmings or Jack Nicholson. However, the cost of filming Kubrick's dreams for Napoleon, as well as the timing of Sergei Bondarchuk's marvelous adaptation of War and Peace in 1969 (followed by his Bonaparte-fronted flop Waterloo in 1970), caused the film to be abandoned.
No Time to Die and Maniac's Cary Joji Fukunaga was set as a director for HBO's Napoleon miniseries in 2016 with David Auburn, the playwright behind Proof, writing. In 2021 Fukanaga confirmed in an interview with Collider that he was still involved with the project.
It is still unclear when HBO will release Napoleon. Deadline reported that the project is still in the development stages and has not yet reached a series order.
2023 is set to be a big year for Bonaparte in Hollywood — Alien and Blade Runner director Ridley Scott's epic historical film about the political leader, starring Joaquin Phoenix, Vanessa Kirby, and Matthew Needham, is slated for release sometime this year on Apple TV+.