Night Swim release date, cast, and plot for the next Blumhouse movie
James Wan's and Jason Blum's production banners form another unholy union for their next horror collab.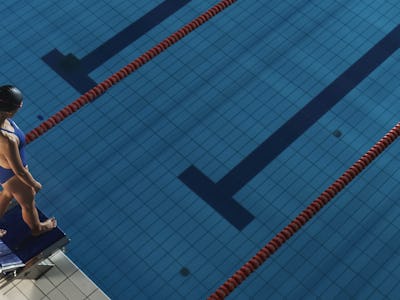 After blessing us with M3GAN, the big-eyed love baby between Toy Story and Black Mirror, Jason Blum and James Wan are joining forces yet again. This time, Blumhouse and Atomic Monster are focusing on another horror icon: pools.
Though less obviously essential to the genre than possessed playthings, some of the best murders in horror history have been aquatic: It Follows, Final Destination, Deep Blue Sea, Nightmare on Elm Street 2, and Let the Right One In are just a few flicks where swimming strokes turn deadly.
Now Blum and Wan want to make slippery frights of their own with Night Swim, based on the short film by Rod Blackhurst and Bryce McGuire. While details are still scant, we'll update this page as more info about Night Swim gushes out.
What is the Night Swim release date?
Night Swim is slated to start production soon and will open theatrically on January 19, 2024.
Who is in the Night Swim cast?
So far, we only know two people in Night Swim's cast: Wyatt Russell and Kerry Condon.
Russell will be seen next in Marvel's upcoming film Thunderbolts, where he'll reprise his role as U.S. Agent. He was most recently in FX's Under the Banner of Heaven, while other notable credits include Black Mirror and Lodge 49.
Condon was last seen starring opposite Colin Farrell in The Banshees of Inisherin. Like Russell, she's an MCU alum: Condon lent her voice to the role of Friday in several Marvel films. She's best known for her work in Ray Donovan and Three Billboards Outside Ebbing, Missouri.
What is the plot of Night Swim?
All we know about Night Swim so far is that it's described as a supernatural thriller built around a hidden source of terror found in a backyard swimming pool. The three-minute short film doesn't give us much more to work with. Strangely, however, the pool in the short belongs to singer Michelle Branch. She recently said on Instagram that she'd be interested in lending her backyard again for the feature film, so that's a start.
Night Swim hits theaters on January 19, 2024.