Mission: Impossible 8 Brings Back a Character Only Hardcore Fans Will Remember
Remember CIA Analyst William Donloe? Well, he's back for one last impossible mission.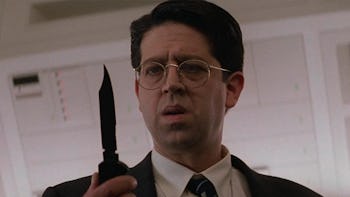 Paramount
Remember that epic heist scene in the first Mission: Impossible, when Ethan Hunt drops from the ceiling in a gravity-defying stunt and steals classified documents? Of course you do. It's the most recognizable one in the long-running, Tom Cruise-fronted action-adventure espionage film series.
But do you remember who the suave Impossible Missions Force spy snags the Non-Official Cover List from? Well, you'd better. Because the jinxed CIA Analyst William Donloe (Rolf Saxon) is confirmed to return for the eighth Mission: Impossible installment.
Christopher McQuarrie, Mission: Impossible - Dead Reckoning Part One and Part Two writer, director, and frequent Cruise collaborator, posted a filming update on his Instagram page: a photo of Saxon.
In Mission: Impossible's 1996 outing, Donloe is in charge of safeguarding the NOC list for the CIA in Langley, Virginia. The list included revealing information about the covert operatives of the IMF force, showing their codenames and their real names as well as where they are stationed and/or which organizations they have infiltrated worldwide. On top of the list being stored on a computer without network access, the computer was in a vault-like room that was heavily protected with sound, touch, and temperature sensors, and only one person gatekeeping it all: Donloe.
Donloe gets unlucky when Hunt and the rest of the IMF agents aiding him in the audacious theft — Luther Stickell (Ving Rhames) and Franz Krieger (Jean Reno) — slip him a foreign agent which causes him to barf non-stop. During his incapacitation, Hunt dives down into the vault-like room, and narrowly escapes with the NOC list. When Donloe returns, the list has already vanished. Donloe's punishment for his failure was a chilly reassignment, condemned to a polar substation in Alaska by Eugene Kittridge (Henry Czerny), the CIA-based (former) director of the IMF.
Saxon won't be the only throwback to the original Mission: Impossible movie in Dead Reckoning. Czerny also returns as Kittridge, who was confirmed to be back in the franchise 27 years after his last appearance in the Dead Reckoning Part One trailer. McQuarrie also posted a first look image of Inuit actor Lucy Tulugarjuk outside of what appears to be a polar substation in Alaska, which suggests that the fate of Saxon's character will have some prominence in Dead Reckoning.
Mission: Impossible - Dead Reckoning Part One is in theaters on July 14, 2023. Part Two is slated for debut on June 28, 2024.