A24's Most Surprising Horror Franchise is Tackling a New Hollywood Era
An all-new cast join Ti West and Mia Goth in the final chapter of the X trilogy.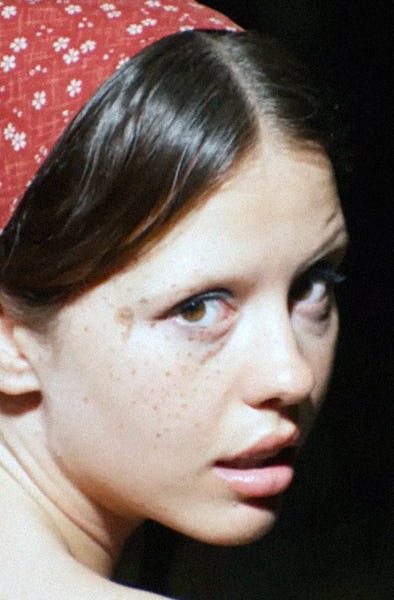 A24
Ti West's X was something of a revelation. The 2022 film was one of many in an excellent year for horror, but it also marked the director's return to the genre after nearly a decade of abstinence. West isn't wasting any time on a follow-up, either: shortly after X's acclaimed debut, A24 announced that a prequel was already on the way, with star Mia Goth returning. Then came news of a sequel, MaXXXine, and just like that, A24 had a franchise on their hands.
Goth is the lynchpin of the X trilogy, as she played both final girl Maxine Minx and geriatric axe murderer Pearl in the first film. She also co-wrote the X prequel, Pearl, with West. The film turned back the clock to explore the origins of X's octogenarian killer, as well as a specific era of Hollywood history. Where X connected the dots between independent porn and the sensual slashers of the '70s, Pearl was steeped in the technicolor and mania of older films like The Wizard of Oz and The Red Shoes. Now, MaXXXine will do the same with 1980s Hollywood.
MaXXXine, written and directed by West, will jump forward five years after X. Goth's Maxine is the sole survivor of the Farmer's Daughter massacre, and her hunger for fame brings her to Los Angeles in 1985, where the direct-to-video boom is in full swing. Elizabeth Debicki, Giancarlo Esposito, Lily Collins, Michelle Monaghan, Bobby Cannavale, Moses Sumney, Halsey, and Kevin Bacon round out the cast.
Not unlike X, which featured rapper Kid Cudi in a prominent role, MaXXXine has tapped two musicians in Sumney and Halsey. Both are making their debut in other projects this year — Sumney will appear in HBO's The Idol and Halsey in the crime thriller Americana — but there's a sense that MaXXXine will allow them to flex their unique talent as performers. The '80s blurred the lines between music and film, as music videos became more cinematic and prominent artists jumped to acting. Hopefully MaXXXine will explore that evolution, but given the secrecy at play with X and Pearl, we won't know until we see the finished product.