Josh Segarra Wants To Tell You A Secret
The Scream 6 star talks Marvel, DC, and what comes next.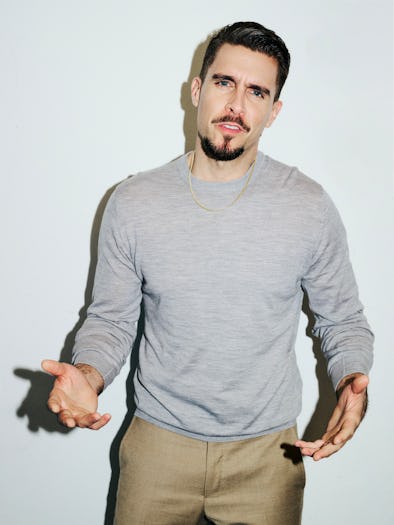 Josh Segarra thought he was Ghostface.
During auditions for Scream 6, Segarra was asked to read a two-page monologue from 2022's Scream reboot (retroactively now known as Scream 5) in which the killer confesses his crimes. The big reveal is typically the high point of each franchise installment — who can forget Billy Loomis' infamous "I don't really believe in motives" speech from the original Scream? — so getting to deliver one can elevate any actor to horror movie royalty. Unsurprisingly, Segarra was excited, even if playing a serial killer sort of went against character for the charming 36-year-old actor.
"I hadn't seen the fifth installment yet," Segarra confesses to Inverse. "So I do this entire monologue. And I'm telling my wife, I'm telling my team, telling my buddies, Yo, I'm the killer in the next Scream movie! And then I read the script. I met everybody. We all started comparing notes. And we're like, Oh, we all did that monologue, huh?"
Revealing which actor (or actors) in Scream 6 actually do turn out to be Ghostface would be the spoileriest of spoilers. Suffice to say that Segarra has a small but memorable role as a suspiciously good-looking neighbor who befriends the main characters from Scream 5, only to get wrapped up in a series of violent murders.
"I always wanted to be the Devil because that was a more interesting character."
On the surface, it's a role that fits well with Segarra's IMDb history. Having broken out as a spotlight-stealing villain in the DC universe superhero series Arrow (more on that later), Segarra seems to have settled into a certain type of character across projects like HBO Max's The Other Two, Marvel's She-Hulk, and now Scream 6. He's goofy. He wears his heart on his sleeve. You might even say Josh Segarra has "golden retriever" energy. And when I mention that, he laughs — but doesn't dismiss it.
"I like to take characters…" he begins, before taking a pause to collect his thoughts. Then, he continues: "Along this journey, certain characters have come along my way, and I've been given an opportunity to play these guys that, when you see them on the page, they may read one way. And I always like to play these characters where I want to figure out what their heart is. Who are they on the inside? What makes them tick?"
Segarra's been asking himself these kinds of questions ever since he first took to the stage, at his family's church near Orlando, Florida.
"For fun as a kid, I would always be in like church plays," Segarra says. "I remember I never wanted to be Jesus. I always wanted to be the Devil because that was a more interesting character."
Then came community theater, followed by NYU's Tisch School of the Arts. Segarra filmed his first movie — the made-for-TV Vampire Bats with Lucy Lawless — the summer after his first year at NYU, then found roles in smaller independent films, like The Ministers (with John Leguizamo and Harvey Keitel) and Tiny Dancer (with Melissa Fumero), which "never saw the light of day." He credits The Electric Company, the 2009 reboot of the PBS kids show (which also starred William Jackson Harper and Lin-Manuel Miranda) as his big break. But for many, Josh Segarra arrived as an actor in October 2016 when he was cast on Arrow.
"The best thing about the Arrow secret was that they even fooled me at the beginning."
Segarra was introduced to the Arrowverse as a new district attorney in the fictional Star City, and his name alone, Adrian Chase, was enough to spark a million fan theories. In the comics, Chase is the Vigilante, a very over-enthusiastic crime fighter. His character's name turned out to be a red herring. In Arrow, Chase was revealed to be a version of the DC supervillain Prometheus, who was obsessed with Oliver Queen (aka Green Arrow) in a twist that surprised everyone. Even Segarra himself.
"I love keeping secrets," Segarra says. "And the best thing about the Arrow secret was that they even fooled me at the beginning."
Sort of. When he first got the role, the showrunners actually told Segarra the truth upfront, comparing his character to the Batman villain "The Wrath." But then Adrian Chase's character was announced, and Segarra began absorbing all the online fan theories connecting the comic books dots. He bought in so much, he assumed his version of Chase would eventually reveal himself to be Vigilante.
"Maybe I was too excited to talk to [the showrunners] on the phone. I just didn't hear that part. So I go buy all the Vigilante comics. Man, I was all ready to play Vigilante. Then I call Marc and Wendy one day and they're like, 'Dude, you're not Vigilante, you're Prometheus. Man, we told you this!'"
Prometheus/Adrian Chase ultimately wound up dead on Arrow, but Segarra still believes there's a way to bring him back as part of the relaunched DC universe. "I hope that I get to bring back Prometheus," he says. "I'd love to take on Batman, and there's a lot more to do with Adrian Chase. I know he meets his end on Arrow — but who knows, maybe I met Batman or Bruce Wayne before that. We share a common backstory. Both of our parents were killed."
Much like in real life, when one lawyer disappears, another arrives to take its place — and the same happened to Segarra. Last August he became Augustus Pugliese (aka Pug), Jennifer Walter's sneaker-loving co-worker in Season 1 of She-Hulk. Segarra says Pug is the better lawyer of the two, but only because Chase probably "cheated" his way through law school.
When he landed the role, friends offered some, um, words of encouragement. "When they announced that I was gonna play Augustus Pugliese, I received a handful of texts from buddies that were really excited, telling me to not mess it up," says Segarra. "No pressure." Luckily, he arrived on set to find a She-Hulk support system.
"Joining She-Hulk felt like joining a club," Segarra says. "I had more people talk to me about She-Hulk than I'd have any project before. People were coming up to me telling me about the character of Pug; telling me who he was in the Dan Slott [writer of the She-Hulk comic] run."
His biggest challenge: knowing where to look. Joining the Marvel Cinematic Universe means acting against CGI. In scenes where she's playing the big, green, computer-generated alter-ego, She-Hulk star ​​Tatiana Maslany had to wear a motion-capture suit and a helmet with a mask sticking out of the top.
"It took me a couple takes where I'd be just walking down the hallway talking to Tatiana, and Kat Coiro, our director would be like, 'Josh, who are you talking to?' I'm like, "Oh I'm so sorry, I was talking to Jen Walters, not She-Hulk, my bad!"
She-Hulk is in limbo, with no confirmed Season 2, but Segarra's clearly staying busy. Besides Scream 6, he has a role in The Big Door Prize, a sci-fi fantasy series (Apple TV+, out March 29) about a mysterious machine that can reveal anyone's true life potential. Segarra plays Giorgio, the youngest Italian-American goalie in New York Rangers history. Giorgio returns to his hometown to open an Italian restaurant-slash-sports center — though it's a safe bet that doesn't turn out to be his true purpose.
For Segarra, the show's "quirky" premise hides a deeper meaning.
"I think we've all been through this in these last few years with the pandemic," he says. "Everybody maybe had a moment of going like, Oh, I wonder what would happen if I learned the cello? I wonder what would happen if I picked up this hobby that I've always dreamt of? I know a lot of people did do that, and that's kind of what happens in our show."
There's also season three of The Other Two, which he says just finished filming and is expected to premiere on HBO Max this year. Segarra plays Lance Arroyo, an "upbeat, sweet, and seemingly simple-minded" (Wikipedia's words, not mine) aspiring sneaker designer who used to date Brooke Dubek, one of the show's main characters.
Lance might be the purest distillation of Josh Segarra's Zen sweetness. He starts as the butt of a punchline in The Other Two; an example of how things could be even worse for the show's two downtrodden main characters — a pair of burnt-out millennial siblings living in the shadow of their pop star Gen Z sibling. Turns out Lance might be the wisest (if not the brightest) person in the room.
"When you read Lance on the page, I want to bring him to life and figure out why he loves 'Brookie Monster' [his term of endearment for his ex] so much," Segarra says. "He can see the parts of her that maybe she doesn't even love about herself."
Segarra infuses all his roles with that open-hearted sweetness. "Pug loves Jen hard; he's ride-or-die. Danny in Scream 6, you'll see his heart. I love that. Maybe that is a part of me," he says. "Even with Adrian Chase, sure, he's the quote-unquote 'villain.' But I wasn't playing him like a villain. I was just playing him like he was in love with Oliver. He was obsessed with Oliver. He thought that Oliver was the best. And for that reason, I'm going to destroy you."
Oh, and if his Scream 6 character does survive long enough to make it into the next sequel, Segarra has a slightly unorthodox pitch for the next installment.
"If they could find the way in for a Scream musical, make the audience laugh and also be a little scared? Let's go!" he says, laying out the elevator pitch. "Who knows? Maybe Ghostface has some operatic talents that we don't know about."
Photographs by Ben Rayner
Photo Director: Alex Pollack
SVP Fashion: Tiffany Reid
SVP Creative: Karen Hibbert