Evil star Mike Colter teases unexpected new cases in Season 4
Mike Colter unpacks David Acosta's higher calling in the next season of TV's most mysterious saga.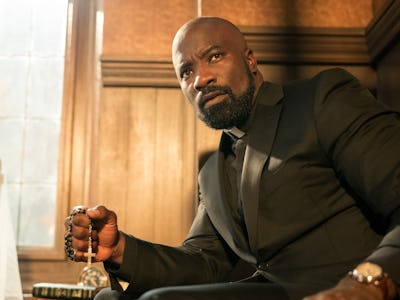 While Evil is in limbo, television star Mike Colter reveals what awaits his Catholic priest, David Acosta, and his escalating battle against the underworld in the Paramount+ drama.
During an interview with Inverse to promote his movie Plane, co-starring Gerard Butler, Colter gave an update on the future of Evil.
"We always start every season pretty much where we left off. Not a lot of time has elapsed," Colter says, adding that the show will bring back Wallace Shawn and his Season 3 role of Father Frank Ignatius, who took over for the deceased (or murdered) Monsignor Korecki (Boris McGiver).
Colter adds that Season 4 is being shot more on location; the actor mentions forests and woods that indicate Evil will take more road trips.
"What I can tell you about Season 4 is right now we're on location a bit," Colter says, "Because the locations are really unique when you're out in the woods. If you're on location in these strange environments, it brings this sort of feeling that you don't get when we're shooting on stage or indoors. So I think, being privy to what I've seen so far, it's going to be visually very stimulating."
Colter also praises the upcoming cases, teasing scenarios he's "never considered." "But it's definitely a challenge and also something that I look forward to, and I'm enlightened every time we crack open the script," Colter says. "It's gonna be fun."
In Evil, Colter plays David Acosta, a Catholic priest who works with forensic psychologist Kristen Bouchard (Katja Herbers) to investigate cases of alleged demonic possession. The two are aided by Ben Shakir (Aasif Mandvi), a technical expert and skeptic whose insight is as welcome as his wit.
When Season 3 wrapped up, David was about to deal with the birth of a demonic baby born to his best friend and unrequited crush, Kristen, a scenario they probably didn't cover in seminary.
Season 3 also saw David become ordained, and Colter tells Inverse that his David is on the verge of another change. "I think David, at his age, at this place in life, committing to something that you still have questions about is really hard," he says.
"I think it's like being a nun. Being an ordained priest, deciding to stay celibate. It's tough. I don't think he does that haphazardly and without some real consideration."
Colter adds that David, while comfortable with his worldview, likes to see alternative perspectives.
"David questions a lot of things because he is a person who likes to absorb from others. I don't think he's 100% sure that everything he's decided is right. I don't think he understands everything there is to know about this world that he's in. And so that's why he's obviously enlisted the help of these people who sometimes fight with him. They contradict him. The question his movements, and he sometimes learns from them. But he's still steadfast in the understanding that he believes in a higher power, he believes in God, he believes in all these things that people can't see. And so he's committed to that."
Colter adds that playing David is, at times, a test of his skills. "It's a stretch to portray someone who is so steadfast and so willing to commit to something like this," he says. "And it's really difficult sometimes, it's a challenge."
Read Inverse's full interview with Colter here.
Evil Season 4 does not yet have a premiere date. Evil Seasons 1-3 are streaming on Paramount+.