The 13 Best D&D Episodes of TV, From Gravity Falls to Stranger Things
These are the best episodes that celebrate the game.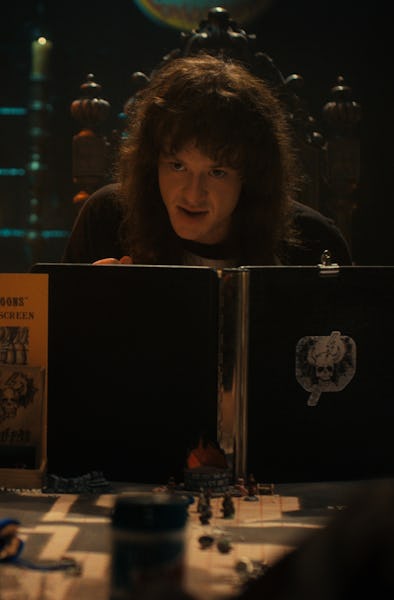 Netflix
Since its release in 1974, Dungeons & Dragons has fostered generations of writers to hone their craft one D20 roll at a time. Many Hollywood screenwriters claim to owe a debt to D&D, but sometimes they pay their love back through unforgettable TV moments that truly celebrate the game.
With Dungeons & Dragons: Honor Among Thieves now in theaters, you and your fellow party members may be itching to binge some classic D&D-themed episodes from shows like The IT Crowd and Community. Don't worry: We've got you covered like a gelatinous cube.
Here, Inverse ranks the 13 best episodes that heavily feature Dungeons & Dragons and tabletop role-playing. Even better, we've linked to which streaming platform you can watch the episode right now. (You're welcome!) For clarity, we're ruling out episodes where D&D get only a brief mention; the episodes below actually center the story, stakes, and plot around games of D&D, or use it in an important way even for just a scene. We're also not listing actual-play shows like Dimension 20, Critical Role, or Critical Role's The Legend of Vox Machina, because those are just obvious.
13. The Big Bang Theory, "The Love Spell Potential" (Season 6, Episode 23)
Naturally, there are a million references to Dungeons & Dragons in all 12 seasons of The Big Bang Theory. But "The Love Spell Potential," the penultimate episode of Season 6, actually revolves around a game. When the girls' trip to Las Vegas goes belly up, the boys invite them to their night of D&D. But a love spell cast between Sheldon (Jim Parsons) and Amy (Mayim Bialik) as players compels them to question if their relationship is just as imaginary.
Just being what it is, The Big Bang Theory takes last place on this list because no show can crack jokes about geeks being virgins in 2013 and feel original. But Simon Helberg's Howard, who DMs the game, does a killer Nicolas Cage impression that simply needs to be seen.
Where to stream: HBO Max
12. South Park, "Board Girls" (Season 23, Episode 7)
Long ago, South Park would have roasted D&D. But in 2019, the game's popularity inspired even Colorado's most foul-mouthed fourth graders to quest for glory. But when two girls join their game and wind up more attuned to it than they are, peace is disrupted in South Park Elementary.
As is South Park tradition, D&D is in service to the show's clunky metaphors exploring social issues; in this case, it's transgender athletes in sex-segregated sports. Whatever your feelings are on South Park's politics, one thing's certain: There's not a lot of wisdom points in this one.
Where to watch: HBO Max
11. The Sarah Silverman Program, "Bored of the Rings" (Season 2, Episode 1)
Like South Park, this 2003 episode of The Sarah Silverman Program mushes satire with fantasy role-playing, albeit not as elegantly. While Sarah Silverman accidentally joins an anti-abortion protest, her geeky gay neighbors Brian (Brian Posehn) and Steve (Steve Agee) have their date interrupted by Brian's Dungeons & Dragons game.
While D&D doesn't take center stage as much as it does other shows on this list, the climax does end with a noble (and clumsy) quest by Brian's D&D table to take up arms and save the clinic. I believe that counts as a chaotic good ending.
Where to watch: Paramount+
10. Buffy the Vampire Slayer, "Chosen" (Season 7, Episode 22)
While D&D only takes up a few minutes in the middle of Buffy the Vampire Slayer's series finale — as a midnight reprieve for the heroes before their lives change the next morning — it feels more significant than its short time implies.
Buffy is simply one of those shows whose characters and half-serial, half-episodic plots feel ripped out of countless RPG sessions. By including the game at the very end of the influential young adult series, the writers basically salute the game that gave them their wings. Or fangs.
Where to stream: Hulu
9. Gravity Falls, "Dungeons, Dungeons, & More Dungeons" (Season 2, Episode 13)
"This is like Homework the Game!" You're not wrong, Mabel. Gravity Falls, the cult Disney series set in a town where spooky things happen on a Tuesday, does its own D&D(&D) episode when Dipper gets to playing Dungeons, Dungeons, & More Dungeons.
Sick burns aside ("Only a game designed by nerds would have 'charisma' as a fantasy power!"), Gravity Falls uses the almost literal magic of tabletop role-playing to help Dipper connect with his estranged uncle Stanford (voiced by J.K. Simmons). But problems arise when an enchanted dice roll unleashes the game's monsters in the real world.
Where to stream: Hulu
8. Teen Titans Go!, "Riding the Dragon" (Season 3, Episode 50)
Ride that dragon, bro! The Teen Titans are actual superheroes, but that doesn't stop them from getting immersed in Dragon's Fire, a D&D-like RPG. But when Robin (Scott Menville) joins the table, his insistence on structure and rules interferes with everyone's fun, something all D&D players have dealt with before. Blame Batman for training him.
Where to stream: HBO Max
7. The IT Crowd, "Jen the Fredo" (Season 4, Episode 1)
When Jen (Katherine Parkinson) gets a job "entertaining" rude, out-of-town businessmen looking for a good time, the suits end up at Moss' (Richard Ayoade) game of Dungeons & Dragons. Even more hilarious: They get really into it. Meanwhile, poor Roy (Chris O'Dowd) is still mending the pieces of his broken heart. Watch as tabletop role-playing becomes a way for Roy to say goodbye to the "elf princess" who dumped him.
Where to stream: Netflix
6. The Goldbergs, "Dungeons and Dragons, Anyone?" (Season 3, Episode 20)
It's the improbable high school showdown of the '80s when Adam (Sean Giambrone) convinces his gym teacher to manage squads in class. But when Adam betrays his friends to align with the jocks, Dave (Kenny Ridwan) gets back at him by implementing "tournament module" D&D as a challenge.
While you need a strength modifier of +4 to suspend enough disbelief to watch this one, The Goldbergs still charms because, well, who wouldn't want to play D&D like this when they were in school? Also, they wrote a song.
Where to stream: Hulu
5. Stranger Things, "The Vanishing of Will Byers" (Season 1, Episode 1) and "Chapter One: The Hellfire Club" (Season 4, Episode 1)
No show has embraced D&D like Stranger Things. But while homages abound in the series, the premieres of Seasons 1 and 4 actually show the characters immersed in the thrill of the game.
The boys' encounter with the Demogorgon at Mike's (Finn Wolfhard) table is still an unforgettable moment that set the tone for the show, while Season 4 shows off Eddie Munson's (Joseph Quinn) impossibly dope table. Both cleverly use D&D to foreshadow the nightmares to come. If any show has encouraged more people to fashion themselves into rogues, bards, and wizards, it's Stranger Things.
Where to stream: Netflix
4. Futurama, "Bender's Game" (Season 5)
One of four movie specials that make up Futurama's fifth season, "Bender's Game" goes for broke when it channels the biggest sagas ever told, from Star Wars to Lord of the Rings.
But D&D takes the spotlight when Bender (John DiMaggio) realizes his artificial sentience means he's never had an imagination of his own. After a game of D&D helps Bender learn to play pretend, he loses himself to his alter ego of "Titanius Anglesmith, Fancy Man of Cornwood." Things get complicated when a mishap involving dark matter sends the characters into a parallel universe inspired by Bender's fantasy world.
Earlier in Season 2, the anthology episode "Anthology of Interest I" actually featured D&D co-creator Gary Gygax playing himself. A clip was included in the DVD release of "Bender's Game" as a tribute to Gygax, who died during its production.
Where to stream: Hulu
3. Voltron Legendary Defender, "Monsters & Mana" (Season 6, Episode 3)
You would think the "Paladins" of Voltron wouldn't need imaginations to be heroes. But deep into Netflix's incredible reboot Voltron Legendary Defender, which ran from 2016 to 2018, the Voltron pilots take a break from saving the universe and pass the time over a game of Monsters & Mana.
While a filler episode — and woefully missing Keith, the emo bad boy voiced by Steven Yeun — Voltron goes hard into showing its love for D&D and RPGs. Unlike other shows on this list, Voltron cranks things up by turning the campaign into actual action set pieces, along with JRPG-style health bars, graphics, and even a World of Warcraft-style user interface.
Where to stream: Netflix
2. Freaks and Geeks, "Discos and Dragons" (Season 1, Episode 18)
It's almost fate that John Francis Daley made a Dungeons & Dragons movie. Before he was a comedy director, Daley was a child actor on the seminal teen series Freaks and Geeks whose final episode contains one of the most unforgettable celebrations of D&D on TV.
With the last day of school approaching, Daniel (James Franco) is forced to join the school's AV club, which among its members include dweeby Sam (Daley). Sam's club invites Daniel to their game of D&D, and though Daniel resists at first, he slowly lets down his guard to have the night of his life.
"Discos and Dragons" doesn't entirely center around D&D. In fact, the characters don't start playing until closer to the end. But as one of the first instances of pop culture exhibiting the true magic of the game — connecting with distant people — Freaks and Geeks keeps a warm place in the hearts of fans. Daley credits the show for introducing him to D&D, and now, he's written and directed a whole movie about it. No Dungeon Master could plan a better ending.
Where to stream: Hulu
1. Community, "Advanced Dungeons & Dragons" (Season 2, Episode 14)
Behold: The Level 20 boss of all D&D episodes.
In an already extraordinary second season of Community, "Advanced Dungeons & Dragons" takes things to the next level when the central study group, led by Jeff Winger (Joel McHale) do a selfless thing for once and take in Neil (recurring star Charley Koontz), a student contemplating self-harm. To help him feel better, they invite him to play his favorite past time: Dungeons & Dragons. However, they leave out the insensitive Pierce (Chevy Chase), who is driven to exact vengeance at the table.
Over a decade after it premiered in 2011, "Advanced Dungeons & Dragons" remains both a high watermark for the series and simply one of the funniest, most original sitcom episodes of all time. Most impressive is how well it strikes the balance between celebrating the game's eccentricities (Troy: "I attack them using my ... additional notes!") while still appealing to general audiences. The episode never drags viewers down with hyper-specifics — nobody rolls for initiative — yet it harnesses the unbridled chaos all tables devolve. If you're about to play D&D for the first time, there's no better or more rousing introduction than Community.
A sequel episode in Season 5, "Advanced Advanced Dungeons & Dragons," revisits the same premise with maybe even more ambitious filmmaking and writing. But the first D&D episode is still so masterfully executed that even a solid follow-up doesn't feel as mighty.
Where to stream: It's complicated. While Community is on Netflix and Hulu, the episode contains a gag with blackface (Ken Jeong in the makeup of a drow elf) which has made it unavailable to stream. You can still buy it on storefronts like iTunes and Vudu. "Advanced Advanced Dungeons & Dragons" from Season 5 is still streaming on Netflix and Hulu.
Honorable Mentions
Mazes and Monsters (1982): In 1981, a case of "Satanic panic" over Dungeons & Dragons inspired both a book and a made-for-TV movie starring a young Tom Hanks. Stream it on Peacock
Key and Peele, "When Hip-Hop and D&D Collide": Slap that Hobbit's d*ck off, yo.