David Fincher Reveals Why Mindhunter Season 3 Didn't (and Won't Ever) Happen
RIP to one of Netflix's best original series.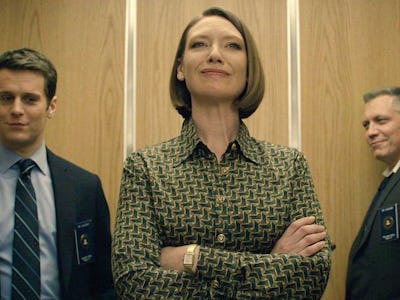 Netflix
In the eyes of Netflix, one of its best original series to date isn't worth the trouble of a third season.
Or at least that is what director David Fincher implied in an interview Le Journal du Dimanche about the fate of Mindhunter. "I'm very proud of the first two seasons, but it's a particularly expensive series and, in the eyes of Netflix, we haven't attracted a large enough audience to justify such an investment," Fincher said.
The unsettling psychological crime thriller, which is based on the 1995 book Mindhunter: Inside the FBI's Elite Serial Crime Unit, premiered in October 2017 to widespread praise. Mindhunter accrued an almost immediate loyal fanbase made up of lovers of true crime, '70s and' 80s period pieces, and Broadway darling Jonathan Groff. Mindhunter was exalted for its tautly-paced drama, smart script, easygoing chemistry between leads Groff, Anna Torv, and Holt McCallany, outstanding cinematography, and eerily accurate portrayals of real-life serial killers like Edmund Kemper (Cameron Britton), Son of Sam (Oliver Cooper), and Wayne Williams (Christopher Livingston).
But toward the tail end of summer 2019, Mindhunter aired what would become its final episode. A couple of months after, a potential third season was reported to have been put on an indefinite hold until Fincher finished his longtime passion project, Mank, which was released by Netflix in 2020. But by then, hopes for Mindhunter Season 3 had already started to dwindle.
Fincher, who is best known for directing the movies Se7en, Fight Club, Zodiac, and Gone Girl, had originally planned to make five seasons for the show. Back in August 2022, director Andrew Dominik told Collider that season 3 would've likely focused on the Behavioral Science Unit trio (Holden Ford [Groff], Bill Tench [McCallany], Wendy Carr [Torvr]) going to Hollywood to share their research with famous filmmakers like Jonathan Demme and Michael Mann.
"It was all going to be about [their work] making it into the sort of zeitgeist, the public consciousness. It would've been... That was the season everyone was really waiting for to do, with when they sort of get out of the basement and start," Dominik said.
It is rumored that Fincher's penchant for "subtle" computer-generated imagery may have bumped up the VFX price tag of the show far beyond Netflix's budget. But Fincher added in the interview with the French publication that he "doesn't blame" Netflix, noting that "they took risks to launch the series."
Fincher has enjoyed a longstanding and fruitful relationship with Netflix. His other major projects with the streaming platform — as either a director, an executive producer, or both — include the shows House of Cards, Voir and Love, Death, & Robots, along with the films Mank and The Killer, expected to be released November 2023. While Mindhunter was created by Joe Penhall, Fincher served as an executive producer alongside Penhall and Charlize Theron, and was often referred to as Mindhunter's showrunner because he oversaw scripts and production decisions, and was the director to helm most of the series' episodes (seven out of 19).
Will Mindhunter live on another platform? Well, maybe! Fincher signed on for an exclusive, four-year overall deal with Netflix on November 2020, so he's stuck with them until at least November 2024 — and is potentially brewing up a Chinatown prequel for them before his contract ends. If Fincher chooses to part ways with Netflix, then maybe another streamer could snatch Mindhunter up and produce Fincher's Seasons 3, 4, and 5 dreams for the show.
Until then, this cold case is now closed: Mindhunter on Netflix is no more.
Mindhunter Seasons 1 and 2 are available on Netflix.