How Ben Schwartz Became the Best at Being the Wooorst
The Renfield star talks being the bad guy and the origins of Jean-Ralphio.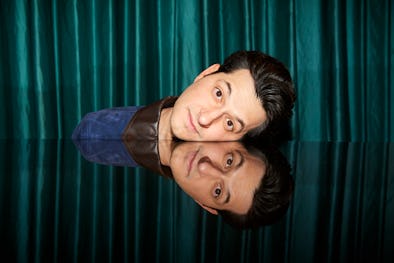 Ben Schwartz is used to being called "the worst." Usually, it's by total strangers, but it's a fairly common occurrence — and not so surprising considering the undying GIF-ability of his fan-favorite Parks and Recreation character, Jean-Ralphio. He of the bird's nest hair, the loose scarves, and the hysterical monologues became Schwartz's breakout role and the one the actor is still most recognized for. But Schwartz doesn't mind.
"I love that role," he tells Inverse. "That's the one that still, to this day, if someone sees me on the street, they cup their hands near their mouth, and they try to sing at me."
Since Parks and Rec, Schwartz has added plenty of lines to his résumé. He's played a struggling stand-up comic in Standing Up, Falling Down; he's been an arrogant consultant in House of Lies; he's voiced the titular hyperactive hedgehog in Sonic the Hedgehog; and he's played an aspiring ska artist who lives within his own musical. He was even in DuckTales. But he's never strayed too far from the Jean-Ralphio of it all. And now with his character Tedward "Teddy" Lobo in this month's Renfield (starring Nicolas Cage and Nicholas Hoult), Schwartz gets to truly, earnestly be the worst.
As a coked-up mobster who makes enemies with Renfield — Hoult's titular long-suffering servant of Dracula (a gloriously dedicated Cage) — Schwartz's Teddy Lobo is the closest the actor has come to playing a villain. "I never get to be a bad guy," he says. "You don't see me doing a tattooed-up bad guy who has mommy issues." Which was the appeal of Renfield.
"[My agent] goes, 'It's a big studio movie. You get to be a bad guy. You get to race cars and get into fights and shoot guns and do drugs and all the things you don't do in real life,'" Schwartz recalls. "And I was like, 'Yeah, I can't pass up this opportunity.'"
"It was a dream come true."
Only Tedward Lobo — whose ridiculous-sounding name went through even more ridiculous variations ("It was Teddy Eddie Lobo, then it was Teddy Lobo, then Henry Lobo, and then Tedward Edward Lobo," Schwartz says) — is not the hotshot mobster that he might appear to be on paper. Schwartz's character is a wannabe wiseguy, a spineless mob enforcer who runs crying back to his mob boss mother (an intimidating Shohreh Aghdashloo) whenever things get tough.
"[Director] Chris McKay gave me a bunch of movies to watch," Schwartz says: Goodfellas, Donnie Brasco, Mean Streets. But the point, as Schwartz explains, isn't that Lobo is like those people. It's that he desperately wishes he was like them. He's the stan with their posters on his wall. Schwartz mixed in his own character detail.
"The thing that I added was that he's doing it to try to impress his mommy, and he's doing it to try to impress his friends," Schwartz says. "It's not even something that he wants. He's so insecure, the only way to make him feel like he has any worth is to do these things."
To all that, Schwartz adds his own real superpower: improv.
Schwartz is a longtime practitioner of the ad-lib dark arts, with almost two decades doing improv, and, in return, it's led to some of his career's most memorable moments. "The woooorst," of course — which came about from Schwartz's tendency to turn every gag into song — and his "Don't Be Suspicious" duet with Jenny Slate, also from Parks and Rec. ("We didn't even think it was going to make the cut," Schwartz notes.) Being a coked-up mobster (aided by "Coca-Cola or green tea" on set) meant he had a valid reason for Teddy Lobo to go off the, ahem, rails. As in one scene, where Lobo is running from a traffic cop (Awkwafina) while lobbing bags of cocaine back at her. "I get out of my car, and I have all my cocaine on me, and these cops are coming after me, and I'm throwing the cocaine," Schwartz describes with glee. He took the opportunity to start jumping into cars filled with unsuspecting extras. "[I'm] talking to them and going bananas."
But where improv is old hat for Schwartz, the heavy stunt work was fairly new. Sure, he did some smaller stunts on the J.J. Abrams series Undercovers (he "got to grab a gun and whatever," as he remembers) and on The Afterparty, in which his character spent an episode imagining his life as a musical, requiring Schwartz to learn choreography. But Renfield meant a real-deal stunt situation. "I have a huge fight sequence in the end with Nicolas Hoult! We trained for weeks. I had to work out beforehand," Schwartz says, almost in disbelief. "For a bunch of this movie, I get my ass kicked. There's so many scenes where someone's holding a wire… and they pull me, so I'm thrown all the way off-lens."
That fight scene with Hoult is one of the bloodiest, grossest scenes of the year so far, with Schwartz's mobster getting the chance to go full supervillain. Renfield wears an R-rating with pride, with many of its over-the-top fight scenes ending in decapitation, heads exploding, blood splattering, or limbs being used to beat people to death. "The studio was obviously very nervous about that," says director Chris McKay. "But they let me do it. They let me have all that stuff."
In Schwartz's case, the hyperviolence mainly resulted in his character getting beat to a pulp — mostly at the hands of Hoult's Renfield. But he also got to play many scenes opposite the legendary Nicolas Cage as Dracula. Those scenes with Cage were probably the least of a stretch for Schwartz.
"It was a dream come true," Schwartz says. "I remember in between scenes they'd be like, 'All right, cut.' And he's still dressed as Dracula, and I'd be like, 'Can I just ask you a bunch of questions?'"
Cage entertained Schwartz's questions, about his performance in Spike Jonze's Adaptation, about his favorite movies, about his family. But that wasn't the wildest part for Schwartz.
"The surreal part is that, while we're doing this, I'm covered in blood, he's dressed as Dracula. And so it's some of the funniest pictures I have and some of the coolest pictures of me on set ever in my life, me talking to Nick Cage as Dracula. He's so committed to his work. He gave 110 percent, and he's so good in the movie."
Cage's work ethic inspired Schwartz, who sought to put that same effort into Teddy Lobo. It pays off when, at one point in the film, Teddy gets to "go full bad guy" and engage in some of that hyperviolent fight choreography. Now that Schwartz has got a taste of that power — and learned a little fight choreography on the side — I ask him: Could a superhero role be in his future?
"Oh, my God. I've thought about this forever," Schwartz says, lighting up as soon as the words "Plastic Man," his longtime dream superhero role, roll off my tongue. Schwartz goes on a two-minute ramble about Plastic Man's whole DC Comics history before he gives his pitch for his dream Plastic Man movie: "I just think that it could be a Deadpooly-type thing for DC," Schwartz says. Plastic Man, like Deadpool, is known for breaking the fourth wall in the comics, which would make a Plastic Man DC movie an easy counterpart to Marvel's Deadpool films.
"I get to do stunts. But then I get to improvise. I get to do a little bit of everything."
"I love that Deadpool universe, I love how aware it is, and I love how funny it is," Schwartz says. "And that, to me, when you talk about all the skill sets I've gotten through my time, that's the [role] that combines everything."
Schwartz has given up hope of the DC Universe's new boss giving him a call to be Plastic Man. "I'm almost nervous now that James Gunn is going to be like, 'Kid, you got to shut up. I'm never going to let [you] be Plastic Man now,'" he jokes. But he's excited for audiences to see a new side to him in Renfield.
"I get to be really campy and broad sometimes, but then really dramatic," Schwartz says. "And then I get to do stunts. But then I get to improvise. I get to do a little bit of everything."
Photographs by Jake Chessum
Talent Bookings: Special Projects
Photo Director: Alex Pollack
SVP Fashion: Tiffany Reid
SVP Creative: Karen Hibbert