Fall Is So Intense You'll Need to Watch Another Movie After It to Wind Down
'Shazam 2's Grace Caroline Currey stars in a white-knuckle adventure.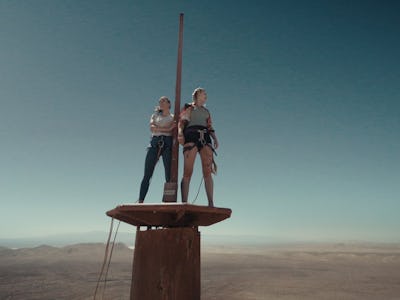 Lionsgate Films/Signature Entertainment
Two best friends — one grieving the devastating death of her husband, the other hyper-focused on her budding career as an adventure influencer — decide to climb the "fourth-highest" structure in the United States. With just a flimsy ladder, fifty feet of rope, one backpack, zero snacks or emergency kits, and only each other to count on, what could go wrong?
On the surface, Fall (2022) goes exactly how you'd expect the survival thriller to go, or at least it does in Act 1. By Act 2 you'll be gripped by the scandalous drama, and by Act 3 you'll be flabbergasted at the plot twist orchestrated by director and writer Scott Mann and co-writer Jonathan Frank.
But it wasn't just Fall's narrative beats that had audiences stunned by last summer's sleeper hit. In an interview with Inverse about her role in Shazam! Fury of the Gods, Grace Caroline Currey noted that she had her share of freakouts on Fall's set.
Fall's filmmakers opted to build the upper portion of the tower on top of the Shadow Mountains so that the actors could appear to be thousands of feet in the air. Even though they were only a couple hundred feet off the ground, erratic weather and dicey winds often took Fall's leads (Currey and Virginia Gardner) to real-life extremes. In one climatic sequence, Currey was asked to jump onto a slanted satellite dish caked in fake puddles of blood. As harsh gales blew past the stage, Currey felt something was off with her harness.
"I called Scott and let him know it felt dangerous. I wasn't going to accomplish what they wanted from me," Currey told Inverse. While she was nervous about being labeled a "difficult woman" on set, Currey chose wisely. The next day the winds dried the blood, which gave her traction to land.
In Shazam! 2, Currey plays Mary Bromfield, a college-aged superhero who can soar above Philadelphia's skyline without breaking a sweat. Does Currey's character in Fall also manage to keep her cool as she hangs on for dear life? You better find out, because there's a sequel on the way.
BFFs Becky (Currey) and Hunter (Virginia Gardner) are climbing what looks like Yosemite National Park's treacherous El Capitan monolith along with Becky's husband, Dan (Mason Gooding). But Dan gets distracted, loses his footing, and falls to his death. A year later, a heartbroken Becky is abusing alcohol to escape the pain, even though her dad, James (Jeffrey Dean Morgan), bluntly tells his daughter that she needs to snap out of it.
To cheer her friend up, Hunter invites Becky to climb a decommissioned 2,000-foot radio tower in the desert to scatter Dan's ashes and move past the tragedy. Hunter also has ulterior and slightly selfish motives, as she wants to document the climb on a drone to amass more YouTube followers.
After taking some cool selfies on the tiny platform, things start to go south. The corroded ladder breaks and their supplies fall several hundred feet to a lower section of the tower, stranding Becky and Hunter. Now they have to find a way to call for help before they die... or before they start spilling deep, dirty secrets.
Anyone who's ever watched a telenovela could have guessed the secret Hunter was keeping from Becky. The fretful build-up and fallout of the movie's main friendship is basic soap opera fodder, but then the melodramatic trope is warped. Imagine being stuck in the stratosphere while your best friend confesses to an act that completely changes how you think about her and your dead spouse. Mann and Frank captured the atmospheric terror of a brutal betrayal, and layer that agitation atop the increasing anxiety over the protagonist's chances at surviving their stupid social media stunt.
And then Mann and Frank add yet another twist to Fall's tense tale. We won't spoil it, but it's so masterful and unpredictable that the story has no other choice but to go down, figuratively and literally, from that towering peak. Meanwhile, Gardner and Currey, both do a sensational job at selling our suspension of disbelief, and Fall's breathtaking cinematography and sophisticated special effects will make even the most pretentious film dork drool.
Fall is mostly one epic, adrenaline-pumping shot after another. Filmed in IMAX with a meager $3 million budget, clever use of angles and depth contort your perception of reality. It may not always look genuine, but Fall's cinematography successfully captures the fear of falling.
In one scene, the tower's flimsy ladder bends and breaks, immediately putting you on the edge of your seat as Becky dangles from the ledge and the rungs crash into smithereens below her. Fall will draw out screams, but its ending brings a calming sense that justice was done.
Fall is streaming on Prime Video.