Seth Rogen's Wacky Apocalypse Comedy is Also One of the Sharpest Hollywood Satires
This may be the most unhinged comedy Seth Rogen has ever made.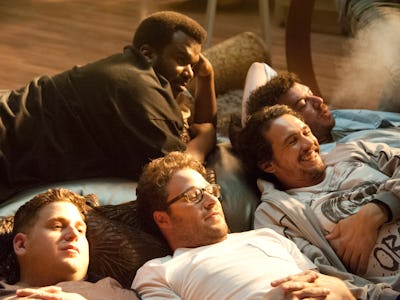 Sony Pictures Releasing
There's something to be said for when artists decide to turn their sights back on themselves. Whether it be John Malkovich in Being John Malkovich, everyone in Tropic Thunder, or even Warren Beatty in Shampoo, there are more than a few iconic comedies that work largely because of how they let their stars lampoon themselves and Hollywood at large.
In 2013, Seth Rogen, Evan Goldberg, and many of their closest friends and collaborators decided to attempt a similar trick in This is the End. The film, which was written and directed by Rogen and Goldberg, is a wacky, darkly funny horror comedy that also doubles as a satire of Hollywood culture. It's a post-apocalyptic romp that doesn't just let its stars play exaggerated versions of themselves, but also takes as many opportunities as it can to poke fun at each of their reputations.
Set in contemporary times, This is the End takes place in a Hollywood Hills mansion that is quickly turned into a quasi-safe haven when the world is suddenly ravaged by a biblical apocalypse. While the apocalypse's initial, city-destroying earthquake claims more than its fair share of famous victims, too, a handful of celebrities manage to survive and take shelter in the film's central Hollywood mansion, including Rogen, Jay Baruchel, James Franco, Jonah Hill, Craig Robinson, and Danny McBride.
The film's plot sounds like something that Rogen and Goldberg came up with purely as a gag, but not even its ludicrous opening minutes can properly prepare viewers for everything that happens in This is the End's second and third acts. Not only does the film find plenty of chances to lean into its stars' occasionally dubious public reputations, but it also packs in references to everything from The Road Warrior and Dirty Dancing to The Exorcist and Rosemary's Baby.
The latter storyline, which revolves entirely around an overly petty version of Hill, is one of the most unhinged bits of any mainstream studio comedy that was released in the 2010s. The same goes for a third-act sequence involving McBride and — of all celebrities — Channing Tatum that is so shocking and deranged that the film's creative team has felt the need to explain how they even got Tatum to participate in it in the first place.
Like most of the films made by Rogen and co., This is the End occasionally veers too far into the kind of bro-type humor that, frankly, brought down a lot of the comedies Hollywood produced throughout the 2000s and 2010s. However, not even the film's comedic misses (one gag involving Harry Potter star Emma Watson hasn't aged particularly well) take much away from the sheer gonzo energy that pulses throughout it.
This is the End is one of the strangest and most tongue-in-cheek comedies you'll likely ever see. The fact that it manages to mine so much humor out of its relatively simple premise (i.e. what if the apocalypse's only survivors were a bunch of Hollywood morons?) is ultimately a testament to just how unrestrained the film's creative team must have felt while they were making it.
Sometimes, there really is nothing better than watching a bunch of friends make absolute fools of themselves and each other for 100 minutes.
This is the End is available to stream now on Netflix.