The Woman King Should Have Been a Defining Pop Culture Moment
"Beyond this wall is a palace of women."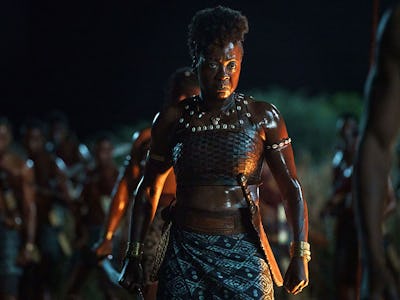 2022 was an objectively great year for film. A rousing comeback for Brendan Fraser, a renewed appreciation for Colin Farrell's overly expressive brows, the closure of a 13-year gap between Avatars, a career-best for Michelle Yeoh, a facelift for the Shrek franchise ... and that's only scratching the surface.
While many of the year's most deserving movies wound up being recognized by the Academy Picture Arts and Sciences with Oscar accolades, some were, regrettably, snubbed and left with zero chances of earning a coveted golden statuette.
The Academy's most egregious brush-off this year was The Woman King.
The Woman King, perhaps star Viola Davis' finest work yet, is a riveting Hollywood epic in the purest sense of the term.
A gorgeous and ferocious sweeping spectacle across a harsh landscape and even harsher historical realities, The Woman King, unlike the film's titular female warrior, wears its heart on its sleeve. The sprawling, all-out battle scenes with hundreds of women toeing the line between graceful and merciless, were arguably some of the most outstanding action scenes to his theaters this past year. But the more subdued, dramatic moments of The Woman King, while less buzzy, were also some of its most provocative.
The Woman King, set in the 1820s in Dahomey and directed by Gina Maria Prince-Bythewood (The Secret Life of Bees), is categorized as a historical action drama film. But the history part of that label may warrant an asterisk. Yes, there was an all-woman warrior unit (the Agojie) who were the revered protectors and cutthroat champions of the West African kingdom. But, opting out of the riches of the slave trade for the far-less profitable palm oil production? Eh...
Screenwriters Dana Stevens and Maria Bello did not get every bit of the Kingdom of Dahomey's history correct. The truth about Dahomey's participation in the African slave trade is, sadly, far less heroic than the high-note the film ends on. But if you aren't a stickler for factually accurate minutiae, then consider The Woman King as a sort of restorative justice fairytale, a rewrite of the past that dreams up a better future.
Viola Davis plays Nanisca, a general who trains a band of famed and ruthless female fighters to triumph over Dahomey's enemies. In the film, those enemies are slavers of the Oyo Empire, who have abducted a slew of Dahomean women to be sold and shipped off to Europe and to the United States. This affront provokes the headstrong and handsome King Ghezo (John Boyega) to call for war, informing Nanisca that she needs to begin preparing a whole new generation of young warriors to join the Agojie.
Among these warriors is Nawi (Thuso Mbedu), a tiny but determined teenager who catches the eye of a half-Dahomean (Jordan Bolger), who is accompanying his friend, a Portuguese slave trader (Hero Fiennes Tiffin) hoping to convince King Ghezo to join the slave trade. Nawi's training goes surprisingly well — until she is recognized by Amenza, one of Nanisca's most faithful friends. Suddenly, Nanisca's hard exerior, which has helped her win every battle she's ever fought, is cracked wide open, revealing vulnerabilities she had long kept repressed.
Why Should You Watch The Woman King?
The Woman King has an epic narrative, epic entertainers, and epic visuals. Everyone is simply glowing in The Woman King — and that's aside from their acting chops. That's a credit to Prince-Bythewood, who wanted to ensure that the film's department heads were women and people of color, who intimately understand how to light darker skin tones. There may be a lot of blood in The Woman King, it's true, but beneath all of the scrapes is a whole lot of beauty.
Davis is absolutely radiant in The Woman King, reverberating with a quiet, tragic tenacity throughout most of her performance — until she lets all of her character's trauma out on the battlefield, with action-packed choreography that gets the actress going borderline feral.
But, unlike many a Hollywood epic wherein the starring male hero is far more memorable than anybody else in the cast, Davis doesn't outshine her supporting leads. This is partly because they're written to be perfect complements of Nanisca — the unwavering confidante (Sheila Atim's Amenza), the co-commander (Lashana Lynch's Izogie), the thorn in her side (Nawi), the deferential man (Ghezo), and the unlikely nemesis (Shante, played by Jayme Lawson) — but it's also because the supporting cast is just so damn good.
Mbedu is an unbelievable 15 years older than her character's age in the movie, excelling at convincing the audience she's a wily, wild youth who doesn't want to be constrained; Atim, meanwhile, makes her character compelling in her own right — Amenza isn't just a sidekick or a BFF, and it's Atim's nuanced portrayal that elevates her role. And Lashana Lynch? Well, there's a reason why you've been seeing her everywhere, from No Time to Die to Doctor Strange in the Multiverse of Madness. Lynch tugs at the heartstrings while also being physically intimidating — a balance between being, well, a delicate empath and a formidable soldier that Lynch juggles just right.
For reasons Inverse can't quite comprehend, the Academy ignored The Woman King — but that doesn't mean that you have to.
The Woman King is streaming now on Netflix.