An Xbox App Store Has More to Offer iPhones Than Just Game Pass
Microsoft plans on taking Game Pass everywhere, but launching an alternative app store is also an opportunity to improve on what Google and Apple already offer.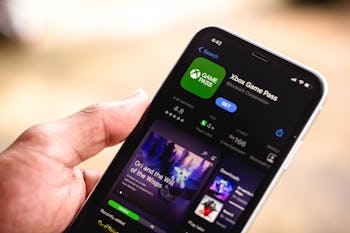 SOPA Images/LightRocket/Getty Images
Microsoft has its eyes set on the App Store. In an interview with the Financial Times, chief executive of Microsoft Gaming, Phil Spencer, revealed the company could launch an alternative app store on iOS and Android as early as 2024.
The company's plans to compete directly with Google and Apple on app distribution have been known since the fall of 2022, dug up as part of the U.K. Competition and Markets Authority's review of the Activision Blizzard acquisition. The timing is key for Microsoft, it's long tried to bring its Game Pass subscription service to iOS and Android through a native application, and the changes the EU's Digital Markets Act will force on iOS and Android could be perfect for swooping in with an enticing alternative way to get mobile games.
But a hypothetical "Xbox App Store" would be about more than smuggling in Game Pass. Despite benefiting from the lucrative sales of games on iOS and Android, neither Google nor Apple has done much to improve the experience of finding them or enticing developers to make exclusive games for their platforms. With the right opening, Microsoft has an opportunity to shake up how mobile gaming works dramatically.
Third-Party Stores
Making Xbox games as broadly available as possible has been the center of the general Microsoft gaming strategy for the last few years. An app store seems like a natural evolution of that idea by allowing Microsoft more control over how its future mobile apps are distributed. "We want to be in a position to offer Xbox and content from both us and our third-party partners across any screen where somebody would want to play," Spencer told FT.
Among its sweeping changes, one of the most significant impacts the Digital Markets Act could have on smartphones is requiring that platform holders like Apple or Google ("gatekeepers" in the European Union's terminology) allow for third-party app stores and even alternative payment methods.
It's unclear if or how Apple and Google will comply with those requirements once they're officially enforced — the companies can both technically appeal the Digital Markets Act — but Apple is reportedly prepping iOS 17 for the possibility of app store alternatives, according to Bloomberg.
What Could Improve
Ultimately, upsetting the App Store and Play Store duopoly over distributing mobile apps and games should only be good. It'll force Apple and Google to compete for developers' apps and, assuming both companies comply fully with the DMA, use of their payment systems.
That could mean a better split on sales revenue, more subscription options, and aggressive courting of developers for exclusives. In Microsoft's case, the company is also focused on improving the experience of finding apps, even claiming that Activision could be the key to succeeding. "Activision's attractive content and experience with player engagement and acquisition will help to enhance the discoverability, searchability, and ease of user engagement of the new mobile platform," Microsoft wrote in one of its responses to the CMA's findings.
While Activision's role in improving the mobile app distribution model is dubious, there is a real possibility that Microsoft's relationship with developers through the Xbox brand could lead to a more varied selection of games in its store. Game Pass hasn't generated universal goodwill or positive sales. Still, it has exposed more games to more people, something that's just as needed on mobile because, honestly, Play Pass and Apple Arcade aren't cutting it.
How Microsoft Stands to Benefit
Besides continuing to maintain its rosy image of trying to offer everyone a way to play games, Microsoft has all the pieces in place to make a boatload of money on mobile. The Activision Blizzard deal might seem like it's about controlling Call of Duty, but it's just as much about King, the mobile developer Activision owns that's behind smash hits like Candy Crush. If Microsoft's merger is approved, it can rake in the microtransaction bucks, and assuming a company like Apple is forced to allow third-party apps and payment systems, Microsoft could get that money without sharing any of it.
So trying to spin up a mobile app store of its own is really a win-win in Microsoft's view. Developers have more options, and Microsoft makes a lot more money. We probably won't know how any of this will shake out until later this year, but with both Google and Apple typically hosting developer conferences in the summer, the first glimpses of what a more open iOS and Android look like could be here soon.