Volkswagen's ID. 2all Looks Like the Affordable EV We've Been Waiting For
The company is only planning on releasing the ID. 2all in European markets right now.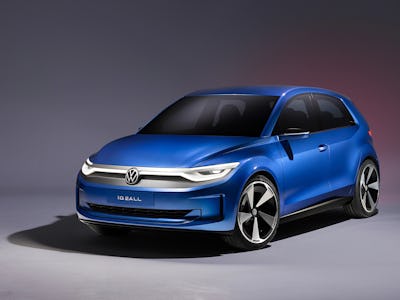 Volkswagen
It's not exactly a Golf, and it's not quite a Polo, but Volkswagen's ID.2all concept has certainly captured our attention with its €25,000 price tag. The compact EV is only a concept right now, but its design doesn't feel too far off from what a production model could look like. More importantly, the eventual production version of the ID.2 could be a serious contender for the best entry-level EV.
Lots of car brands getting into EVs have been focusing on putting out an SUV model first to appeal to the American markets. And for those looking for a more compact option, there have only been a handful of decent choices, like the Chevy Bolt, BMW's i3, and the Mini Cooper Electric.
EVs are also still fairly expensive compared to their ICE counterparts, however, a €25,000, (roughly $26,400) option from Volkswagen would lower the barrier to entering the EV world.
SMALL BUT MIGHTY
The ID.2all concept will use Volkswagen's MEB platform, and will be the first model on the platform that uses front-wheel drive. The electric motor will put out 166 kW, letting you top at around 160 kmh, or around 99 mph, and hit 0 to 60 mph in around seven seconds. The battery gets you a range of up to 450 km, or around 280 miles, and can be charged up from 10 to 80 percent in about 20 minutes.
Volkswagen pulled from its classic Golf design for the ID.2all's C pillar, giving the exterior a very familiar look. On the inside, there will be two displays, one for the dashboard and another for the main display. Volkswagen kept the volume control in the center console and an air conditioning separate from the main dashboard.
As a whole, the ID.2all is everything you want in a compact car. For a long time, the Chevy Bolt was the longstanding king of value when it came to an affordable, entry-level EV considering its $26,500 starting price. Volkswagen's offering could be a real competitor to the Bolt, considering its higher range and faster charging times.
EUROPE ONLY
Before you commit to the ID.2all, Volkswagen says this one is just a concept. However, the company plans to make a production version of the concept, which will debut in the European market in 2025 and will be launched by the end of 2026. Even though Volkswagen is actually making this, there doesn't seem to be any indication of porting it over stateside yet.
Including the ID.2all, Volkswagen wants to offer 10 new EV models by 2026, including the ID.3, the ID.Buzz with a long wheelbase, the ID.7, and a compact electric SUV. The automaker is even planning to release an EV that should cost less than €20,000. Hyundai is also working on a compact car that's supposed to fall around the same price point. Volkswagen may have a wide portfolio of EVs coming, but it's definitely the affordable ones that are likely to have a lasting impact.