Tesla's Cybertruck Interior Is As Bizarre as It Is Sterile
It may have an alluring exterior, but the interiors leave much to be desired.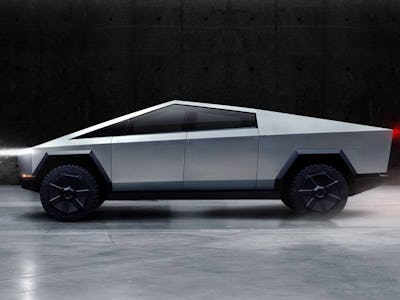 Tesla
We're already familiar with the intriguing exterior of the Tesla Cybertruck, but we finally have an idea of what the inside of the hotly-anticipated EV looks like. The first look at the Cybertruck's interiors comes via leaked photos from an unaffiliated Tesla forum. These images could show a prototype Cybertruck with placeholder interiors, but so far, it feels very... empty.
Earlier this year, Tesla showed off a "pre-production beta" version of its Cybertruck at its Investor Day event. That comes after all the prototype spottings in Fremont, Calif. and rural Texas. Still, none of those previews of the Cybertruck prototype gave us a look inside. Now that we have an initial view into the Cybertruck's interiors, it has left us underwhelmed. Of course, there's still a chance that Tesla changes this up for the actual production model Cybertruck.
SPACIOUSLY SAD
Going off the leaked images, Tesla may be designing a new steering wheel for the Cybertruck that's a mix between the controversial steering yoke and the more traditional design that we see in other Tesla models. It looks like there will be a massive amount of empty space on the dashboard, too. Considering the sloping design that we can see from the outside with the prototype sightings, it's no surprise there would be a large dashboard. Still, it feels like this design is so protruding, even from the inside.
The Cybertruck was originally expected to be a six-seater with the possibility of a convertible front bench seat. It looks like this option has fallen by the wayside, most likely due to safety reasons. These latest interior images seem to confirm this since there's only a standard center console instead.
Overall, the inside of the Cybertruck looks roomy, but almost too roomy. There's definitely enough legroom for all passengers, but the interiors feel hollow and devoid of the same character that the exterior shows. Of course, this could all be attributed to these images showing a prototype.
NO RELEASE DATE YET
Still, it's fair to feel disappointed. The hype train has been building for the Cybertruck since it was first unveiled in late 2019. Since then, the hype has waned with delay after delay related to production start timelines. It is helpful to have these images paint a clearer picture of what the Cybertruck could eventually look like. Now, it's up to you if these interiors are a dealbreaker or not.
We still don't have a definitive release date for the Cybertruck from Tesla. Going off of recent shareholder presentations and the prototype seen at Investor Day, we could be close to a release by the end of the year. We'll likely get a much better look at the official interiors before then but don't hold your breath. Another Cybertruck delay is always a possibility.