The Steam Deck Won't Get a Refresh. And That's a Good Thing
Valve says a Steam Deck OLED isn't in the cards, and the reason why is what made the first version so great.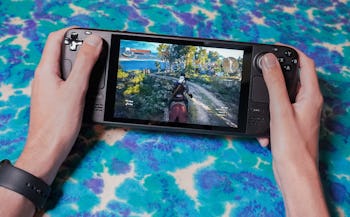 Photo by Ian Carlos Campbell
Don't expect a mid-cycle refresh of the Steam Deck anytime soon. When asked by PC Gamer whether interested Steam users could expect a new model with an OLED screen, much like the Switch received a hardware revision with a new screen, Valve engineers essentially said no. But the explanation for why is a good illustration of what made the handheld great in the first place.
Designed Around the Screen
Based on what Valve's Pierre-Loup Griffais told PC Gamer, the issue isn't as simple as swapping in a new screen and shipping out the device. Valve is aware that current and potential Steam Deck owners might be interested in an incremental upgrade, "but in reality, the screen's at the core of the device. Everything is anchored to it." Swapping out the 720p LCD the Steam Deck is currently built around for something else would require rethinking the handheld entirely. "I think it would be a bigger amount of work than people are assuming it would be," Griffais says.
That might come as a surprise. The Steam Deck is infinitely more customizable and repairable than any other handheld video game console. You can swap out its fan for something quieter, the backplate for something more colorful — even the thumbsticks can be replaced. But Valve made choices about the device's design to get it in the compact and powerful shape it launched in that it views as unmoveable (at least for this first version).
Custom, Not Bespoke
That speaks to the Steam Deck's strengths. Whereas Valve's previous "console" effort, "Steam Machines," was driven by partnerships with other manufacturers that basically followed the company's guidance on recommended specs and software requirements (running Linux), the Steam Deck is a hands-on project.
The APU that powers the Steam Deck is custom-made by AMD as part of a partnership between the company and Valve. The parts Valve sourced were specifically chosen to fit into the unique design of the Steam Deck. And all of it works to provide the consistently great play experience the handheld offers.
The Steam Deck tries to strike a balance between a handheld console and a PC. But Valve's made compromises to offer the device with the price and performance it thought was necessary to be popular. PC games have a reciprocal relationship with the machines and components that power them. Buy and slot in a new GPU, and you might consider playing different games. See a deal on a high-end, graphically intensive game, and you might think about upgrading your PC. Buy a new display, and you could end up rebuilding your whole machine. "Half-step" consoles like the PS4 Pro are a relatively new concept and similar, but by no means piecemeal in the way PCs are.
Valve has highlighted the display and battery life as two things it would like to improve on future versions of the Steam Deck, so in all likelihood, a Steam Deck 2 will have a highly-saturated OLED to pore over. But what makes the Steam Deck a great console-esque access point for PC games is also what keeps it from being a full-blown free for all. A trade-off that seems worth it so far.