Samsung Galaxy S23 Ultra Review: You've Seen This Before
There's a new 200-megapixel camera and a boxier frame, but otherwise, Samsung's biggest non-folding phone is eerily similar to the S22 Ultra.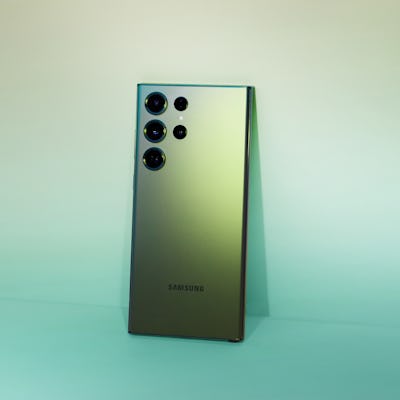 Photographs by Xin Xin
One thing is true about consumer electronics in 2023: if you're in the market for a smartphone, the reasons to upgrade year after year have slowed to a crawl.
Yes, there are legitimately exciting new ideas in phones. Many phones now fold with Samsung deserving credit for bringing some great ones to the masses. But for anything of the "black slab" persuasion, minor yearly upgrades are the norm. Apple's own iPhone 14 line is a great example. We know you'll get a vibrant screen and great camera performance, but not even a Dynamic Island is enough to dramatically improve the overall experience for most people.
Having spent some time with Samsung's $1,199.99 Galaxy S23 Ultra, I can't help but leave with the same impression. It comes with internal improvements designed to turn heads, but the overall experience is just as good as the Galaxy S22 Ultra before it. The Galaxy S23 Ultra makes sense if you're switching to Android or Samsung for the first time, but the exciting future lies with the Galaxy Z Fold and Flip now more than ever.
If it works, why change it?
No, it's not your eyes deceiving you; the Galaxy S23 Ultra is nearly identical to the Galaxy S22 Ultra. One of the threads running through all of Samsung's phones this year is that sprinkling the camera-forward design of last year's Galaxy S22 Ultra connotes a certain "premium" quality, so in fact, all of the Galaxy S23s sort of look like the Galaxy S22 Ultra.
That's not a bad thing. The Galaxy S23 Ultra still cuts a striking monolithic figure, and Samsung has tweaked the curved edges where the front glass (now made from Gorilla Glass Victus 2) meets the long sides of the phone to make it both boxier and theoretically easier to hold and write on. I can't say that made much of a difference in my experience using the S23 Ultra, but anything that makes it nicer to interact with such a big phone is welcome. The other main visible difference is the colors the Galaxy S23s are available in this year. Inverse received a green model to review, but Samsung is also selling cream, Phantom Black, and lavender, along with several online-exclusive color options as well.
In many cases, carrying over what worked about the Galaxy S22 Ultra works in the S23 Ultra's favor. The phone's 6.8-inch, 1440p, 120Hz, AMOLED display is the same as last year and as bright as ever and reaches the same 1,750 nits of peak brightness as the S22 Ultra. There's also an improved version of Samsung's Vision Booster feature introduced in the Galaxy S22 series I reviewed last year, which tries to intelligently adjust brightness levels and color tone mapping to best suit whatever environment you're in. It's basically Samsung's version of True Tone on iPhones. Video on the S23 Ultra is easily visible outdoors, looks just as clear indoors, and paired with the surprisingly loud speakers on the phone, sounds pretty great too.
Galaxy S23 Ultra tech specs
Display: 6.8-inch, 120Hz, AMOLED, 1440p, 500 ppi, 1,750 nits peak brightness
RAM/Storage: 8GB RAM + 256GB storage, 12GB RAM + 512G or 1TB storage
Battery: 5,000 mAh
Chip: Snapdragon 8 Gen 2 Mobile Platform for Galaxy
Colors: Phantom Black, Cream, Green, Lavender
Like other Android flagships coming out this year, Qualcomm's Snapdragon 8 Gen 2 provides computational power on the inside of the S23 Ultra, though in this case, Samsung's worked with Qualcomm to further customize the system-on-a-chip. The Snapdragon 8 Gen 2 Mobile Platform for Galaxy features an overclocked main core that Samsung says runs at 3.36GHz, optimizations that are supposed to make the S23 Ultra more performant while playing games, and better battery life.
Now I wasn't worried about the S23 Ultra feeling sluggish, given Samsung's past phones, and I was right to feel that way; this smartphone is a powerhouse. Apps load quickly, moving through the S23 Ultra's various user interfaces feels smooth, and while I wouldn't say games ran demonstrably better than last year's flagship Samsung phones, the S23 Ultra operates a bit cooler playing my graphically intensive go-to's, Diablo Immortal and Genshin Impact. That difference is likely due to the cooling provided by the larger vapor chamber built into the S23 Ultra, and it's greatly appreciated.
"Ultra" exclusives
The S Pen stylus is one of the standout features of the Galaxy S23 Ultra. While the pressure sensitivity and overall capabilities haven't been changed on Samsung's reliable stylus, many more members of Google's family of apps now accept pen input. Likely another fruit of Google and Samsung's closer partnership as of late. My main issue with notetaking on Samsung devices, be it the Galaxy Z Fold 4 or the Galaxy S23 Ultra, is the lack of resistance. The S Pen is supported well, but it doesn't offer a great pen-to-screen experience. Everything is a bit too slippery. Few devices outside of E Ink tablets, like the Kindle Scribe, offer something approaching what it feels like to write on actual paper. But this is the "Ultra" phone and Samsung should go all out.
The S23 Ultra is one of the first of Samsung's phones to launch with One UI 5.1 (based on Android 13), a minor upgrade to One UI 5, which included a customizable lock screen to rival iOS 16's. This go-around Samsung's biggest addition is another, clearly Apple-inspired feature called Multi control. With Multi control enabled, if you own a Galaxy phone or tablet and one of Samsung's Galaxy Book laptops, you can use your laptop keyboard and mouse to control your connected device and drag and drop files between them. It's essentially Universal Control, and all it requires is a Samsung account.
The other thing you're getting when you pony up for an S23 Ultra is a giant battery, and I have to say, it's quite impressive. In terms of size, Samsung isn't offering anything larger than the 5,000 mAh battery of the S22 Ultra, but in my time with the phone, it was more than enough to get me through a day of typical use writing notes during meetings, checking social media, and playing some Marvel Snap before bed. Push the camera hard with frequent video and photo capture, and you'll make it to the end of the day with 20 percent battery left. With light use (I'll admit it, ogling the trash fire that has been the last days of Twitter), I made it over 24 hours and still had 40 percent left in the tank. Samsung's optimizations help, but I think having a big battery will always be better.
200 megapixels is a lot
The biggest selling point of the Galaxy S23 Ultra and the easiest addition to notice on paper is the new 200-megapixel rear camera sensor. The layout of the S23 Ultra's cameras has stayed more or less the same, but the larger sensor means that Samsung can use pixel binning and offer even larger pixels than the 108-megapixel sensor of the Galaxy S22 Ultra could. In this case, combining pixels down until you're capturing a 12-megapixel image by default but absorbing a lot more light and detail in the process.
You can also, if you prefer, just capture full-resolution 200-megapixel images, which are delightfully crisp, but in general, require more light to not look overly dim. Those images will inevitably be larger, so you might not toggle on 200-megapixel very often, but the fact that you can is impressive. Maybe not impressive enough to spend over a thousand dollars, but for the right smartphone photographer? It's certainly enticing.
I had more fun playing around with the 100x Space Zoom. Samsung's had impressive zoom performance since it added a whole other telephoto lens on the Galaxy S20 Ultra and S21 Ultra and that's still true multiple generations later on the Galaxy S23 Ultra. I'm less enamored with AI-enabled astrophotography and more pleased that I could reliably capture a shot of something far away and think, "I could post this and not feel self-conscious." That's a win in my book.
Galaxy S23 Ultra cameras
Wide: 200 megapixels (f/1.7, OIS, laser autofocus)
Ultrawide: 12 megapixels (f/2.2)
Telephoto 3x: 10 megapixels (f/2.4, 2PD, OIS)
Telephoto 10x: 10 megapixels (f/4.9, 2PD, OIS)
Selfie: 12 megapixels (f/2.2, 2PD AF)
The Galaxy S23 Ultra's camera system finds Samsung in a pretty comfortable place. The phone's computational photography recipe reliably produces photos that are bright and vibrant and still missing the more aggressive contrast in an iPhone or Pixel. The S23 Ultra is also probably the best smartphone in the game at capturing portrait photos, particularly picking up fine details on the edges of faces, hair, and clothing. Unfortunately, Samsung pairs that detail work with aggressive, unnatural bokeh on the background that makes portrait subjects look like they've been Photoshopped into the image — something I found annoying every time. There are settings to adjust the effect, but I still prefer what the Pixel 7 Pro can capture.
At night, Samsung uses the S23 Ultra's larger sensor to its advantage. Photos taken in lowlight conditions maintain the vibrancy but don't lose much detail with a darker palette of colors. In comparison to the Pixel 7 Pro, Samsung might over-brighten shadows for some, but most everything I captured at night on the Galaxy S23 Ultra was clear and legible, which I think is the main thing most people are looking for out of a night shot.
Video is also improved. The S23 Ultra's optical image stabilization should correct shakes a degree more than last year's smartphones when you're taking action shots, and in my experience, the S23 Ultra produced smooth camera moves. Maybe too smooth in some cases, like the smartphone was on rails. It makes the iPhone and Pixel 7 family look more natural, but objectively the S23 Ultra's video stabilization is better.
Where do we go from here?
The S23 Ultra is a no-holds-barred kind of smartphone. Samsung is offering everything and the kitchen sink and expecting enthusiasts to sort through and use what works for them. It's by far the best non-folding smartphone the company sells, but it's also not different enough from last year's Galaxy S22 Ultra to be worth the jump up. Save your money for a foldable if you're looking for a futuristic phone.
Of course, Samsung pitches this and all its new phones to newcomers. Switch to Android and, specifically, switch to Samsung. We have the best cameras, unique experiences Apple doesn't feel comfortable offering, and likely, in many cases, a better price. The "Samsung experience" is more of a thing than ever. The company offers an ecosystem of devices and, increasingly, software features that make them work better together. It's enough to make me think that for someone just joining Samsung's world, the S23 Ultra is an awesome place to start.
And that's an interesting distinction. With novel smartphone ideas mostly living in Samsung's foldables, now the former stars of the show, the S series, sit differently. The Galaxy S23 Ultra absolutely earns its name, but it's only ultra in terms of its raw specs, not necessarily its capabilities.