Razer Edge 5G Review: Just Get a Kishi V2 for Your Phone
Razer's Edge is technically powerful, but the gaming experience is rough enough around the edges that you're better off just buying a controller for your phone.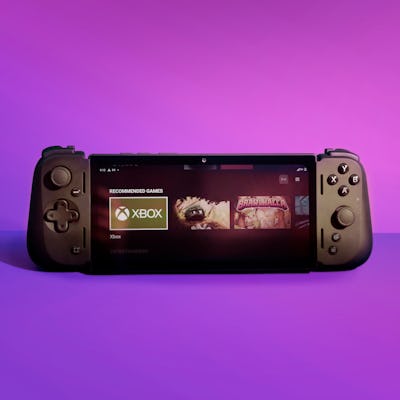 Photography by Xin Xin
The future of game streaming is uncertain, even with companies like Microsoft and Nvidia throwing their weight behind it.
Game streaming handhelds, while a relatively new category and certainly a luxury, still have some sense to them. There are advantages to using dedicated handheld hardware rather than your phone and a Backbone One, and in all likelihood, if you own an Xbox, you might already be subscribed to a big library of streamable games.
Last year's Logitech G Cloud gaming handheld was designed to take advantage of that, packing some preloaded web apps onto an Android-based Switch clone and letting you play console, PC, and Android games on the go. It was too expensive, somewhat underpowered, and lacked a way to stream games when you weren't near Wi-Fi, but it was a good first pass.
The $399.99 Razer Edge and $599.99 Edge 5G are even pricier than the G Cloud, and an attempt to fill in the blanks Logitech's device missed. It ships with a more powerful Snapdragon chip, optional 5G, and a design that's theoretically more future-proof if Razer decides to release a sequel. The problem is all of those additions introduce a host of new idiosyncrasies into what Razer's offering, some of which might turn off the game-streaming-curious the company is trying to attract.
A Bit Too Modular
After trying the device briefly at CES 2023, my second, lengthier introduction to the Razer Edge 5G — the version Inverse was sent for review — was a letdown. Not because the device seemed less capable outside of the safe confines of a Las Vegas hotel room, but instead because it was loud as hell.
Turning on the Razer Edge 5G for the first time, I was greeted with the loud whirring of the tablet's cooling fan. And it really is loud. This isn't the soft hum of a Nintendo Switch pushed to its limits playing Pokémon Scarlet, this is "launch Steam Deck-loud." After setting up the device and getting to the home screen, things cooled down, and the fan would only occasionally kick into gear, but when it did, it was noticeable.
To be fair, the Razer Edge is likely hard to cool. With the Razer Kishi V2 Pro controller detached, the Edge is basically a very narrow Android tablet with a slightly curved back and some cutouts that act as fan intake and exhaust. On the front of the device, it has a 5-megapixel selfie camera and a touchscreen with oddly rounded corners that don't match the device's sharp ones. And on the sides are volume and power buttons, a SIM card slot, and a single USB-C port for connecting the controller.
It's a conspicuously compact little package, running what, in my experience, seems like a powerful piece of silicon. When the Razer Edge was announced, it was the first device to use Qualcomm's Snapdragon G3x Gen 1, a dedicated gaming mobile platform the company created for Android-powered handhelds and game streaming devices. It definitely runs hotter than the Snapdragon 720G that powers the Logitech G Cloud handheld, but it's more capable of running graphically intensive Android games like Genshin Impact or console ports like XCOM 2 in exchange and it supports 5G. You can get a better sense of the internals of the Razer Edge and Edge 5G below:
Razer Edge tech specs
Chip: Qualcomm Snapdragon G3x Gen 1
Display: 6.8-inch, 2,400 x 1,080, 144Hz AMOLED
Memory & Storage: 6GB LPDDR5 RAM + 128GB SSD or 8GB LPDDR5 RAM + 128GB SSD (on Razer Edge 5G)
Camera: 5-megapixel
Battery: 5,000 mAh
Connectivity: Wi-Fi 6E, Bluetooth 5.2, 5G / LTE (on Razer Edge 5G)
Potential cooling issues aside, the Edge's modular design has some real benefits — if Razer decides to take advantage of them. Since the controller is completely detachable, a future "Kishi V3" controller could be easily swapped in without buying a whole new Razer Edge. Similarly, if Razer releases an Edge with a newer Snapdragon chip, it could theoretically sell the device without a controller if you just wanted to upgrade to a newer tablet.
I'd likely want to try out a new controller because while the Kishi V2 Pro is a dramatic improvement over the original Kishi, it's slightly too small for my taste (or comfort). It's got all of the clicky buttons you'd expect and a few I didn't, including a dedicated Razer Nexus button for pulling up Razer's app launcher and M1 and M2 buttons next to the triggers that can be assigned to whatever button press you want. The main issue with the Kishi V2 Pro is its size and the significant battery power it draws from the Edge tablet when not in use.
The Razer Edge got over a day of standby time when not connected to the Kishi, but with the controller connected, that was noticeably reduced — I ended the day at 15 percent but only played on the Edge for an hour or so. If you're playing games periodically throughout the day, that might not be an issue, you'll get a day's worth for sure with a mix of streaming and Android games. But do all that over 5G, and you'll need to keep a battery pack handy.
Overall, the Razer Edge's setup isn't without trade-offs, the first being that the Edge feels far less premium than Logitech's device or any other dedicated handheld. The two-piece design means you could use the device as an oddly-shaped Android tablet when you don't need a controller for games, but I'm not sure that will be worth the disadvantages of having to carry two things instead of one to conserve battery for everyone.
The Current State of Game Streaming
The irony of releasing a streaming handheld in 2023 is that overall, the category continues to contract, particularly if you're just interested in playing games. Stadia officially announced its shutdown plans days after the Logitech G Cloud was announced last year, and I remain convinced we could see another service like Amazon's Luna shut down before 2023 is over.
Yes, the Razer Edge can still stream from your own hardware via Steam Link or access a virtual PC with Moonlight or GeForce Now. Xbox Game Pass Ultimate is also available through a web app. But increasingly, having access to the Google Play Store's library of games seems just as important as being able to stream well.
For the Edge, Razer's tried to make doing both as easy as possible. The Razer Nexus app collects your Edge's gaming apps and services into an easily browseable, Netflix-style library. There are scrollable carousels of apps sorted by genre, hand-curated by Razer to include ones that will take advantage of controller support. This is a huge help because the Play Store still doesn't let you look for games with controller support. Through the Nexus app, you can also set up virtual controller support for apps that offer on-screen controls but don't recognize the Kishi V2.
On paper, that all sounds great. In practice, it's very rough around the edges. The Nexus app is barebones, basically a collection of rectangular app images on a black background. There's a submenu for accessing settings, the virtual controller and updating your Kishi V2, but that's about it. The number of apps Razer's confirmed to offer controller support is very small, likely smaller than the reality. It's a complex problem, the Backbone app doesn't list everything on iOS, and Valve hasn't identified every game that can theoretically be "Deck Verified." But if it can't feel more comprehensive, and the beta version of the virtual controller feature doesn't work in every app — which was the case in my testing — then I think the Nexus app should focus on something else.
The Razer Edge does play Android games well.
Luckily, in my experience, the Razer Edge does play Android games well. The fan kicked in on extended sessions of more demanding games like Genshin Impact and Diablo Immortal, but I rarely noticed any performance issues otherwise. One exception, and I'm not sure if this is the fault of the Razer Edge or more of a development issue, but cutscenes in Final Fantasy IX regularly stuttered. Just choppy.
Surprisingly, I had a smoother experience just streaming games over GeForce NOW and Xbox Cloud Streaming. There was occasional artifacting, but nothing that stopped my play or got in the way of me understanding what was happening on screen. My home internet has proved to be reliable in most cases, and I had a strong Verizon 5G signal, but your mileage may vary. Even if I didn't get 4K streams consistently, faster-paced games like Fortnite and Atomic Heart were super playable.
The larger problem I had was with the 20:9 aspect ratio of the Razer Edge, though, which consistently left games I streamed and even a few Android titles with dramatic black bars on the sides. I'm not sure why Razer decided to make the Razer Edge so narrow, but it makes it a weird fit for games designed with 16:9 televisions in mind, something you'd think a console designed for streaming games might want to plan around.
Should You Buy It?
The Razer Edge is an odd duck. It's a relatively powerful device in a package that feels more slapped together than I think it should be. It's hard to believe that the tablet half is so dull; Razer made the excellent Razer Phone and Phone 2 not long ago. The detachable Kishi V2 controller is a potential place where purchasing a Razer Edge or Edge 5G could guarantee a longer life than a competitor like the Logitech G Cloud, but it's not something I'd personally bank on. It's not like you can't buy a Kishi V2 for the phone you own and play Android games or stream PC/console games like you can with the bundled Razer Edge.
5G support does make the Razer Edge stand out, but if you don't already have a Verizon account, it feels ill-advised to say you should sign up just for your handheld. At a nearly $600 standalone price with Verizon's discounts, buying a Razer Edge 5G for the option of signing up for service in the future also seems kind of wild. The base Razer Edge might be more versatile than Logitech's handheld, but I think if all you're interested in is game streaming, the Logitech G Cloud offers more bang for your buck at $350. Or, again, just buy a controller for your phone.
There's bound to be someone who appreciates the design of the Razer Edge and its added abilities, but much like its screen, the ability of the Edge is narrower than it really needs to be to recommend it as a go-to handheld.