Mini's New Cooper EV Keeps the Dream of a Button-Filled Dashboard Alive
Buttons were always better than touchscreens.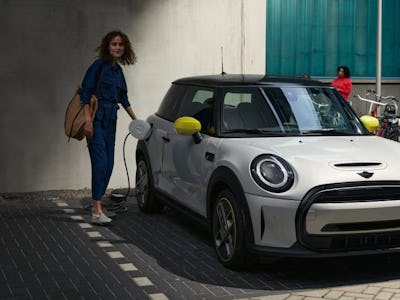 Mini
It may feature a bigger battery, but it's still the Mini we all know and love. Mini introduced its refreshed all-electric hatchback, which has been rebranded to just Cooper. Mini's upcoming model is expected to offer more range and power, but feature some design elements that remind us of the classic Minis from the 2000s, as first reported by Autocar.
Even though the next all-electric Cooper will be upgraded with a more capable battery and an OLED display that replaces the centered speedometer, the Mini included several throwback elements, like its larger, oval headlights, physical buttons across its center console, and even an ignition key, according to Autocar.
For Mini, the Cooper will be one of three EVs that will continue the momentum for the company's plans to go fully electric. Beyond the Cooper, Mini is planning to drop electric versions of the Aceman crossover and the larger Countryman SUV, according to the Autocar report.
ADDING RANGE AND POWER
It's still the Mini Cooper that's the main draw for the iconic British carmaker, though. Mini even upgraded the Cooper's range to around 240 miles, which is a major improvement from the existing model's 114-mile range on a full charge. The Mini Cooper's range wouldn't be able to compete with long-range options, but it's still ideal as a daily driver for those doing short commutes in cities.
The upcoming Cooper will come in two configurations to start, either the standard E trim with 181 horsepower and a 40 kWh battery or the SE version with a 54 kWh battery that gets 215 horsepower. Mini will be adding a few adjustments to the Cooper, including shorter overhangs, longer wheelbase, larger wheels, and a wider track, according to Autocar's report.
MINI GOING ALL-ELECTRIC
Along with the new Cooper, Mini wants to hit a goal of having electric vehicles account for at least half of its new car sales by mid-2025. To that end, Mini is planning on releasing the electric Cooper in May 2024. The all-electric Countryman will hit the streets first in February 2024 and the Aceman is scheduled for a January 2025 release. Mini is also working on a limited-edition convertible version of its electric Cooper, but Autocar noted that this may lead to a production model eventually.
Stefanie Wurst, the head of the Mini brand at BMW Group, told Autocar that the Mini Cooper's price will increase beyond the £30,0000, or roughly $35,000, mark. That's a slight increase from the current model, but that price point may still be worth it for Mini Cooper diehards who have been asking for more range.