Lenovo's ThinkPad Z13 Makes Eco-Conscious Tech Look Good
The ThinkPad Z13 will certainly turn some heads with its flax fiber design.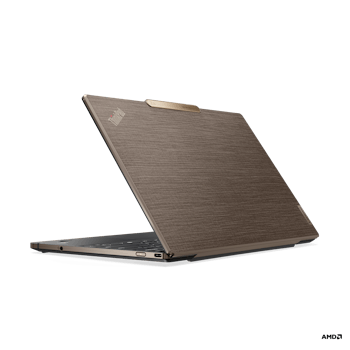 Lenovo
Lenovo is making waves with the eco-friendly design of its second-gen ThinkPad Z13 laptop. The 13-inch laptop is actually brown in color with its "Flax Fiber Bronze" colorway since it incorporates natural flax fibers for its top cover.
To achieve this look, Lenovo used a reinforced material made of natural fibers and bonded it to the top cover that's made with 75 percent recycled aluminum. The natural fibers come from an agricultural byproduct from harvesting flax plant fibers.
There's a lot of grandstanding from consumer tech companies using recycled materials for their products and packaging, but rarely do we see it being incorporated into the actual look of the device.
The flax fiber brown is much different than the standard black and gray design that we see with popular laptops out there. Even with the more natural colors we've been seeing lately, like Alpine Green and cream, they mostly still feature a polished metal look. With the ThinkPad Z13, one look and you can clearly see it's made with something natural.
THE RED DOT REMAINS
Internally, Lenovo is simply refreshing the ThinkPad Z13 with the latest AMD chips and a larger SSD option. The latest ThinkPads still feature the top media notch that houses the FHD webcam and several microphones.
ThinkPad Z13 Gen 2 Specs
CPU: AMD Ryzen 7000 Series Mobile Processors
GPU: AMD Radeon Graphics with the option of an AMD Radeon 6550M dGPU for the Z16
RAM: up to 64 GB
SSD: up to 2TB
Display: up to a 13.3-inch 2.8K OLED display with a 16:10 aspect ratio
Ports: two USB-C ports, one audio jack
If you're drawn to the Flax Fiber Bronze color, it's only available in the Z13 model. On the other hand, the Z16 Gen 2 offers a 16-inch 4K OLED Display along with an extra USB-C port and an SD card slot. Both ThinkPad laptops offer a new feature where you can double-tap Lenovo's iconic red dot TrackPoint in the middle of the keyboard to open up a menu that offers four customizable menu cards.
PRIORITIZING SUSTAINABILITY
Lenovo is bringing the ThinkPad Z13 Gen 2 to market in July 2023, with prices expected to start at $1,249. That's a notable price jump from the first-gen Z13 which starts at just more than $1,000. The ThinkPad Z16 Gen 2 comes out a little later in August 2023 with prices starting at $1,749.
That may be the extra cost we have to front in the name of sustainability, but at least Lenovo is trying to be more forward in its sustainable measures.