Lenovo's New LOQ PCs Are the Ideal Entry-Level Gaming Machines
Most of Lenovo's LOQ laptops and desktops come in under $1000.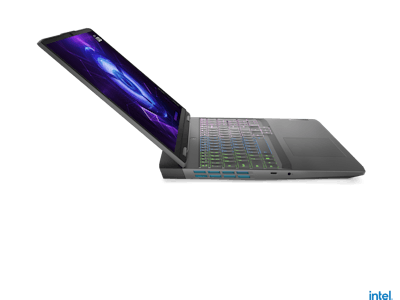 Photography by Lenovo
PC gaming is not a cheap hobby, and while there are plenty of options for finding pre-built laptops or desktops that might meet your power needs, you'll probably have to compromise on price. Enter Lenovo's new Loq laptops and desktop PCs, which attempt to bring the best of Lenovo's more expensive Legion gaming products to much more affordable hardware.
In most cases, Lenovo's new computers start below $1,000 and come with the latest chips from Intel and AMD and 40-series RTX GPUs from Nvidia. They might not have the sleekest chassis with the best display or battery life, but they should give you a taste of what draws people to PC gaming in the first place.
Lenovo Loq Laptops
Regardless of size, Lenovo's new Loq gaming laptops come with a "gaming keyboard" with a numpad, and the company's Lenovo LA AI Chip, which it claims can dynamically tune power wattage and thermals to make sure you're getting the best framerates possible in games. Lenovo also believes the laptop's MUX switch, which lets you bypass the laptop's integrated GPU so your Nvidia graphics card can interface directly with the display "for reduced latency," could be a big selling point if you're trying to get more bang for your buck.
You'll be able to get the Lenovo LOQ in either 15-inch or 16-inch varieties with support for Intel's newest 13th Gen Intel Core or AMD's Ryzen 7000 series chips and up to an Nvidia GeForce RTX 4060 Laptop GPU. Either laptop will also have up to 16GB of DDR5 RAM and a 512GB or 1TB SSD for storage.
Like Lenovo's Legion laptops, USB ports, a shutter button for the webcam, and the audio jack are available on the sides of the laptop case, and several additional connectors, like the all-important HDMI 2.1 port for connecting external displays, are easily accessible on the back.
The biggest difference between the Loq laptops is their displays and batteries. The 15-inch model has up to a 15-inch, 350 nits, 16:9, 2,560 x 1,440, 165Hz display, while the 16-inch ships with up to a 16-inch, 350 nits, 16:10, 2,560 x 1,600 165Hz display. For batteries, the 15-inch has a 60Whr battery for around six hours of battery life, and the 16-inch model has an 80Whr battery for around seven hours of battery life.
Lenovo Loq Tower
The obvious advantage of the Loq Tower desktop PC is its easy expandability. Unlike the laptops, the tower is limited to Intel chips, specifically up to a 13th Gen Intel Core i7-13700H. Nividia graphics are also in full force, with up to an Nvidia GeForce RTX 40 series GPU (desktop flavor rather than laptop — there's more room).
And if you want RAM and storage, you'll have plenty of options. Up to 32GB of DDR4 RAM, a 2TB SATA HDD, a 1TB SSD, and support for a mix of one SSD and two HDDs combined. Ports naturally run the gamut — there are multiple types of USB-A, a USB-C port, an audio jack on the front, and even more on the back, including a VGA port.
Price and Availability
The star of the show is, of course, price. You won't be finding any $2,000 pieces of hardware here, unlike the Legion Pro laptops Lenovo announced at CES 2023.
Both versions of the Lenovo Loq 15 start at $899.99, with the Intel version expected to be available in April and the AMD in May. Meanwhile, the Lenovo Loq 16 with AMD will be available in June from $959.99, and the Lenovo Loq 16 with Intel will start at $1,149.99 in May. And rounding things out, the Lenovo Loq Tower will start at $979.99 in "Fall 2023."