Kia Is Set To Release the EV9, but Its Best Features Are Yet To Come
An optional Boost feature and Level 3 autonomous driving will be coming to certain Kia EV9 trims down the road.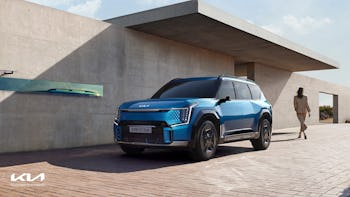 Kia
Kia revealed its big and boxy SUV concept last year, before teasing interior images of its EV9 earlier this month. Kia's slow trickle of information has finally revealed the actual specs behind the EV9. Despite its bulky build, Kia is expecting to get more than 300 miles with its full-size SUV.
Kia designed the EV9 more as a reliable family car, rather than a performance-oriented EV so it doesn't boast the fastest 0 to 60 mph numbers. Still, Kia is offering an all-wheel drive model that has its fastest speeds limited behind a paywall and a GT trim that will eventually have Level 3 autonomous driving.
PAY-PER-ZOOM
The EV9 will come in three models: the Rear Wheel Drive Standard, the Rear Wheel Drive Long Range, and the All Wheel Drive. The standard rear-wheel model uses a 76.1 kWh battery that powers a 160 kW motor for a 0 to 100km/h, or 0 to 62mph, in 8.2 seconds. Oddly enough, the long-range rear-wheel version has a larger 99.8 kWh battery that uses a less powerful 150 kW motor for a 0 to 62 mph in 9.4 seconds. Those acceleration numbers aren't groundbreaking, but the EV9 is more focused on offering a comfy ride, as opposed to a super fast one. We can see that expressed with the EV9's roomy interior that features swiveling seats.
If you can't compromise on the speed, Kia's all-wheel drive model of the EV9 gives you two electric motors for a total of 283 kW in power and 600 Nm of combined torque for a 0 to 62 mph in six seconds. In the future, Kia will offer an optional "Boost" feature through its Kia Connect Store that unlocks the all-wheel drive model with 700 Nm of combined torque and a 0 to 62 mph in 5.3 seconds. Much like how BMW is offering features on a subscription basis, we can't see this being popular among customers.
Even though the EV9 sports a fairly boxy design, it still has an aerodynamic coefficient of 0.28, allowing for decent range numbers. Kia hasn't confirmed its range numbers yet but says it's targeting a range of more than 541 km on a single charge, or around 336 miles, with its rear-wheel long-range model on 19-inch wheels. Kia also says the EV9 can get around 239 km of range, or about 148 miles, in about 15 minutes of ultra-fast 800V charging.
SELF-DRIVING COMING SOON
Beyond the standard models, Kia has a GT-line variant of the EV9 that will feature its Level 3 autonomous driving system called Highway Driving Pilot. The system uses 15 sensors and two lidars so the EV gets a 360-degree field of view. Kia says its autonomous driving system will only be offered with the GT-line in the future.
The other EV9 models may not get autonomous driving, but it'll still have plenty of safety features like Kia's Blind-Spot Collision-Avoidance Assist, Lane Keeping Assist, Intelligent Speed Limit Assist, and Remote Smart Parking Assist 2 that lets the SUV park itself.
Kia is starting off the EV9 preorders in Korea in the second quarter of the year. The electric SUV should be coming to global markets starting in the second half of 2023.