How iOS 17 Will Change Your iPhone's Lock Screen (Again)
We're talking more than just widgets.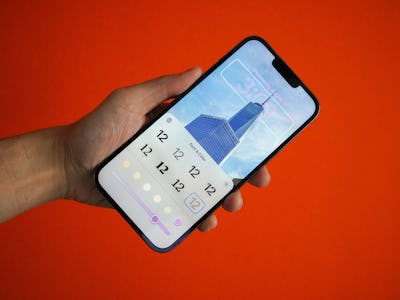 Photograph by Raymond Wong
What is your phone really doing on your nightstand when you're not using it? Is it an expensive alarm clock? Does it buzz when you get notifications? More than likely, it's just sitting there charging.
With iOS 17, Apple wants to make your iPhone's lock screen actually useful when you're not actively using it by letting it proactively display information like an Echo Show, according to a new report from Bloomberg.
Apple is hinting louder and louder that its rumored mixed reality headset will be a big focus of WWDC 2023, but it has new software updates to share, too. And while more iPhone gimmicks aren't as exciting as a new product category, Apple very well could be using iOS 17 to test ideas that'll show up on an even bigger display down the road.
Everyone Loves Ambient Information
Per Bloomberg's Mark Gurman, iOS 17 will let iPhone lock screens show "information such as calendar appointments, the weather, and notifications" in the style of a smart display like Amazon's Echo Shows or Google's Nest Hubs. The new lock screen view will only show up when an iPhone is locked and positioned horizontally, and presumably come with larger and more visually pleasing graphics to take up that extra screen space.
This new mode would build on the drastic changes Apple's already made to the iPhone's lock screen in iOS 16, including a pretty broad set of customization options and widgets in the style of watchOS complications.
Apple, of course, isn't the first to this idea either, as Bloomberg is quick to note. The Amazon Fire 8 HD+ I reviewed late last year is only a so-so tablet, but it becomes a lot more interesting when you take into account it can double as an Echo Show if you toggle the right software switch (Show Mode).
Google's explored several similar ideas in Android, too. Google Assistant Ambient Mode offered voice assistant-driven smart display functionality when it launched in 2019. Google's honestly taken the idea to its conclusion with the Pixel Tablet.
It sounds like Apple's first implementation of this lock screen idea will be fairly conservative in comparison to what you can get on an actual Echo Show. The company's real advantage will be its design sensibilities and, speaking from experience, the fact iOS is a far more capable operating system than what Amazon's devices run.
Call It a Smart Display Beta
The Home app, AirPlay, HomePod, and the Apple TV, aside, Apple's influence over smart home hardware and software is limited. Google and Amazon have made important discoveries regarding what people like to use an extra screen in their house for, but haven't quite figured out an interface that's both easy and pleasant to use, in my opinion.
Apple is reportedly working on a smart display of its own, but we don't have a great sense of what that will look like. iOS 17's new tweak on the lock screen would be the first real glimpse and let Apple test these new software elements on as large an audience as possible. It'd also be the perfect way to sell iPhones with larger displays in the future.
According to Bloomberg, the company is thinking of giving the iPad a new horizontal display mode of its own. Maybe that means Apple comes up with a take on a dockable tablet like Google, or maybe this lock screen feature stays an iPhone oddity. Wherever the company's hardware plans to land, someone shaking up the smart home status quo can only be a good thing.