HP Hopes Going Thin Will Help Convince You To Buy a $5,000 Foldable PC
We're not sure if being the thinnest warrants a $5,000 price tag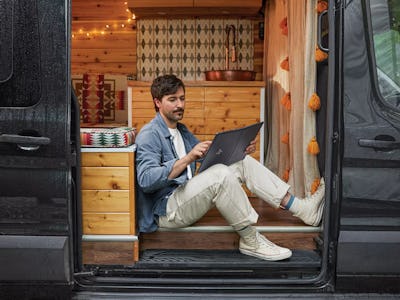 HP
Foldables like the Galaxy Z Fold 5 proved to be a successful shift in smartphone design, so it was only a matter of time before companies applied this tech to something more ambitious. HP may not be the first to introduce a much larger foldable device, but it has thrown its name into the small market with its Spectre Foldable PC.
It can do all the same things as the existing competition like Asus' Zenbook 17 Fold OLED and Lenovo's ThinkPad X1 Fold. However, HP's claim to fame is that its Spectre Foldable PC is the smallest and thinnest foldable 3-in-1 device. While the Spectre Foldable PC does have a lot of versatility going for it, the $5,000 starting price is a big ask.
MAXIMUM FLEXIBILITY
For that much money, you get a 2.5K resolution OLED touchscreen that's the thinnest when fully unfolded, according to HP. It can go from a 12.3-inch laptop to a 17-inch tablet, to a desktop experience with its 17-inch display propped up horizontally. You can also lay the detachable keyboard onto half of the bottom screen when in laptop mode for a one-and-a-half screen option.
Inside, HP's foldable PC has an Intel Core i7 1250U with integrated graphics, 16GB of RAM, and 1TB of SSD storage. HP says you'll get up to 12 hours of battery life when you're using it as a laptop, but only 11 hours when using it in desktop mode. When you compare that to other 13-inch laptops, the Spectre Foldable PC has nearly half of the battery life but you're also essentially powering two screens. HP included two Thunderbolt 4 ports, but the foldable PC is also Bluetooth 5.3 and Wi-Fi 6E compatible. The Spectre Foldable PC also with a detachable Bluetooth keyboard and stylus.
ULTRA-THIN, ULTRA EXPENSIVE
You can already preorder the Spectre Foldable PC in the U.S. on HP and Best Buy's websites. HP says the foldable PC will be available in limited quantities starting in October on its website and at some Best Buy locations.