Tesla Is About To Make Charging Ford EVs a Lot Easier
Tesla is planning to open up its Supercharger network to all Ford EVs starting in spring 2024.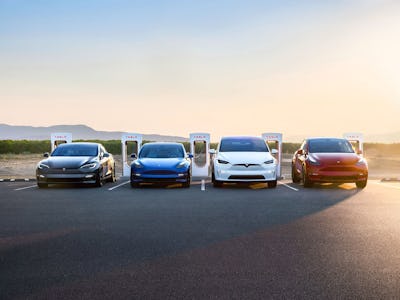 Ford EV drivers will get a serious bump in the number of available public chargers after the American carmaker partnered with Tesla to use its expansive Supercharger network. The agreement between the two EV titans allows Ford drivers to charge at more than 12,000 Tesla Superchargers across the U.S. and Canada starting in spring 2024.
For its existing models, Ford will offer adapters that allow drivers to use Tesla's Supercharger network. Eventually, it will start building its EVs with Tesla's North American Charging Standard, removing the need for an adapter.
Tesla already has a dominant hold on the charging networks of the U.S., but this partnership from Ford could solidify it as the best solution for someone looking to charge their EV on the go.
HOW WILL YOU CHARGE A FORD EV?
If you're currently driving a Mustang Mach-E, F-150 Lightning, or E-Transit and use the Combined Charging System (CCS) port, you'll get a Tesla-developed adapter that lets you hook up to a Tesla Supercharger. These will probably be similar to the adapters that Tesla has been putting on its Supercharger network called Magic Docks that allow non-Tesla EVs to charge.
Starting in 2025, Ford is looking to develop its upcoming EVs with the North American Charging Standard (NACS), which is Tesla's proprietary charger. That means Ford's upcoming EVs won't need an adapter and can go directly into Tesla's Superchargers.
HOW DOES THIS BENEFIT FORD AND TESLA?
For Ford, the move gives its EVs on of the most expansive charging networks. since its cars can use more than 10,000 DC fast-charging stations that you can find through its BlueOval Charge Network. That's now on top of Tesla's Supercharger stations.
For Tesla, the partnership is a big vote of confidence in its proprietary charging method. Although Tesla had open-sourced its Supercharger design back in December, it still felt like a hard sell for its competitors to adopt its standard. Now that Ford is on board with Tesla's charger design, NACS seems like a much more compelling alternative to CCS.
WHAT DOES FORD AND TESLA'S CHARGING PARTNERSHIP MEAN?
Even though Ford EV drivers will get access to Tesla's Supercharger network, Ford is still planning to add around 1,800 public fast chargers and locations as part of its BlueOval network by early 2024. Tesla is also continuing to open up its Supercharger network to non-Tesla EVs after first including Magic Dock adapters in certain U.S. locations in March. More recently, Tesla did the same for non-Tesla drivers in Canada.
One serious point of friction for potential EV converts is the concern that there aren't enough fast charging stations out there to assuage range anxiety. With all the different options available to Ford drivers, the carmaker is certainly building up a reputation of offering the best charging network so you don't have to worry about running out of juice. This could be a crucial selling point for someone looking for their first EV and translate to more EV sales for Ford.