Honda is Electrifying One of the Weirdest Scooters Ever Made
The Motocompacto looks like a briefcase with a seat and handlebars.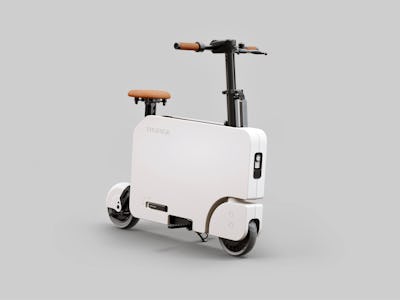 Honda
The future of electric scooters is here and it's in the form of a briefcase. Honda's recently announced Motocompacto is a throwback to a wild-looking '80s scooter that it's reviving as an all-electric two-wheeler.
Like its original design, Honda isn't expecting the Motocompacto to be your main form of transportation. Instead, it's meant to be your last-mile ride like after you get off your subway stop or if you're running around the city and don't want to constantly look for parking again.
SCOOTER BY DAY
The Motocompacto will get a max range of 12 miles thanks to its 6.8 Ah battery. The foldable e-scooter has a peak output of 490W which gives you a max speed of 15 mph. Don't expect any kick from this thing either since it only has 11.8 lb-ft of torque. Once you've drained the battery, it'll take 3.5 hours to fully charge back up using a standard 110v outlet.
Honda made the Motocompacto ideal for scooting around a city or college campus, but you'll definitely be turning some heads wherever you go. While riding, it looks like a briefcase that sprouted wheels, handlebars, footpegs, and a seat. When you're not using it, you can fold all the parts down so it becomes a carrying case with a handle that's easy to stuff in a trunk or lug with you on public transportation. It does weigh 41.3 lbs, so it'll still be a decent struggle to drag up and down stairs.
Honda included a cushioned seat with a height of 24.5 inches for a comfier ride. The Motocompacto also has foot pegs, on-board storage, a digital speedometer, and a charge gauge. You can customize more settings through the Motocompacto's smartphone app which lets you adjust lighting and riding modes.
COMPACT CASE BY NIGHT
Honda will be selling it exclusively on its website and at Honda and Acura dealerships, starting at $995. Honda is really leaning into its electric scooter and is even planning to release Motocompacto-branded accessories like a helmet, backpack, apparel, and more. It may feel weird to see this electric scooter at dealerships, but Honda wants you to think of the Motocompacto more as an add-on that'll get you to where its EVs can't.