GM Thinks ChatGPT Should Be the Future of In-Car Virtual Assistants
It's only a matter of time before the chatbot is incorporated into your Chevy.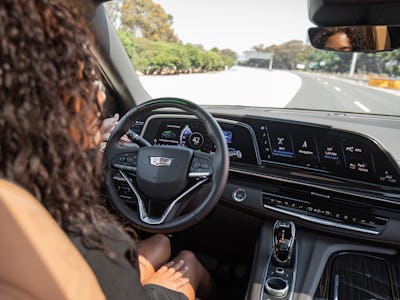 Cadillac
ChatGPT has been on a roll lately, landing integration into Discord, Slack, and Snapchat. The usefulness of incorporating this generative AI model into these apps seems like a reach, but it may find a real home as the foundation for a virtual personal assistant in GM's cars.
As first reported by Semafor, GM is reportedly working on an in-car virtual assistant that's based on ChatGPT's models. Scott Miller, vice president of software at GM, told Semafor that the on-board virtual assistant would do more than just "simple voice commands." GM's voice-activated chatbot would integrate ChatGPT through Microsoft's Azure OpenAI service, which is making it easier for anyone to incorporate the chatbot and its siblings, including Dall-e and Microsoft's Bing chatbot.
This is the latest move in the partnership between GM and Microsoft, which previously announced that it would work on developing self-driving cars together. We may not be ready for fully autonomous cars yet, but integrating ChatGPT could be the next step toward that goal.
USEFUL APPLICATIONS
Unlike the current applications of ChatGPT, the version that GM is working on won't just be a simple chatbot. In an example, Miller told Semafor that you would be able to ask the in-car AI assistant how to change a tire and it would show you a how-to video on the display. In another example, you would be able to ask what a light that popped up on your dashboard meant and the virtual assistant could diagnose the issue, offer recommendations on what to do, and even schedule an appointment at an auto repair shop.
Of course, you can find the answers to most of your car trouble in the manual, but asking a chatbot is much faster than flipping through hundreds of pages. The virtual assistant could also add a layer of functionality, helping you figure out your next move when you're caught in a roadside emergency. Virtual assistants in cars aren't new, but adding a layer of generative AI could prove to be the next step for this technology that makes it far more useful.
For GM, this ChatGPT-based virtual assistant seems like the natural next step for its sub-brand OnStar, which has since adopted a smartphone app model. However, there are still probably roadside situations where a GM-specific version of Clippy may not be the help you're looking for.
STILL IN THE WORKS
Going off Miller's comments, it sounds like GM is still in the early stages of integrating ChatGPT across its brands, like Chevrolet, Buick, GMC, and Cadillac. Miller didn't disclose which AI models GM is using, nor did he reveal if the AI assistant has a name yet.
We could still be a while away from seeing GM officially announce its own virtual assistant derived from ChatGPT. However, with how fast ChatGPT adoption is moving lately, we're expecting it to be sooner, rather than later. Now, GM just needs to find a snappy name for its virtual assistant. "Hey, Genny" anyone?