Ford's New Electric SUV and Pickup Truck Are the Ideal EVs to Take on Tesla
Ford isn't backing down with its future lineup of EVs.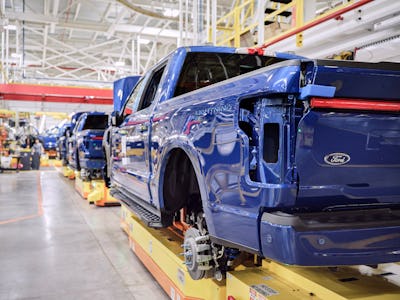 Ford
Ford is gearing up for its second generation of EVs, trying to ride the momentum from its successful first batch of electric cars. During its Capital Markets Day, Ford teased two EVs, a full-size pickup that's slated to be cheaper than the F-150 Lightning and a long-range three-row SUV.
Ford didn't reveal many specifications yet, but it's enough to see that Ford is serious about expanding its EV lineup. The American automaker had a strong start to its electrification with the Mustang Mach-E and the F-150 Lightning, but now it wants to round out its portfolio with another truck and a full-size SUV. It's pretty clear that Ford is trying to close the gap between Tesla's dominant market share of EVs sold in U.S., but GM is also gunning for that same spot.
PICKUPS AND SUVS
For Ford, the strategy revolves around its second generation of EVs. Ford already teased its second full-size pickup truck which was codenamed the T3 project back in March. Unlike the F-150 Lightning, Ford says this truck will be more affordable thanks to its streamlined manufacturing process that will happen in its mega campus in West Tennessee.
A more affordable alternative to Ford's electric pickup would likely sell well in the U.S., considering the F-150 Lightning saw a lot of demand. Ford only just reopened orders for the F-150 Lightning in May, after resuming production in March following a battery recall.
Ford also has a three-row SUV in the works that's apparently designed for road trips with a spacious interior and a 350-mile range. It's not exactly going to be just an electrified version of the Expedition, but likely a smaller SUV that pulls some design cues from the existing gas-powered model.
TWO MILLION EVS BY 2026
With its two EVs planned, Ford is clearly trying to maintain its position as one of the top EV makers in the U.S. Ford says it wants to hit a production capacity of two million EVs by the end of 2026 and beyond. Ford even says it's expecting to produce one of the least expensive batteries in the U.S.
With the two upcoming EVs, a refreshed Mustang Mach-E, an upcoming Europe-only Explorer EV, and its existing EVs, Ford is really fleshing out its electric portfolio. It's still a long way away from dethroning Tesla as the top EV seller in the U.S., but Ford could represent more of a threat in the future.