Ford Thinks Its New EV Crossover Isn't Big Enough for Americans
The Ford Explorer EV will be an electric midsize crossover exclusive to Europe at launch.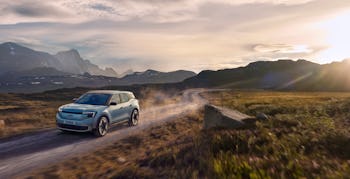 Ford
Following the success of its Mustang Mach-E and F-150 Lightning, Ford is trying to continue its push into electrification with its next EV. This time, Ford is remixing its seven-seater SUV, the Explorer, into an electric midsize crossover that seats five. The Explorer EV isn't coming to the U.S., though.
Ford's EV crossover draws from the styling of the original ICE version of the Explorer but is tailored more for the European market. Cutting down on the length and bulk, the Explorer EV features a much sleeker, slimmed-down design.
SAME STYLE, SMALLER SIZE
Since the electric SUV is keeping the Explorer name, Ford wanted it to still be able to handle road trips and any adventures you throw its way. Ford didn't reveal any battery size specs or range estimates but says the Explorer EV can charge from 10 to 80 percent in 25 minutes.
Inside, the Explorer EV has been cut down to two rows instead of three, so it can only fit five passengers. The infotainment system is centered around a 15-inch movable screen that adjusts up or down to suit the driver, but also conceals a locker where you can stow valuables. If you need even more storage, the Explorer EV's center console can even fit a 15-inch laptop.
On the outside, Ford replaced the classic grill design from the ICE version with a "shield" design that emphasizes the EV version's aerodynamic design. As for safety features, Ford is incorporating Assisted Lane Change into the Explorer EV, which will be the first model in Europe to offer this tech. The Explorer EV will also have Clear Exit Assist, which will give warnings before opening doors so you don't accidentally door a cyclist.
FOCUSING ON EUROPE
At launch, the Explorer EV will come in rear-wheel and all-wheel drive variants. There will be two trims to choose from, the base Explorer and the Explorer Premium. As noted earlier, Ford only has plans to release the Explorer EV in Europe, especially since it's being built in its EV plant in Cologne, Germany.
It's a bit of a drag — the revamped Explorer design may suit European customers more so than a three-row full-size SUV, but it would still appeal to U.S. drivers looking for a capable SUV for daily commutes or family road trips.
The Explorer EV is already up for reservation and will be open to preorders later this year. Ford says the electric SUV will be priced at less than €45,000, or around $48,500, making it a great addition to the midsize crossover EV segment.