Fisker's Ocean Extreme Is Officially One of the Longest-Range EVs You Can Buy
Fisker earned an impressive 360-mile range for its Ocean Extreme SUV.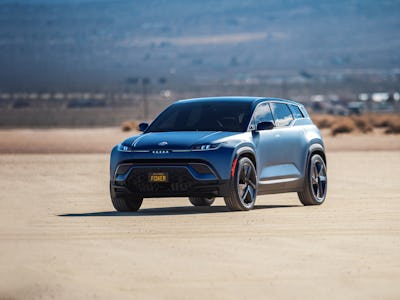 Fisker
We have a new range king in the U.S. — at least for now. Fisker received the official EPA range for its Ocean Extreme SUV, coming in at an estimated 360 miles. That range puts it above other long-range SUV EVs, including the Tesla Model X, the Rivian R1S, and the Ford Mustang Mach-E.
Fisker says the Ocean Extreme SUV is now the longest-range SUV under $200,000 that's sold in the U.S. The estimated range alone might attract potential buyers looking for an EV with the best possible specs, but the Ocean is still Fisker's first production-ready car. The California-based EV maker is a little late to the game, but this long-range Ocean Extreme model seems more than capable to compete with others in its category.
MORE RANGE THAN EXPECTED
Fisker says its Ocean Extreme hit the 360-mile estimated EPA range on its standard 20-inch wheels. The electric SUV even offers optional 22-inch wheels, but Fisker says the upgrade won't affect the range by much. That high range comes from an aerodynamic design combined with the 113 kWh battery pack that powers the Ocean Extreme. The SUV can also fully charge through a fast charger in roughly 33 minutes.
The Ocean Extreme's confirmed EPA range surpassed Fisker's original estimates, much like it did with its European WLTP certification. Before the EPA range, Fisker received a WLTP range of 707 kilometers, or around 404 miles, with the Ocean Extreme, equally making it one of the longest-range electric SUVs being sold in Europe. If you're curious about the discrepancy, the EPA is known to have stricter, but more realistic, standards when it comes to providing range estimates for EVs.
U.S. DELIVERIES STARTING SOON
Along with the EPA range estimate, Fisker received its required certificates to allow for the Ocean Extreme to go on sale across the U.S. Fisker already delivered its first Ocean SUV to a customer in Denmark in May, but is planning to start deliveries in the U.S. in June. The Ocean Extreme starts at $68,999.
It may be Fisker's first real offering to the EV market, but the Ocean is looking to offer some serious competition on range and price. We won't know how it drives until the carmaker starts shipping out more EVs, but it should be an indicator of Fisker's other upcoming projects, like the more affordable Pear, and the sportier Ronin.