Fisker's Electric SUV Will Have More Range Than Tesla's Model S
The Fisker Ocean and its 440-mile range is coming to European markets first later this year.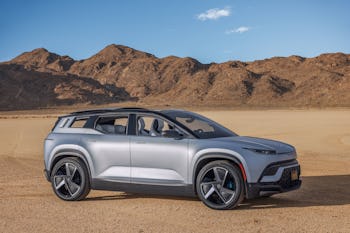 Fisker
Fisker is finally bringing its second EV to market, launching its Ocean SUV in European markets first. After powering through a rough start, Fisker eventually got to the point of starting production on the Ocean in November 2022. The release of the Ocean is starting to look like a reality with Fisker revealing the range estimates that go as high as 440 miles.
The max range of 440 miles comes through Fisker's most powerful and expensive trim, the Ocean Extreme. The range exceeds Fisker's initial estimates that were closer to 390 miles, but the now WLTP-certified range of 440 miles easily trumps the competition. Fisker even says its Ocean Extreme will have the longest range of any battery-powered SUV in Europe.
That's likely the case since the Fisker Ocean Extreme beats out Tesla's Model Y and its 330-mile range, and the Mustang Mach-E and its range of 312 miles. The Ocean Extreme even tops Tesla's longest-range offering, the Model S sedan, and its 405-mile range.
THREE TRIMS
Fisker didn't reveal any specs on the Ocean's battery packs or the time it takes to charge, but the 440-mile range figure should be enough of a draw for most customers. Fisker also didn't include the ranges for the Ultra and Sport trims, but like the Extreme option, we're expecting more range than the original estimates of 340 miles and 250 miles respectively.
The Ocean Sport starts at $37,499 and represents the entry-level option with its single-motor front-wheel drive design. The Ultra features two motors, an all-wheel drive, and better performance, but starts at $49,999. For the most expensive trim starting at $68,999, the Fisker Ocean Extreme is also dual-motor and all-wheel drive but features the most powerful specs and extra features like a solar panel roof.
While the 440-mile range doesn't put the Fisker Ocean Extreme at the top of the EV range charts — that accolade still goes to Lucid Air — it's still an impressive range. Most automakers offer an EV that can at least hit 300 miles on a single charge, making anything that offers beyond 400 miles stand out. As Stellantis' CEO Carlo Tavares said in an interview with Autoweek, EVs need to travel 400 miles on a charge to get rid of range anxiety.
SHIPPING SOON
Fisker says it's expecting to get approval from European authorities for its Ocean SUV in late April, and customer deliveries will follow. While you wait, you can already configure and reserve your Ocean on the Fisker website.
Fisker says it will open its Fisker Centers+ across Europe and the U.S. throughout 2023. These locations will act like showrooms and the first stores will come to Vienna and Copenhagen. If you're patient enough, Fisker is also working on its third EV that will supposedly have a range of 660 miles.