OpenAI's First Official iOS App Makes ChatGPT Simpler Than Ever
OpenAI finally released its own official app on Apple's App Store, putting ChatGPT at your fingertips like never before.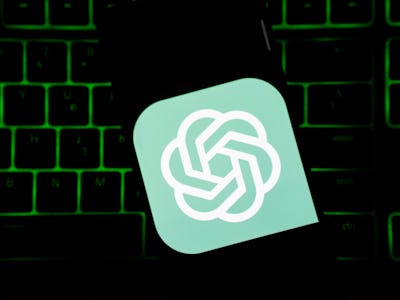 NurPhoto/NurPhoto/Getty Images
If you're a frequent user of OpenAI's inescapable chatbot, ChatGPT, I've got some good news for you: There's an app for that.
While third-party apps using OpenAI's API to offer ChatGPT experiences (Perplexity, for example) have been around for a while now, the company finally released its own official ChatGPT app on Apple's App Store, which you can find by searching simply, "OpenAI."
Naturally, I was curious about what an official OpenAI app looks and feels like, so I did what probably millions of people are doing right now and added it to my iPhone. Here's what you need to know.
High-tech, Simple Interface
Just like the web interface for ChatGPT, the OpenAI app keeps things incredibly simple. When you fire the app up and set up your account (whether new or existing) you're greeted with a big, black, screen and a text box.
To get started, type your burning question into the box and tap the blue arrow to get an answer. Conveniently there's also a small icon that lets you use your phone's microphone to dictate a question. I shouted into my phone to see how/if it works and, well... success!
(Note: the dictation feature goes straight into recording your speech sans an additional button press, so you should be ready to go once you tap the icon.)
Just like the web version, the app provides no citations for answers, so if you want to check your sources (something I highly recommend) you'll have to use Bing's full-service internet search that integrates ChatGPT.
Some other nice flourishes (if you're into that sort of thing) are haptics that vibrate your phone while ChatGPT delivers its response. It might seem frivolous, but I think it's actually a clever way of using physical feedback to let you know when the chatbot is done answering your question, or if it's still "thinking."
If you simply cannot abide haptic feedback, you can turn the feature off using the in-app settings — tap the three dots, then tap "Settings," and then toggle "Haptic Feedback" to the off position (if the bar is to the left position, it's off).
Another important feature, if you're a frequent user of ChatGPT, is the inclusion of chat history. To view past queries, you can tap the three dots at the top of the app's interface and then select "History." There you'll find a list of the past searches you've conducted.
You can even rename them if you want, though I can't see much reason to do that if you're just looking for the easiest way to recognize past queries — the app already summarizes what you search for you. If you're trying to hide what you've searched with a misleading name and still keep the results, however, then you're in luck. "Totally normal ChatGPT query" — mhmm, yeah sure.
OpenAI's app is currently free, and if you're a paid subscriber you can log in to your account and enjoy all the perks that paying $20 a month for GPT-4 gives you.
Pitfalls
It's worth noting that in order to use the app you'll have to enter your phone number, so if that's something you're not comfortable with, run the other way.
In trying to download the app, Inverse's Deputy Gear Editor, Raymond Wong, was inexplicably unable to cross the finish line after OpenAI's app informed him that his account had been "flagged for potential abuse."
After looking into it, the issue might be associated to a false positive that affects premium ChatGPT users. Per OpenAI:
"Premium numbers are sometimes linked to a greater likelihood of fraudulent or abusive activities. By restricting access to these numbers, we aim to enhance the integrity of our platform and mitigate the risk of fraud and abuse."
If you're thinking that all sounds very strange, I'm with you. As of publication, Ray was still unable to get his OpenAI account set up on the mobile app.
It's also worth noting that the app is also subject to all of OpenAI's preexisting data collection policies, so if you're not into handing over data like email or chat queries, then this isn't the app for you.
Mobile Moves
As I mentioned previously, being able to use ChatGPT on your iPhone is far from unprecedented. APIs already extended ChatGPT to third-party apps, and you could, of course, just navigate to OpenAI's site on Safari or Chrome to take advantage of ChatGPT's services.
With that said, the existence of an official ChatGPT app does really put OpenAI's chatbot at your fingertips like never before, and likely a much larger audience. Think about it: If you're perusing the App Store for a ChatGPT app, which are you more likely to download? An official OpenAI app, or something called "Genie - AI Chatbot"? Feels like a no-brainer to me.
At the very least, you can delete those annoying iOS shortcuts once and for all.