Beats' Translucent Studio Buds+ Are a Nod to Apple's Most Iconic iMac
For $169, the headphones have better active noise cancellation and a sleek new design.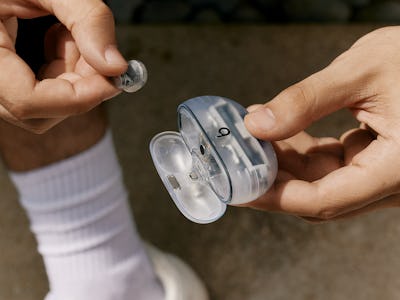 Apple
The Beats by Dre brand often seem to get the short end of the stick at Apple, but no longer. The new $169 Beats Studio Buds+ Apple is announcing today are the first pair of Beats headphones that genuinely look better than the company's own flagship AirPods Pro thanks to a new "transparent" design that harkens back to the iMac G3 and competitors like Nothing.
As a sequel to the Beats Studio Buds from 2021, the Buds+ mainly aims to improve on the active noise cancellation of its predecessor. But since Beats are more open than Apple's AirPods, they'll also work just as great on Android, even supporting features like Google Fast Pair and Find My Device.
Transparent or Translucent?
Hints of the Beats Studio Buds+ new look have been circulating since Amazon accidentally published a listing nearly three weeks before today's announcement. If you've used the previous Beats Studio Buds, the overall design hasn't changed much. They still look like earplugs, and you can still use on-ear controls (a "B" button) to skip tracks, call up a voice assistant, or swap between audio modes.
But the "transparent" finish is worth singling out (despite being translucent rather than transparent) because, honestly, it looks great. Nothing's Ear (2) and Phone (1) turned heads with their deliberately see-through designs, and Apple seems to be drawing from the same well of inspiration, just with a slightly more frosted plastic finish. It's cool to see the batteries and drivers in your headphones, but if you want to be boring, there's also a black and "ivory" (white) option too.
Premium Audio Performance
It will require testing the earbuds ourselves to say for certain, but Apple says the Beats Studio Buds+ should "deliver up to 1.6x more powerful ANC" and "up to 2x better Transparency" than the previous Studio Buds.
The company attributes those performance improvements to three larger microphones, new venting along the sides of the Studio Buds+, and a "powerful processor." Apple made similar changes to the second-generation AirPods Pro to improve noise cancellation and relieve some of the ear pressure that can come from wireless earbuds, so they should pay similar dividends on the Beats Studio Buds+.
I wouldn't expect call quality (also supposedly improved on the Buds+) or any other audio trick to necessarily exceed what's possible on the AirPods Pro just because of how Apple positions the two brands. Given how much we've liked the Beats Studio Buds in the past, though, these should at least be a worthwhile improvement.
Price and Release Date
The Beats Studio Buds+ are available today, May 17, for $169.99, $20 more than the previous Studio Buds. You can order them from Apple's website, and they should start shipping out tomorrow.