Pentagon UAP Report: The DoD has investigated more than 500 UFO cases
... and only determined the cause of half.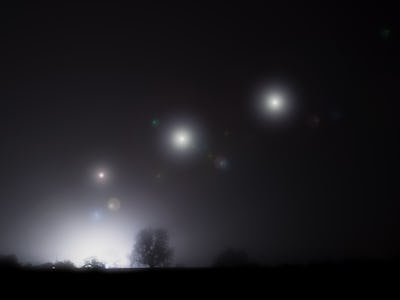 David Wall/Moment/Getty Images
The tally of strange, often unexplained encounters under the name unidentified aerial phenomena (UAP) has passed 500, according to a new report from the Pentagon published Thursday.
Upon Congress' request, the U.S. Department of Defense assembled a task force called the AARO, or All-Domain Anomaly Resolution Office, back in July 2022. Its goal is to determine what's behind these UAP sightings. With the January 2023 report, the public is invited to participate in what Pentagon officials have said they want to be a transparent process. And though the report offers some explanations, the cause of many of the cases remains a mystery.
Members of Congress have welcomed this major step forward into learning what's causing these extraordinary observations from the military. The Pentagon published their highly-anticipated declassified report on Thursday, months after its expected arrival of October 31, 2022.
"We are making important progress in our ongoing efforts to understand these activities and what threat they may pose to America's national security," Senator Marco Rubio's office stated following the release.
"Unidentified aerial phenomena remain a national security matter, and I will continue to support thorough investigations of all UAP reports and oversight by the Congress," commented the office of Congressman Adam Schiff on Thursday via email.
Going forward, the Pentagon may release a new report as often as each year until October 31, 2026.
There are now 510 UAP reports
The initial Pentagon assessment reported 144 instances of UAP. These sightings appeared over a range of 17 years up until the cut-off assessment date of March 5, 2021.
Now, there are 366 new reports. They belong to one of two categories: 119 UAP cases occurred during the same timespan as the initial cases. Then, from the end of preliminary assessment's time period up until the end of August 2022, another 247 new UAP reports have come in.
The grand total of UAP is now 510.
Is it aliens?
That's not entirely off the table. Back in May 2022, Ronald Moultie, Under Secretary of Defense for Intelligence and Security, told Congress that all explanations would be embraced since NASA and the National Oceanic Atmospheric Administration (NOAA) are already investigating non-Earthly lifeforms and strange atmospheric phenomena for the U.S. government.
"They have been searching for extraterrestrial life. There are astrobiologists who have been doing this too. We are a part of that same government," Moultrie said according to the hearing's transcript.
"And so our goal is not to potentially cover up something if we were to find something. It is to understand what may be out there, examine what it may mean for us, if there are any, from a defense perspective, any national security implications or ramifications, but then to work with organizations, as appropriate, if it is a weather phenomenology with NOAA, if it is a potential for extraterrestrial life or indication of extraterrestrial life with someone like NASA."
Who is investigating the UAP?
AARO is the central hub for all UAP reports.
In addition to a "whole-of-government approach," where AARO says it invites support from NASA, NOAA, the Federal Bureau of Investigation (FBI), Federal Aviation Administration (FAA), U.S. military branches, and more, the report says the office seeks to work alongside "foreign allies and partners of the United States."
What they've found so far
Some older UAP reports, as well as 26 of the new ones, have been attributed to uncrewed aerial systems, like drones. In the May 2022 Congressional hearing, Scott W. Bray, deputy director of Naval Intelligence, said that odd triangular objects may have been commercial drones where "it is simply that that light source resolves itself through the night vision goggles onto the SLR [single-lens reflex] camera as a triangle."
More than half of the 366 newly-identified reports are "unremarkable," according to the Pentagon's findings. AARO is open to changing its assessment as methods evolve, and clarifies that initial characterization of these UAP "does not mean positively resolved or unidentified," according to the report. That said, 163 of the new UAP sightings are likely balloons.
Six UAP reports are attributed to clutter.
That leaves 171 remaining UAP reports. "Some of these uncharacterized UAP appear to have demonstrated unusual flight characteristics or performance capabilities, and require further analysis," according to the Pentagon.