Here are the 5 biggest innovations to expect in 2023
Cheap EVs, new mRNA jabs, wind farm wins, and more.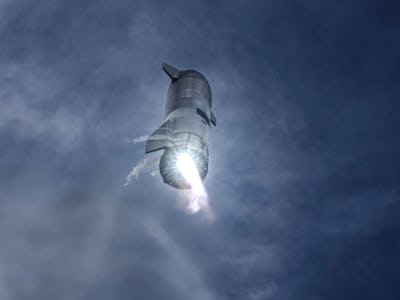 We may be a mere 23 years into the century but already it has been a doozy. In 2022, we saw impressive technological feats, including a fusion energy breakthrough, the first successful all-electric passenger plane test, and the release of bivalent Covid-19 booster vaccines.
As we enter into 2023, what can we expect? At Inverse, we aren't in the business of fortune-telling, but the innovations we saw in the last 12 months can help us predict what might be in store for the next — from driver-free transportation to commercial space exploration to (finally) clean energy for all
5. Cheaper EVs and driver-free shipping
This year will usher in more affordable EVs, allowing a bigger chunk of the population to drive sustainably. For example, GM is rolling out cheaper models that run for around $30,000, expanding the choices for drivers on a budget. Tesla's least expensive offering, the Model 3, starts at around $46,990 — while it's currently the best-selling electric car in the United States, some of these new models could knock the Model 3 off its throne.
If you don't feel like driving, it may soon get easier to hail an autonomous car. In 2023, Uber plans to launch a fully driverless service, and GM's robotaxi division (which now operates in San Francisco, Phoenix, and Austin) aims to enter a "large number of markets."
Cars aren't the only mode of transportation to ditch drivers. Autonomous semi-trucks could surge ahead in 2023 and, soon enough, forever change the way we get our goods.
In the coming months, self-driving trucks are planned to hit Texas highways. Companies like Aurora Innovation and TuSimple will start to test their wheels without any human backup drivers — which has concerned some safety advocates, Reuters reported. Driverless semis have already been tested out in Arizona and Arkansas, but Texas is particularly attractive for autonomous truck companies to set up hubs because it sits in the middle of one of the country's busiest freight routes.
4. Commercial space firsts
Just as in 2022, space magnates are still shooting for the Moon. But before SpaceX can take on lunar landings, it needs to send Starship on its first orbital test flight. Chris Impey, a professor of astronomy at the University of Arizona, thinks that this is the year. SpaceX "will have its first successful orbital flight of the Starship, a game-changing rocket in the effort to get astronauts to the Moon and Mars within a decade," he tells Inverse.
While it may be a few years before people step foot on the Moon again, uncrewed commercial landers could touch down within a few months. In December, the Japanese firm ispace launched a lunar lander that's scheduled to touch down in March. If things work out, ispace will become the first private company to land on the Moon — that is, if it isn't beaten by landers from the U.S.-based companies Astrobotic and Intuitive Machines, which are slated to arrive around the same time.
In another victory for private space, SpaceX's Polaris Dawn mission could accomplish the first-ever commercial spacewalk. It's scheduled to take off no earlier than March 2023 at NASA's Kennedy Space Center. Four passengers, including billionaire mission funder Jared Isaacman, will travel to a maximum orbit of around 745 miles above Earth — the highest of any crewed vehicle since the Apollo missions.
Polaris Dawn will also offer crucial data to scientists on the ground: For example, the astronauts will wear smart contact lenses with tiny sensors that measure eye pressure while in microgravity (past NASA missions have revealed that space travel affects people's vision). They'll also receive a brain scan just hours after splashing down to Earth to examine how microgravity impacts the brain.
Another potential breakthrough: The first methane-powered rocket could reach space this year if United Launch Alliance's Vulcan Centaur rocket aces its first orbital test (which was originally planned for 2020). Methane is more stable than the liquid hydrogen powering most rockets today. It can also be stored at more moderate temperatures than the super-cold ones required for liquid hydrogen. In fact, astronauts could even make methane fuel while on Mars for the journey back home.
3. U.S. wind farms take off
Bringing offshore wind to the U.S. hasn't exactly been a breeze, but this year wind energy could finally have its moment: The energy company Avangrid Renewables plans to take the country's first commercial-scale offshore wind project online in 2023. Its Vineyard Wind 1 project, which sits over 15 miles off the coast of Massachusetts, will offer a capacity of 800 megawatts. Plenty of other wind farms are in the works, including potential projects off the coasts of California, New Jersey, North Carolina, Connecticut, Maryland, and Virginia.
We can also expect a huge win for nuclear energy. The nuclear waste company Posiva will begin operating the world's first storage facility for nuclear fuel in Olkiluoto, an island off of Finland. The facility will hold up to around 7,000 tons of radioactive uranium, which will be put into copper canisters and buried over 1,300 feet underground. Fortunately for the people living above, the waste will sit guarded for millennia.
2. A different look at virtual reality
If 2022 was the year of Metaverse fails, 2023 could herald its comeback — and improvements in VR and AR tech as a whole.
"I believe we will see virtual reality technology's continued refinement," Christopher Ball, an assistant professor of augmented and virtual reality at the University of Illinois at Urbana-Champaign, tells Inverse.
The Meta Quest 3 headset will be announced later this year, and it will likely be more affordable than the Meta Quest Pro. But the new Quest could pack some advanced features now found exclusively in the Meta Quest Pro, according to Ball.
He also predicts that virtual reality companies may focus less on gaming and ramp up promotion of other uses to consumers, like working from home, exercising, and socializing. For example, the recent partnership between Meta and Microsoft will bring Office 365 apps to VR. And Meta is currently trying to buy Within, a VR company with a popular exercise app called Supernatural — against the wishes of the FTC.
This fall, Tim Cook announced that Apple will offer augmented reality products. In the coming year, Ball hopes that Cook will divulge more details.
"Hopefully, we will also learn more about Apple's long-gestating mixed-reality headset. Apple has a strong record of refining consumer technologies with improved software integration," Ball says. "Therefore, many observers are eagerly anticipating Apple's entrance into the mixed-reality space, as they may become the trendsetters for extended reality technology and software over the next decade."
1. A biotech breakthrough could go mainstream
After the miraculous success of the Covid-19 mRNA vaccines from BioNTech and other pharmaceutical giants, scientists have doubled down on developing more mRNA jabs to protect against a range of potentially deadly diseases. In 2023, BioNTech plans to begin human trials for shots against tuberculosis, malaria, and genital herpes, as reported by Nature.
Another buzzy technology could make inroads this year. The Swiss-American biotechnology company CRISPR Therapeutics could make history by receiving the first-ever regulatory approval for a CRISPR gene-editing therapy in the U.S. and Europe. CRISPR Therapeutics is seeking FDA approval for a treatment for two genetic blood diseases — sickle cell disease and beta thalassaemia. If all goes well, it could even hit the market in the coming months.
The Inverse analysis — Of course, there's no telling how exactly 2023 will play out. But if recent years are any indication, developments that have been decades in the making could finally start to take off. After all, scientists did just manage to bombard hydrogen with lasers long enough to create some mystical fusion energy.