NASA and SpaceX Crew-6 Mission: Experiments Could Reveal Extraterrestrial Travel's Health Impacts
The team will test "organs" on chips — and even play with fire.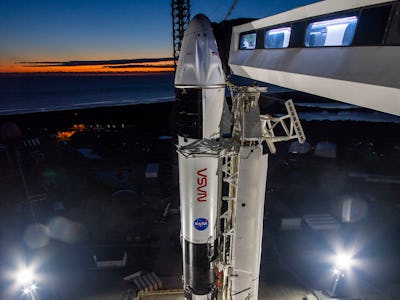 On February 27, NASA and SpaceX prepared to launch three astronauts (two American and one from the United Arab Emirates) and one Russian cosmonaut aboard a Dragon capsule to the International Space Station on the Crew-6 mission.
But the Falcon 9 rocket set to propel them to space suffered a technical issue — specifically, a sensor couldn't confirm fuel levels in the Merlin engines, preventing the vehicle from taking off.
Engine trouble isn't unprecedented for SpaceX. When the company first began developing the Falcon 9 rocket, the company ran into trouble trying to safely light Merlin engines, Ars Technica reported. The fluid contains powerful ingredients: When the two metal components — triethylaluminum and triethylborane — come into contact with oxygen, they combust.
Once it takes off, NASA will have seven crewed Dragon flights under its belt. The Crew-5 team, which launched this past October in a Dragon capsule, is slated to splash down next month after spending around 144 days researching the health impacts of spaceflight at the ISS.
What Will the Crew-6 mission Do on the International Space Station?
This mission will send NASA astronauts Stephen Bowen and Warren "Woody" Hoburg, United Arab Emirates astronaut Sultan Alneyadi, and Roscosmos cosmonaut Andrey Fedyaev to the ISS.
Once the team embarks on the six-month mission, their main goal will be scientific research, with experiments that are similar in scope to the Crew-5 experiments. For example, the space scientists will study "organs" on chips to learn how microgravity affects our bodies and test the flammability of potential spacecraft materials to ensure safety in flight.
The astronauts and cosmonaut will also hunt for tiny organisms released by the ISS by collecting samples during spacewalks. The hope is to limit the contamination of space in future missions and figure out whether some Earthly organisms can survive in harsh extraterrestrial conditions.
SpaceX Crew-6 Launch Date, Time, and Schedule
NASA and SpaceX initially scheduled the Crew-6 mission for February 27 but delayed it to March 2 at 12:34 a.m. EST. You can watch a live stream of the launch here on NASA's YouTube channel.
SpaceX Crew-6 Astronauts: Who's on the Ship?
Here's who will soon head to the ISS:
Mission Commander Stephen Bowen is a retired U.S. Navy captain. Bowen was the first Submarine Officer to be selected as a NASA astronaut. He has served on several ISS missions and spent more than 40 total days in space.
Mission Pilot Warren "Woody" Hoburg has worked as a NASA astronaut since 2017 and previously developed airplane design software at the Massachusetts Institute of Technology.
Mission Specialist and United Arab Emirates astronaut Sultan Alneyadi will become the second UAE astronaut to travel to space. This is his first space mission.
Mission Specialist and Roscosmos cosmonaut Andrey Fedyaev is a veteran of the Russian Air Force and became a cosmonaut in 2012. Crew-6 will also mark Fedyaev's first mission.