A Coolant Leak Stranded Three Astronauts in Space — and a New One has Appeared
Two months ago, a coolant leak left three spacefarers stranded aboard the orbiting laboratory.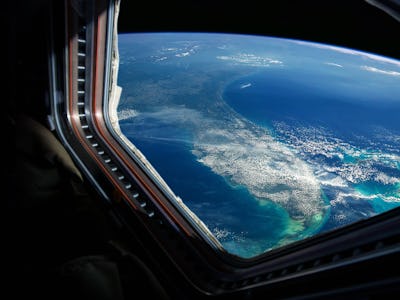 Shutterstock
Members of the spaceflight community are puzzled by Russia's second case of coolant leak at the International Space Station in two months.
The newest instance appeared last week, when the Russian cargo ship Progress 82 lost coolant. NASA says astronauts were "in no danger." But the anomaly garnered attention: a coolant leak just two months ago on December 14, 2022, has left two Russian cosmonauts and one NASA astronaut stranded.
On Friday, members of the media asked questions about the coolant leaks during a NASA press conference about another high-profile station event: the April 2023 first crewed flight test of Boeing Starliner, the potentially newest commercial spacecraft to ferry astronauts to the station for NASA. If all goes well during its test, Boeing plans to fly Starliner at least once a year for the space agency.
NASA officials said they wanted to focus on Starliner during Friday's call, but did offer updates on Progress 82 and answered a few questions about why the stranded astronauts couldn't board Starliner.
When one reporter asked if Starliner could carry an extra seat to potentially bring back station crew in an emergency, Steve Stich, manager of NASA's Commercial Crew Program, said that right now there are no plans to add seats. "It's really a test flight," Stich explained.
Despite its recent coolant anomaly, Progress 82 will still depart the station's Poisk module on schedule, at 9:26 p.m. Eastern on Friday. Russian cosmonauts will then direct the cargo ship to rotate about 180 degrees for additional visual inspections. (NASA and Roscosmos are reviewing observations from the station's robotic arm they gathered earlier this week).
The leak came from the cargo craft's avionics, and Roscosmos determined the system will work as planned as the spacecraft reenters Earth's atmosphere, said Jeff Arend, manager of Systems Engineering and Integration Office for NASA's International Space Station Program, on Friday.
More is known about the December coolant leak, which station cameras captured hours before a scheduled spacewalk. NASA and Roscosmos believe a micrometeoroid is to blame for the damage on the Soyuz MS-22, the spacecraft that brought NASA astronaut Frank Rubio and Russian cosmonauts Sergey Prokopyev and Dmitri Petelin to space in September 2022, and which is now unsafe to ride.
They await a recovery vehicle, originally slated to launch on Sunday, but the flight date is now under review. The delay of the empty Soyuz MS-23 doesn't change the timeline for the astronauts' return; they've been expecting to wait until later this year to board the empty vehicle to come home.