NASA is Ready to Send Artemis II to the Moon Next Year — But Only If All Goes Right
Artemis II is on track for its November 2024 launch date, NASA confirms.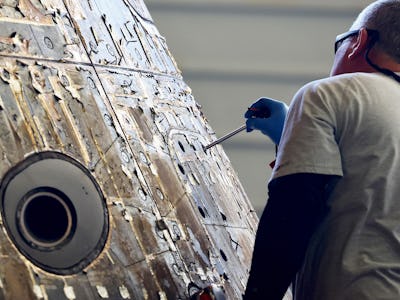 Mario Tama/Getty Images News/Getty Images
NASA officials are still going through 155 gigabytes of data from Artemis I, the agency announced in a press conference earlier today, but everything looks good for Artemis II's November 2024 launch date.
While contractors at Kennedy Space Center's Launch Pad 39b repair damage from last November's Artemis I launch — when the Space Launch System (SLS) rocket blasted off with an unexpectedly powerful blast — engineers and technicians are assembling the next rocket's core stage. Other teams are working on upgrades to the launch facility and writing an updated countdown. Their goal is to have the Orion spacecraft stacked atop the SLS rocket on the mobile launcher by early 2024 — and that means it's going to be a busy summer.
Here's a look at the crucial next few months of work on the path to Artemis II's launch.
Spaceship: Some Assembly Required
Orion program manager Howard Hu and his colleagues are in the process of testing systems on both the crew module (where Artemis II astronauts will live and work) and the service module (home to Orion's power and propulsion systems, as well as the crew's supply of water and oxygen). Tests on the service module should be finished by mid-May, according to Hu at a press conference on March 7, with the command module tests wrapping up a few weeks later in mid-June. By the end of June, Hu and his team will be ready to join the modules together. The Orion spacecraft, then fully assembled, will then face a new barrage of tests.
Artemis II will fly with some of the same avionics hardware from Artemis I, which Hu and his team removed, refurbished, and installed on the new Orion to fly again on Artemis II. But there are some new systems as well, which weren't part of the uncrewed Artemis I flight: a life support system, display screens for sensors and systems, and flight controls just in case the crew needs to take over and fly the spaceship themselves.
Meanwhile, at the Michoud Assembly Facility (better known as NASA's rocket factory) in Lousiana, Space Launch System program manager John Honeycutt and his team are about to connect the final segment to the SLS rocket's core stage. By June or July of 2023, the fully-assembled core stage of the rocket will be on its way to Florida. Booster segments will be taken out of storage at Michoud, assembled, and also shipped to Kennedy Space Center.
And in the towering Vehicle Assembly Building at KSC, engineers will assemble the whole thing and mount the Orion capsule on top. That's likely to happen in early 2024, if everything goes according to plan.
Meanwhile, On the Ground
Preparations for Artemis II's launch involve more than just the spacecraft itself, however. The Exploration Ground Systems team at Kennedy Space Center, led by the newly-appointed Exploration Ground Systems program manager Shawn Quinn, also has a busy summer ahead.
The mobile launcher that sent Artemis I to lunar orbit will return to Launch Pad 39b this summer (sans rocket ship) so Quinn's team can test an emergency egress system that will get the Artemis II crew out of the ship and away from the rocket in case of an emergency on the launch pad. But before that can happen, they'll need to put new shoes on the crawler that will carry the rocket and its mobile launcher to the launch pad (shoes are the individual plates on the crawler's enormous tank-like treads).
And contractors are still working to repair the mobile launcher after the unexpected power of SLS's thrusters wrecked two elevators and some control panels, damaged some blast plates, and dealt some other minor damage to the launcher. One elevator is now back up and running, and NASA is considering "additional hardening" for the second one before subjecting it to another SLS launch, according to Quinn. The blast plates have also now been replaced, along with some pneumatic lines.
And construction is nearly complete on a 1.4 million gallon liquid hydrogen tank. By keeping more liquid hydrogen propellant nearby, the goal is to reduce the time between launch attempts in case Artemis II, like its predecessor, needs more than one try to get off the ground.
Meanwhile, at Launch Control, mission planners are revising the launch day countdown to allow for the presence of a human crew on Artemis II. They have to include "crew donning of the spacesuits, making the trip to the launch pad, and getting into the spacecraft at the top of the launch vehicle," among other steps.
Artemis II will have a tanking test before its launch, but it won't see the series of wet dress rehearsals that led up to Artemis I's launch, Quinn tells reporters. That may suggest that NASA feels confident that the liquid hydrogen leaks that plagued Artemis I during its wet dress rehearsals and multiple launch attempts won't be a problem for Artemis II.
Time — and testing — will tell.