Axiom-2: Everything You Need to Know About the Private ISS Mission
Here's what you need to know about Axiom-2, the second private mission to the ISS.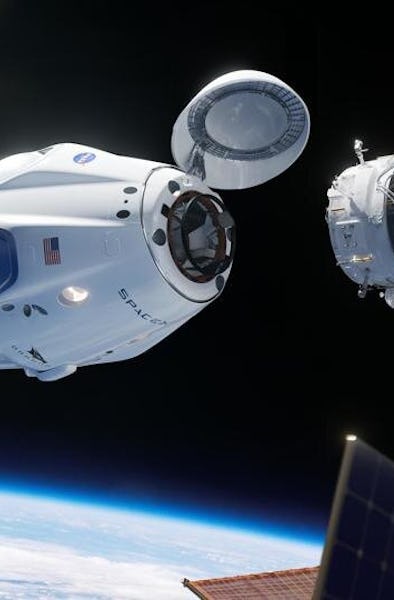 Axiom Space
This weekend, Axiom Space will send its second crew to Earth orbit. The mission, called Axiom 2 (Ax-2), will carry a history-making NASA astronaut, a businessman from Tennessee, and the first two Saudi nationals to reach space since 1985.
These may be the final years of the International Space Station (ISS). But in its wake might be a replacement. As NASA is doubling down on its exploration of the Moon and beyond, the space agency seeks to retire the veteran orbiting laboratory.
Axiom Space is a leading contender to build a commercial replacement for the ISS. The Houston-based company is on a quest to place the first private space station in orbit around Earth. To that end, Axiom Space has been sending astronauts on short missions to space.
Ax-2's launch is currently set for Sunday, May 21, 2023 at 5:37 p.m. Eastern.
What is Axiom Mission 2?
Ax-2 comes a year after Axiom Space flew the first-ever private mission to the ISS, Axiom-1 (Ax-1).
Ax-2 will see commander Peggy Whitson, Ax-2 pilot John Shoffner, and Ax-2 mission specialists Ali Alqarni and Rayyanah Barnawi reach the ISS. They will launch with a SpaceX Crew Dragon capsule atop a reusable SpaceX Falcon 9 rocket from Launch Complex 39A at Kennedy Space Center in Cape Canaveral, Florida.
The mission will last 12 days after launch, with ten of those days spent inside the ISS. There, they will help conduct biomedical experiments, and live chat with classrooms on Earth. Then, they will return to Earth with a splashdown at sea.
"This Axiom 2 mission is just a precursor for where we're headed," Whitson said during a Tuesday press conference. In addition to her role as Ax-2 commander, she is Axiom Space's Director of Human Spaceflight.
"We want to be able to have a commercial space station. We plan to have the first module up in late 2025," Whitson said. "And that will expand our capability to do commercial space and to have more and more people available, have more and more different science and payloads coming from all over the world. And so we are using these missions to optimize for that future mission in space."
Who is the Axion Mission 2 crew?
Ax-2 will be Whitson's fourth spaceflight mission. As a NASA astronaut, Whitson spent a total of 665 days in space. This gave her the U.S. record for cumulative time spent in space, according to the space agency. She retired from NASA in 2018.
As commander and the only veteran spacefarer of the mission, Whitson played a big role in training the crew. During Tuesday's press conference, Whitson said she designed Ax-2's training to reflect short-duration missions like those of Shuttle, rather than the long-duration mission training of current astronauts on the ISS.
The other American onboard Ax-2 is John Shoffner. Like his Ax-1 predecessors, Shoffner flies as an elevated space tourist. He is the only member of Ax-2 to have paid for this ticket. Axiom has not disclosed the amount Shoffner gave for his seat. Ax-1 seats reportedly sold for $55 million.
Shoffner formed the fiber optics company Dura-Line in the 1980s, and retired from his role as CEO in 1997. He is an aviation hobbyist and thrillseeker. According to Axiom's website, Shoffner has accumulated more than 8,500 flight hours, and has performed numerous skydives. Shoffner also participates in motorsports.
The other half of Ax-2 comes from the Kingdom of Saudi Arabia. They are mission specialists Ali Alqarni and Rayyanah Barnawi. Alqarni is a former Royal Saudi Air Force fighter pilot and is an inaugural member of the Saudi National Astronaut Program, according to Axiom Space. Barnawi is a biomedical researcher, and she has a decade of cancer-stem cell experience. She will be the first woman to fly into space from Saudi Arabia.
Although Ax-1 included foreign nationals (Israeli businessman Eytan Stibbe and Canadian businessman Mark Pathy), Ax-2 is the first time that a foreign government will sponsor astronauts on a private spaceflight, according to Tuesday's press conference.
It's also the first time that any Saudis will have visited space since 1985, when Prince Sultan ibn Salman Abd al-Aziz Al Saud flew aboard the Space Shuttle Discovery.
Last year, Saudi Arabia became the 21st nation to sign the Artemis Accords, an international agreement that establishes U.S. alliances for future spacefaring activity and outlines a code of conduct. (Earlier this year, however, Saudi Arabia decided to pull out of the 1984 U.N. "Moon Agreement," a set of guidelines about how to explore celestial bodies that Saudi Arabia signed in 2012.)
The Artemis Accords signing happened in tandem with President Biden's meeting with Saudi Arabia's Crown Prince Mohammed bin Salman, according to Space News, which was met with criticism due to Saudi Arabia's suspected role in the 2018 murder of Washington Post journalist Jamal Khashoggi.
What are the Axiom Mission 2 goals?
Axiom Space seeks to develop the first commercial space station, which would replace the ISS when NASA and Russian space agency Roscosmos deorbit the station around the year 2030. Ax-2 "will continue to lay the groundwork and establish the key capabilities needed to build out and operate Axiom Station, the world's first commercial space station," according to Axiom Space's website.
During their 10 days on the ISS, Ax-2 crew members will conduct biomedical experiments designed for microgravity, the weightless sensation that astronauts feel as the station orbits the Earth in somewhat of a perpetual freefall.
"The four-person multinational astronaut crew of Ax-2 will conduct more than 20 different experiments while aboard the space station, made possible by Axiom Space's full-service integration into the NASA process for science and technology activities onboard the ISS," Axiom officials state on the company's website.
They add they are interested in the data they can collect "of human physiology on Earth and on-orbit." Axiom Space also wants to "expand the commercial space economy" and support the manufacturing of "biomedical products and advanced materials" by learning how things work in space.
Axiom Mission 2: How to Watch
The Ax-2 crew is currently scheduled to launch no earlier than Sunday, May 21, 2023 at 5:37 p.m. Eastern.
Axiom Space will play a launch webcast, beginning at 2:10 p.m. Eastern, which will appear on the company's website. The feed will continue for about 15 minutes after launch.
There will be an update about an hour and a half later, from officials representing Axiom Space, NASA, and SpaceX.
Then one day later (which is Monday, May 22, 2023, if Ax-2 launches on time), the webcast resumes. It will show the Crew Dragon docking with the ISS.
Visit this webpage for more information about Axiom Space's coverage of the Ax-2 mission.