NASA Just Picked the Company That Will Land Its Second Moonwalking Artemis Crew
NASA has selected the company that will build its second Artemis Program Moon lander.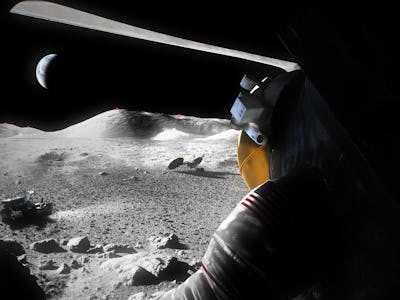 NASA
NASA has finally announced who it selected to make its second next-generation lunar lander. This vehicle, poised to cost roughly $7 billion, will facilitate the second Artemis Program Moon landing towards the end of this decade.
On Friday, NASA announced that the Artemis V crew would land to the South Pole of the Moon on a Blue Origin "Blue Moon" lander. John Couluris, vice president of lunar transportation for Blue Origin, said in a press conference that the Jeff Bezos-founded company wants to establish a permanent presence on the Moon and provide consistent access to its surface.
To that end, Couluris said Blue Origin will provide more than 50 percent of the total funding for this effort. NASA has awarded Blue Origin and its "national team" partners a firm-fixed price contract with a total award value of $3.4 billion.
Blue Moon will be the second lunar lander for NASA's Moonshot program. In 2021, SpaceX beat Blue Origin for the first lunar lander contract. This upset Bezos, who filed a protest with the Government Accountability Office and later sued the agency. Ultimately, SpaceX retained the contract award for the first lander. SpaceX is on schedule to deliver the Artemis III lander, NASA Administrator Bill Nelson said on Friday.
Artemis V will play a critical role in the Artemis program. Jim Free, associate administrator of Exploration Systems at the agency, says Artemis V is the intersection of NASA's spaceflight heritage and long-term plans.
Artemis Program Timeline
The Artemis Program successfully completed its first flight last year. And earlier this year, NASA announced the four astronauts who will fly around the Moon and back for Artemis II. They are scheduled to launch in the fall of 2024. Roughly a year later, Artemis III will take off. That mission will see the first human landing on the Moon since 1972.
Artemis IV will focus on launching Gateway, a space station around the Moon. Artemis V will pick up where Artemis III left off, and bring astronauts back to the surface of the Moon.
Blue Moon will be designed to host people on the lunar surface for as long as a month, according to NASA and Blue Origin.
Couluris explained who would be working with Blue Origin as part of the national team. That includes Lockheed Martin, which is building the cislunar transporter that will provide refueling services from low-Earth orbit to Moon orbit. Draper will be doing navigation and simulations for training. Astrobotic will work on cargo accommodations, and Honeybee Robotics will perform cargo offloading capabilities. Boeing will work on their docking systems, Couluris said.
Artemis V is anticipated to fly around the year 2029. This may be pushed into the future, however, as delays have often appeared throughout the Artemis Program's manifestation.