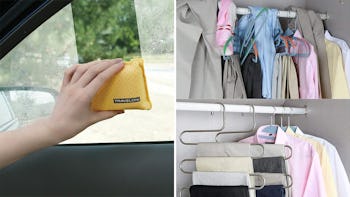 Shopping
49 things under $30 on Amazon that are just so damn good
We only recommend products we love and that we think you will, too. We may receive a portion of sales from products purchased from this article, which was written by our Commerce team.
Sometimes, the excitement of discovering that perfect product makes me click the "Buy Now" button without hesitation. I mean, when a product from Amazon is just so damn good (like the ones on this list), it's usually hard to resist. What's cool about most of these items is that they're fairly affordable and can be purchased for under $30. In other words, you'll be scoring some really awesome pieces on the cheap — and you might not have even known you needed them.
For example, I used to think I had to keep a flashlight handy before going into my closet — but it turns out there is a battery-operated strip light that turns on automatically. I also thought the problem of where to keep my razor in the shower was unsolvable, but there's a simple stick-on razor holder that easily takes care of that. And every time I got into my car, I'd be bummed that there was no place to put my bag. But then, I discovered this slick bag holder that cradles my belongings in the middle of the front seats. Genius.
Read on, because there are more items just like those that seem too good to be true. (They're definitely not, though).
1. A body wash made with tea tree oil, peppermint & aloe
This Remedy Soap is a treatment to help relieve an assortment of skin conditions from rashes itchiness and everything in between. Three of its main ingredients are tea tree oil, peppermint, and aloe — and it can be used on various types of skin (including acne-prone). Over 12,000 customers have already given it five stars.
2. These shelf liners that'll help tidy up your fridge
If you hate the clank of glass-on-glass in the fridge or want to set fruits and vegetables down on a shelf so you can see your inventory, these shelf liners are for you. They're colorful, grippy, cushioning, and easy to clean. They also double as drawer or shelf liners so you can use them all over the house.
3. This knife sharpener that'll revamp all your dull blades
Give new life to your old dull cutlery with this knife sharpener from BulbHead. Unlike many other sharpeners, this one can handle virtually any knife — even serrated or beveled. Best of all, it works in seconds, and also helps polish and hone knives too. It's racked up quite a following on Amazon, too, with thousands of perfect five-star ratings.
4. This dish drying mat that rolls up for easy storage
If your kitchen quarters are cramped or you just value efficiency, this roll-up dish drying mat is a brilliant solution for all your dish drying needs. It's made with sturdy silicone and is waterproof and heat resistant up to 480° F, which means it can also be used as a trivet for hot pots and pans. When you're done, it rolls up into a compact bundle that can be slipped in a drawer or cabinet.
5. This VR headset so you can travel to the metaverse
Ready to travel to the metaverse? Or maybe you just want to do some "traveling" without risking the airport. Put your phone into this VR headset and sit down because you will believe you are there. It's comfortable, gives you an immersive 3D experience you don't have to leave your room for, and works with smartphones — Android or Apple — that have a gyro sensor.
6. This cup holder attachment that holds your big bottles
You want to drink from your big tumbler, but it won't fit in your car's cup holder — so you throw it on the seat instead. Annoying, right? But there's no need to give up. This cup holder enhancement creates a larger cup holder from the one that's too small, and it'll hold your big bottle so it doesn't fly around or tip over.
7. These stretchy lids that fit any bowl you own
Cleaning up after a meal is so much easier if you can just put a lid on the serving bowl, pitcher, or drinking glass with leftovers in it and put it right in the fridge. And when saving food is easier, you'll throw away less of it. These lids stretch to fit the bowls you have so you can grab one that's approximately right and easily cover up that bowl, cat-food can, or half-empty orange juice. And since they are clear silicone, they are easy to store and you can see what's in the bowl.
8. The screen-cleaning set that's loved by many
This screen cleaner kit is much loved by many tech fans. It's a complete kit that includes a big bottle for home, a tiny bottle to take with you, and three excellent microfiber clothes in bright orange so you can find them in your bag. It'll not only help remove microbes on your gear, but it'll also get rid of those fingerprint marks.
9. This trick that turns the car seat gap into storage
The way it is, the gap between your car seat and the center console is a trap for dropped phones, keys, and whatever. Once you add this cleverly designed organizer, though, it becomes a storage spot for your sunglasses, a pen, your phone, and cash for tolls. It's simple to install and so helpful. Just slide it in there and use the included spacers for a perfect fit.
10. The cell phone holder you can design yourself
The base of this clever cell phone stand is flexible and grippy, so you can suction it onto whatever surface you like — your car dash, the desk, wherever. Then, the phone grippers will snap in, so you can design a custom fit that positions your phone at exactly the angle you want. It uses suction — not an adhesive — so you can move it as often as you like.
11. A callus remover for super-soft feet
Thinking of sloughing off dead skin might not be pleasant, but you'll be so thankful for this callus remover designed to make your feet super-soft. It buffs away that thick, dry skin on your heels that's hard to get rid of, and it can be used in the shower or on dry feet. "My feet look and feel a million times better," one reviewer wrote. "I can not recommend this enough."
12. These drain stoppers made of flexible silicone
These simple yet effective drain covers are made of flexible silicone that catches hair and helps keep it from clogging your pipes. With two in a set, they're designed to work with most flat drains. Installation is as simple as laying them over your drain and pressing down on the corners to engage the powerful suction cups. Choose from several colors, including black, gray, and blue.
13. This plug that charges your phone fast
When you want to get up and running quickly, plug your phone into this little rapid-charging plug from Anker. It's small but it feeds your phone on 20-watt output so that it can go from gasping to fully fueled three times faster than a standard charger. It's great for any phone capable of rapid charge.
14. These silicone hair catchers that save your drain
The eternal problem of trying to keep your spices organized is answered by this simple metal rack. It's made from sturdy metal, and the shelf-like design means it's especially good for holding spice jars of different shapes and sizes that may not fit in a traditional spice rack. It comes in five different finishes, so you can find one that matches your kitchen's aesthetic.
15. This genius organizer for portable electronics
This brilliantly zippered organizer with a carrying handle will turn that snarl of cables and accessories in your laptop bag into a tech go-bag. It's loaded with pockets, zippered compartments, and elastic straps to hold everything from your power backup to your headphones and every cable adapter, card, and plug you might need. Best part? You will be able to find the thing you need when you need it.
16. The simple solution to your always-foggy windshield
You can stop using your sleeve to wipe the fog off the windshield now. This defogger sponge is much better at it. You can use it wet or dry, it's super absorbent, and it gets the windshield spiffy. Just keep it in the car for those times when you need to see and don't have time for the defogger to work.
17. These pet grooming gloves that deshed while you pet
When you pull these gloves with nubs all over the palm, your pet will come running. All you have to give your pup or your cat a good pet and the long, rounded nubs on the fingers and palms of these gloves will detangle fur knots, remove excess fur, and feel fantastic.
18. A lint remover you can use anywhere
This portable lint remover is the low-commitment tool to help revive old clothing and pieces of fabric. Just drag it over the coat, sweater, pants, or furniture that's marred by pilling or pet fur and it'll rake it right off. No batteries or power are required.
19. This laptop stand that's essentially a complete desk
Sometimes, if you're lucky, your office is a bed. And when that happens, this can be your desk. There's a drawer for all the items you want on hand, plus extra room for a cup of coffee or your phone so you can keep an eye on communications. The table is adjustable in a variety of angles, and it all rests above your knees, keeping you comfortable and your laptop off your pillow. When you aren't working from bed, the legs fold down for easy storage. Plus, it clocks in at just under $30.
20. The perfect lighting for your closet or cupboards
Creating the perfect light for that dark corner, stairwell, closet, mirror, or cupboard is so easy with this motion-sensitive, stick-on strip lighting that you'll wish you bought sooner. Set it to manual if you prefer to turn the light on, or just enjoy it when light comes on when you're near it. It runs on batteries, so you don't need to run any wires.
21. This UV flashlight that finds the spot you pet soiled
When you can smell your dog's accident but you can't see it, this UV flashlight is the tool you need to track that down. Because you can't clean it up if you don't know where it is. It will identify urine stains — even after they have dried — just by aiming it at the carpet. It's small and easy to stash and mounts to the top of Angry Orange spray cleaning bottles.
22. This hook so you have a place to put your shaving razor
End the constant hassle of where to stash your shaving razor in the shower by sticking a couple of these hooks to the shower wall. They're easy to install — peel and stick — and low profile. The razor slips right in between the hooks and remains upright to protect and air dry the blades.
23. This 3-pack of dish brushes that gets hard-to-reach spots
Whether it's the narrow opening of your water bottle or food stuck in the corners of a pan, this set of three dish brushes will save a lot of time and frustration. With long, ergonomic handles and brushes made from heavy-duty bristles, this set comes with a brush for cleaning bottles, a narrow brush ideal for scrubbing cast iron pans without scratching them, and an all-purpose dish brush.
24. A place to stash your bag or other gear in the car
This in-car storage bag offers a convenient space where you can store your bag while driving. It hangs between the two front seats to hold everything from backpacks to groceries, and it even offers back-seat occupants some storage options. The organizer also doubles as a pet barrier to keep the pups in the back seat.
25. These resistance bands so you can work out anywhere
Pull this set of three resistance bands out of a drawer at work, your pocket when you are walking, or the storage drawer in your home gym and get a weight workout whenever you want it. They come in three different weights so you can start light and work up to heavier or customize your own strength series. They come with an exercise guide you can keep on your phone.
26. A storage bag so your clothes hangers are always handy
Treat your closet like a retail outlet by tossing the empty hangers into this purpose-built storage bag where they won't get tangled together (after picking out your outfit). You will save so much time in between laundry days — and because it holds lots of hangers, your closet will be neat.
27. A clever way to use your power drill to clean
That power drill in your toolbox has untapped powers. Instead of loading it with a screwdriver or drill bit, attach one of these scrubbers and use it as a power-cleaning device. Two kinds of brushes — one round and one ball shaped — scrub off hard-to-remove messes. Plus, the scrubber is great for the shower door or other slick surfaces, and the soft sponge is terrific for gently cleaning and shining the counters or your car.
28. This office supply organizer to keep a tidier desk
When you top your desk with this supply organizer, you'll have a convenient home for the paper clips, pens, thumb drives, and notebooks that seem to enjoy scattering themselves willy-nilly. Reviewers like its small footprint and the fact that it makes just a few minutes' work of decluttering the home office.
29. An airtight storage canister for coffee that looks so good
Coffee is better if it doesn't lose all it's volatile oils and flavors to the air so storing it in an airtight container is part of every coffee nerd's brewing 101 course. This cannister is not only airtight, it's slick looking and has a date tracker in the lid so you know when you opened that bag of beans. It has a CO2 valve, a locking steel clasp, and a measuring scoop in a side holster. It comes in four colors and four sizes.
30. These rubber stoppers that help protect floors
For any large furniture you have that rolls, these wheel stoppers will protect your floors from scratches and stop furniture from rolling. Made from nonslip rubber, this pack of eight stoppers is designed to fit wheels of various sizes and stop them from rolling away from walls. "Bed no longer pushes away from the wall," one reviewer wrote. "Floor not getting scratched anymore."
31. The cedar blocks that help refresh your closet
Cedar smells fantastic, but it usually deters moths. So putting cedar in your closet is an easy and pleasant way to keep your closet safe from critters that eat through fabrics. This collection of 30 cedar rings go right on your hangers to help protect whatever you hang on there. The set also comes with ten cedar balls you can drop into drawers or storage baskets.
32. These dimming sheets so your electronics aren't so bright
Why does every electronic device — from the alarm clock to the phone charger — have a light that glows so bright in your dark room that it keeps you awake? These dimming sheets dial the intensity of the light down so you can see the time or other indicators on the device without lighting up the entire room. Just cut a piece to size and cover the light. They use static cling, so there is no adhesive to mar your devices — and over 1,500 people give them five stars.
33. A set of oven rack shields that can help prevent burns
It's all too easy to bump against your oven rack and burn yourself, but these oven rack shields significantly reduce that likelihood. Made from heatproof materials, they slip easily over the front edges of your oven racks. They have a universal design, and can be trimmed with scissors to fit the specific dimensions of your oven.
34. This tiny light so you can see to open the door
If you struggle to see when you are trying to unlock your door at night, you don't really need an elaborate outdoor lighting solution. Just stick this little light over the lock and it'll light up when you approach, throwing just enough brightness for you to see your keys and the lock. It'll turn off again when you're inside. There's no wiring, so you can put when wherever you like, and it uses low-power LEDs so that you don't need to replace the batteries very often.
35. This "invisible" brush & caddy that tuck away behind your toilet tank
Squatty Potty is probably best-known for its iconic footstool, but the brand is also revolutionizing the messy task of cleaning your toilet with this clever hidden toilet brush. The caddy clips to the back of your toilet's tank and is designed to swivel so you can pull the brush out when you need it, then tuck it back away when you're done. It has adjustable height and is designed to fit a wide range of toilets that have at least a half-inch of space between the wall.
36. This goo that fixes shoes and many other things
When your shoes and sneakers start to come apart before you want to give them up, the solution comes in this tube of Shoe Goo. It'll do everything from patching holes to reattaching the soles and adding traction. It's waterproof and malleable when dry, easy to use, and versatile. People love it and are using it to fix everything from shoes, boots, and bags to furniture, phone screens, and random items around the house.
37. A towel you use wet to keep you cool
Working or exercising outdoors when the weather is warm can take the energy right out of you. This microfiber towel can cool you down, though. All you have to do is douse the cloth in water and drape it around your neck. It'll pull the heat away from your body and make you feel instantly cool.
38. A handy tray attachment for your car's steering wheel
If your parked car frequently doubles as a work station or dining nook, this clever steering wheel tray is about to make your life a whole lot easier. It has a practical, two-sided design: one for eating, and one for working. It's sturdy yet lightweight and designed to work with most steering wheels.
39. A telescoping flashlight that will pick up dropped parts
This handy tool will not only shine a light on the project you are working on, it will reach to the floor, into the drain, or under the car to pick up the metal parts you dropped. The telescoping gooseneck goes from just under seven inches to 22 inches long and has a powerful magnet built into the mount of the super bright light.
40. A simple can lid that preserves your carbonated drinks
Don't be fooled by the simple design — this Smarter-Seal can lid can save you so much frustration (and so many wasted drinks) due to carbonated beverages going flat after you open them. It's made of recyclable and BPA-free plastic, and it can be placed on the top rack of your dishwasher for easy cleanup. It's also slim and lightweight, so you can stash it in your pocket or bag to keep with you for when you need it.
41. This adhesive memo board for your monitor
Put important reminders right where you'll always see them with this monitor memo board. Made of translucent acrylic for a subtle appearance, it's simple to install on most monitors with the help of the 3M adhesive backing. It can also be added to other things, like cabinets, dressers, and shelves — basically, any place you need it.
42. A trash can that organizes your car
Adding a trash can to your car helps keep it stay clean, and this versatile car trash can do more than store empty snack backs and water bottles. It has pockets on the sides for in-car necessaries and a lid that keeps the trash inside and hidden from view. Plus, it's waterproof so that you can toss the trash, fill it with ice, and use it as a cooler.
43. A mold that makes spherical ice cubes
If you like your whiskey over ice, this ice mold creates spheres that measure 2.5 inches in diameter. The ice will melt very slowly, keeping drinks chilled for a longer time. Each mold creates four icy spheres and is made from BPA-free and dishwasher-safe silicone.
44. These Wi-Fi-enabled plugs so you can build a smart home
The next step in your smart home project — after you install an Amazon Echo or Google Home — is to connect the lights, appliances, and coffee machine so you can ask your AI to turn on the lights and brew some java. These are the smart plugs for this project because they work really well (and, again, are under $30).
45. These over-door shoe hangers to organize anything
Hang this over-door shoe organizer from the back of your closet door and tuck your shoes into the 24 clear, mesh pockets so you can find the pair you want when you are getting dressed. Or hang it in the pantry and stash easy-grab snacks in it. Hang it in the bathroom for storing personal care products. It's so easy to organize anything small with it. It comes in three colors.
46. A spice rack you can mount to the wall
Take advantage of the wall space in your kitchen by mounting these two metal mesh spice racks to the wall and keeping your herbs and spices out on the open where they can inspire you. They are sized perfectly for spices and condiments and they mount easily with the included hardware. The black epoxy finish looks good in any kitchen.
47. This slim extension cord that covers your outlets
This extension cord turns the outlet of your choice into a flat, blank panel that disappears into the baseboard or wall — and it ports its power to the three outlets within a strip that you can place as much as eight feet away. You can choose from different-sized cords, depending on where your outlet is.
48. This vegetable chopper that gets dinner done fast
Cooking dinner wouldn't be such a chore if it wasn't for all the vegetables that need to chopped. This little device turns all that work into a couple of gestures. Put the cut shape you want into the frame, set a vegetable on that, and close the lid. It'll chop the vegetables all at once and deposit the cut pieces into the container below so you can pull together a stir fry or salad in minutes.
49. These spray bottles for oil that you can refill
You can use this reusable spray bottle it to spray oil on pans, meats, salads and more — and it's made with a combination of durable stainless steel and food-grade glass. You'll reach for these spray bottles constantly and wonder how you ever cooked anything without one.