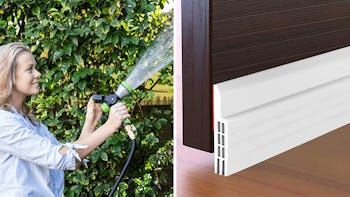 Shopping
47 popular home upgrades people are making that are under $35 on Amazon
We only recommend products we love and that we think you will, too. We may receive a portion of sales from products purchased from this article, which was written by our Commerce team.
Maybe your kitchen and bathroom are begging for a complete remodel, but you don't have a ton of cash to spend on upgrades. Don't worry: Small improvements don't have to cost a fortune. My specific approach is starting with the little things because they can make a big difference. For example, before I change the cabinets, I change the handles — and before I replace the flooring, I put down throw rugs. It's possible to make these kinds of changes without spending hundreds of dollars, especially with these Amazon products that are under $35.
That's right: Thanks to the items on this list — which range from home improvement tools to luxurious bedsheets — upgrading your space can be easy and affordable. From an adjustable mount that lets you put a recipe screen in the kitchen to a curtain made of glistening string lights to help create a soothing atmosphere, you'll find loads of terrific, cost-effective, and fun home upgrades. There are even things like silicone furniture feet to help protect your hardwood floors, along with peel-and-stick backsplash for your kitchen.
What's cool about all of these products is that so many Amazon shoppers can't get enough of them, as they've left hundreds and thousands of positive reviews. Go ahead and join the masses; add new products to your cart and upgrade your living space on a budget.
1. These LED puck lights that give light to dark closets and hallways
Good lighting is the instant upgrade that keeps giving because it makes any room look more spectacular. But it comes at a cost. That's why this two-pack of LED wireless touch lights is such a find — they are designed with self-adhesive backs and you simply stick them under cabinets, in dark closets and hallways, and anywhere else you need illumination. They will make your home look more expensive for a fraction of the cost of custom lighting.
2. These motion-sensor night lights that won't disturb your sleep
When you get up in the middle of the night, these motion-sensor night lights will light the way — and turn off when you're back in bed. This four-pack of night lights automatically switch on when motion is detected and turn off 60 seconds after movement. Two brightness modes allow you to easily toggle between high and medium lighting, and three settings — auto, on, and off — let you change each light for your preference. (Maybe you want your bedroom light on the motion-sensor setting and your hallway light always on.) "The light was soft and diffused," one reviewer wrote. "Not too bright and not too dark."
3. These versatile and color-changing LED strip lights
If any area of your home feels like an eyesore, give it an upgraded vibe by adding LED strip lights. Simply peel and stick the strip lights as you unwind them off the roll and cut off the excess. This kit comes with everything you need including a wireless remote controller that you can use to switch between 12 color variations.
4. These silicone furniture feet to help prevent scratches
There's a better way to stop your chairs from scraping the floor than the irritating adhesive felt pads you've probably been using. These silicone shoes that fit over your chair feet have a cork sole to stop the noise — and they're simple, stay on, and don't attract dust and pet fur. Just put them on the chair feet just as you would shoes.
5. This genius way to round up your tangled cables
That pile of cables and cords under your desk or behind the TV is probably visible, but you can make it less so by wrangling it all into this decorative box. All the cords exit through the back, so it looks sleek — and the lid snaps on securely to help keep small paws out.
6. A set of stove covers that are seriously easy to clean
These burner covers make cleaning the stove as easy and satisfying as pulling the plastic cover off a new phone. All the dirt and spills comes away with them, leaving your stove instantly clean. You can put the covers in the dishwasher (or wash them in the sink), and then put them back on with minimal effort.
7. A double pet bowl that won't slide around or spill
Keep dog and cat bowls where they belong — on your floor and not sliding around and creating a major mess. This double pet bowl features durable stainless steel bowls that conveniently sit side-by-side and a silicone base that won't slide or slip. For less than $25 you get a dishwasher-safe feeding system that's perfect for dogs or cats and boasts more than 3,000 reviews.
8. These transparent storage bins for ultimate pantry organization
Turn any cluttered kitchen space into a pristine and practical organization system, with these airtight food storage containers. The set comes with seven containers in four different sizes, all of which have flip lock lids. They're clear, so you can see what's inside, plus a set of chalkboard-style label stickers and a pen are included for labeling, too.
9. These soft Velcro covers for your fridge handles
If your fridge is made with stainless steel, these double-sided handle covers will help protect them from stains. Simply Velcro them on and never look at handprints all over your appliance handles again. They look sleek — but when they get dirty, you can throw them in the wash. This is a two-pack for a fridge.
10. The chic French press that makes delicious coffee
Make your first cup of coffee of the day as special as possible by brewing it in this elegant copper French press coffee maker. The large coffee maker is designed with a quality heat-resistant combination of stainless steel and borosilicate glass and can be used to brew three 8-ounce cups of coffee. One reviewer called it the best French press they've ever owned and raved, "Press actually goes all the way to the bottom, lid fits securely, the bronze casing hasn't scraped the glass like I thought it would, it's awesome [...]."
11. This toilet wand with cleanser-infused brushes attached
If you find the entire toilet-cleaning chore to be undesirable, this Clorox wand will be your go-to bathroom tool. The storage caddy holds the disposable cleanser-and bleach-infused sponges as well as the handle. Just click a sponge onto the handle, clean the toilet, and push a button to throw the sponge out.
12. The laptop cooling pad that keeps your computer the perfect temp
If you're working from home with your laptop on your lap, you're probably noticing that both your legs and your computer heat up pretty fast – not a good sign. Help keep your computer in great shape and make your WFH experience more comfortable with this laptop cooling pad. The pad features rubber pads to keep laptops from slipping and is covered in ventilated holes for good airflow. This pick has more than 6,000 reviews.
13. A high-pressure hose nozzle with delicate settings too
Whether you want to wash hubcaps or water the roses, this multi-setting hose nozzle has you covered. Its ergonomic on/off lever means it's easy on hands, even for long jobs. There are 10 spray modes, controlled via a wheel on the nozzle front, that include mist, rinse, jet, and soaker, among others.
14. This double-walled ice bucket that keeps things chilled solid
Fresh, actually icy ice is a prerequisite for picnics or parties at the home bar. This elegant stainless steel ice bucket has double walls and a lid with an airtight, rubber seal to ensure your cubes stay cubes for longer. It also has a strainer so any melt that does occur drains to below the ice.
15. This set of sleek mixing bowls to elevate the kitchen
Mix up cookie dough in the soup pot no longer! This set of six stainless steel mixing bowls ranges from a generous 8 quarts (sizable enough to serve salad to an army) to just 3/4 of a quart (fill it with cheese for said salad, why not?). They nest together for easy storage and are crafted from durable yet lightweight stainless steel.
16. This boot scrubber that keeps dirt out of your house
Even if you don't demand that everyone who enters take their shoes off, you can offer a way for them to easily get their dirty boots clean first. Set this boot-cleaning brush in the entryway, and with a quick step and scrape, everyone can remove the caked on mud, snow, or whatever else they're about to track across your floors.
17. These sleek shelves that organize your shower
If you ask me, this set of shower caddies is the solution to every single one of your shower organization problems. There are two caddies and one soap holder that hang from a clear adhesive backing. The caddies have hooks for your sponges or razors, and all the pieces are able to reposition.
18. The set of stainless steel kitchen tools that's equal parts form and function
If you're thinking about upgrading your cooking utensils, look no further. Not only do these stainless steel kitchen tools look super sleek, but they're easy to take care of and the matching container saves space, too. Included are four different spoons, tongs, a potato masher, a whisk, tongs, and a slotted turner.
19. The markers & crayons that fix your dinged wooden furniture
If your hardwood floors have a few scratches, you don't have to clear all the furniture and move out for days to have them refinished. You can fix those — and all the marks on furniture and cabinets — quickly with this wood repair kit. Fill the deep scratches with the wax crayons and cover blemishes with the markers. It works on furniture, cabinets, floors, and other wood surfaces.
20. The tile backsplash you can install by yourself
If you can put on a Band-Aid, you can do your own backsplash. This peel-and-stick tile backsplash is easy to install, looks amazing, cleans beautifully, and is easy to trim with scissors (according to over 2,000 reviewers who've used it to do a super-cheap, DIY kitchen upgrades).
21. A set of baskets to organize the pantry & fridge
These stackable organizers will quickly tidy up your pantry, bathroom, cupboards, or fridge by providing easy access compartments where you need them. They come in four colors, slide in and out easily, and are deep enough to hold plenty of items. Plus, over 5,000 reviewers have given them five stars.
22. This cable organizer set that tames charger chaos
How much of your desk is devoted to a cluttered collection of charging cables? This clip organization system will help reduce that mess. Just stick the clips to the back of your desk (or even to your car's dash or bedside table), and snap the cables in. They'll stay put so you'll always know where they are.
23. A rainfall shower head with better water pressure
Replacing your current shower head with this high pressure rainfall shower head will bring tropical rain vibes to your bathroom, and elevate your shower experience. It's available in six different colors and finishes to match any space. Even better, it's easy to install, too. One reviewer raved, "The pressure is strong while the water feels, soft? Is that even possible? Surely there is wizard involved in Spark Pod's design."
24. These clips that help prevent fitted sheets from sliding off
If you have a deep mattress or your favorite sheets are starting to lose elasticity in the corners, these adjustable sheet clips are a quick and easy way to keep them on the bed. Clip the sheets into the clasps then cinch them tight. Almost 10,000 people approve of them.
25. The satin pillowcases that are gentle on your skin & hair
When you lie down to sleep, the fabric of your pillowcase rubs against your hair and skin for hours. The texture can either tug your strands or help keep them smooth, depending on the fabric. These satin cases do the latter, which means you wake up less tousled and with hair that hasn't been pulled on all night. These are silky as can be and come in 21 beautiful colors.
26. These cutting boards that streamline your kitchen prep
Keep your meat and veggies separate with these bamboo cutting boards. With three different sized boards included in the set, you can plan accordingly and stay organized while you cook — the largest size can even fit over certain sinks to make clean-up a breeze. Each also features a groove to catch juice and debris before it reaches your counter.
27. These throw pillow covers that refresh your couch or bed
You don't need to go out and purchase all new pillows when yours need a quick upgrade, just grab a set of throw pillow covers. This pair comes in 29 different styles (including solids and geometric patterns) and five sizes to match nearly any space, and they feature a hidden zipper so removal and washing are super easy.
28. These liners that catch drips & crumbs in the oven
When oil, cheese, or sauces spill over your baking projects, they drip to the bottom of the oven and become a nightmare to clean up. Preventing that is much easier than recovering from it, and this oven liner is easier than spreading out foil. It withstands high heat — and when it's dirty, you can wash it in the sink.
29. A candle that smells like a fir tree
Featuring notes of Siberian fir, cedarwood, and sandalwood, this scented candle will instantly make your home feel warm and inviting. It's made from paraffin wax with a long-lasting 15-hour burn, and it comes in a decorative, festive jar. Choose from 2-ounce and 6.5-ounce sizes.
30. These easy-to-install lights that are touch sensitive
Take the simple and easy road to excellent under-cabinet lighting and stop worrying about wiring and construction by mounting these battery-operated LED lights, which are touch sensitive. Just peel and stick the lights to the underside of your cabinets, and tap to turn them on. That's it. They're battery operated and super easy to install. Plus, you can take them if you move, and they're nearly invisible when off.
31. The fridge deodorizer that stops unwanted smells
If your fridge needs a refresh, you can easily eliminate unwanted odors with these powerful fridge deodorizers. While they're unscented, they work for up to six months until needing to be replaced — and you can even use them in the freezer. Each pack comes with two, so you can replace when necessary, without having to bother with reordering
32. The door draft stopper that's simple to install
If you're shivering indoors (even when your door is shut), installing this insulated draft stopper at the bottom of your exterior door can help. Cut it to size, peel and stick it to the door, and keep your heat inside — and the cold, sound, and even bugs outside.
33. These colorful velvet hangers to organize and coordinate your wardrobe
If a color-coordinated closet is something you dream of, these premium velvet non-slip hangers can help you reach those goals. Each set contains 20 hangers and comes in seven different colors. They're also space-saving with their ultra-thin profile. In fact, the manufacturer claims these hangers can free up to 50% more space in your closet.
34. This bamboo mat for a dry bathroom floor
Step out of the bath or shower onto this bamboo mat and let the water drip away from your feet. The mat shouldn't slide out from under you, because there are grippy rubber feet on the bottom — and it won't hold water like a fabric rug. Four of these mats together make a unique and inexpensive floor covering.
35. The silicone covers for those stove & counter gaps
Most kitchens have a slide-in range but not all of them have been carefully fitted, which means that many people are living with gaps between that range and their counters where spills, utensils, and other items fall, never to be seen again. These clear silicone covers quickly fix that. Just cut them to size and press them into the gap and you'll never lose anything down there again. They blend into any décor, too, because they are practically invisible.
36. A sink stopper that can be used in any standard kitchen sink
Once you have a universal kitchen sink stopper, you'll never have to worry about finding a new one again — even with a new sink! Since it's universal, this sink stopper/garbage disposal plug fits any standard sink in the U.S and it's made from 100% pure rubber so it will last you years. Additionally, the manufacturer offers a lifetime warranty.
37. The brilliant pet hair remover you can keep using
When an affectionate pet deposits a patch of fur on your pants or leaves a bed of it on the couch, just wipe it up with one of these two adhesive brushes. They're effective because their surfaces are armed with dense, grippy material (and not sticky, disposable sheets). When the brush is covered in fur, just insert it into the cover and that fur will get pulled right off. You'll get a large brush for home and a smaller travel brush.
38. This clothes steamer that heats up super fast
Plug this portable fabric steamer in and within minutes, it'll be ready to steam your clothes and have them looking fresh and new again. It's compact enough that you can pack it for travel, or easily store it at home. The water tank has capacity for up to 10 minutes of usage, and it promises to work on all types of fabric.
39. The solution to your cluttered refrigerator
Do you get bummed when you open the fridge and find chaos inside? Well, when you've got these transparent, stackable storage bins, you'll be able to sort and organize to your heart's content. Even better, the BPA-free and shatterproof bins also work in pantries, cabinets, or closets, and side handles make them easy to move and shift as needed.
40. These sleek & sophisticated hangers to take better care of your clothes
This set of wooden pants hangers will have you feeling fancy every time you look in your closet. They allow pants or skirts to hang crisply and neatly, keeping your closet organized and your clothing in pristine condition. They come in three wood colors (cherry, natural, or vintage), plus you can choose between a set of 10 or 20.
41. A set of acrylic paint with 20 vibrant colors
The options are endless with this acrylic paint set. Renew any piece of furniture or surface you have in your home with a fresh coat of paint. One box contains 20 colors that are highly pigmented colors and are said to produce true and consistent shades when applied.
42. This adjustable drawer organizer made of sleek bamboo
Slip this expandable utensil organizer into your silverware drawer, and make space for your forks, spoons, and knives — and more. Use just the upper slots, or slide the lower slots out from beneath and enjoy even more room. Three different styles are available, so you can opt for a model with as few as three to five slots, or up to seven to nine.
43. These silicone bags that can replace your freezer bags
You'll never have to buy disposable plastic freezer bags again once you stock your kitchen with these resealable, reusable, durable, storage bags. They zip closed and don't leak — but they're also transparent, and you can wash them hundreds of times.
44. A smart light switch that you can use for dimming
Not only is this smart wall switch easy to install, but it's also seriously convenient. It connects to your in-house artificial intelligence — Amazon Alexa, Google Assistant, or Microsoft Cortana — so you can stay on the couch and ask for your bulbs to turn on, off, or dim.
45. This folding bamboo tray for a sleek surface you can use in any part of your home
Elevate your living space with a polished and practical folding tray made of bamboo wood. Use it on your couch or bed for an automatic surface that's great for devices, books, snacks, drinks, and more. Thanks to the built-in handles, it's easy to move with you from room to room, too.
46. A brilliant key hook that's exactly where you need it to be
This key hook is one of those inventions you'll wish you came up with yourself. Simply replace the lower screw — or screws, if there are two — in your light switch with this super-strong neodymium magnet, and it'll turn that space into a handy-but-almost-invisible place to keep your keys where you can find them. Just stick your keys to it.
47. This bidet with a self-cleaning mode
This inexpensive add-on bidet will help you rinse every time — and it's about the same price as a single case of toilet paper. It has an adjustable spray on two nozzles (front and back), as well as an automatic cleaning mode. Installation is super easy.