69 genius gifts under $25 you can get on Amazon
Like an electric blanket that keeps you cozy in your car...
by Christina X. Wood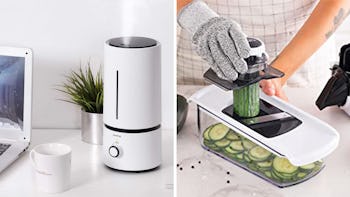 We may receive a portion of sales if you purchase a product through a link in this article.
Do you want go on a shopping spree right now, without stirring from the couch or wasting any of your precious personal time wandering around a store? This is completely possible because this list of genius things under $25 is brilliant and affordable. Seriously, there's something for everyone — and nothing listed will cost too much.
I mean, you want to buy the coolest products out there, right? I'm talking about the ones that prove how you scoured every corner of the marketplace searching for the perfect, most useful things ever. But who has the time for that? Well, I do, as it happens — and I just did. Now, I'm going to impress you, because there is something here that's so perfect you will immediately know it's the right thing.
Maybe you're seeking a new hobby. In which case, this bonsai tree-planting kit could be the right thing. On the other hand, maybe you just bought a new car and need a handy emergency kit. Either way, I found the perfect item for everyone — and again, everything is under $25.
Trust me: I did all the legwork. All you have to do is click and buy. It's so easy, let's do it.
1. This personal light so you can read in bed at night
Isn't this neck light the most brilliant thing ever? I mean, having to put a book down because someone else needs the lights out is the worst. It has two lights — each with three color and six brightness adjustments — and an independent on-and-off switch. There's also an amber light setting that won't trigger wakefulness.
2. A set of foot peel masks for smooth, crack-free heels
Exfoliating your heels has never been easier: Soak your feet in warm water for 15 minutes before popping on these foot masks for just 90 minutes. The sulfate- and paraben-free foot masks begin working within days and optimal results are achieved within a week. The formula uses lactic and salicylic acid, as well as peach extract and soothing aloe, to gently slough off dead skin to reveal the smooth, crack-free skin beneath.
3. This electric blanket for staying cozy in your car
This electric blanket is made of warm fleece and can be plugged into any car cigarette lighter to provide you with a little warmth on your morning or nighttime commute. It has a long 96-inch cord, so even those in the backseat can keep toasty, and the best-selling blanket with more than 15,000 reviews comes in six colors.
4. A backseat organizer with a tablet holder
There's never enough room in your car for all of the things you need to bring along on trips to keep everyone occupied. That's why this car backseat organizer is such a gem — it features nine storage pockets, a dedicated space to stash your tablet, and it's totally kick-proof and can save your car seats from ruin. You'll get two organizers — one for the back of each seat.
5. A travel-ready water filter for hiking, camping & emergencies
Give yourself or someone you love the gift of peace of mind and better, cleaner, tastier water with this personal water filter. The genius tool is a must-have for campers, hikers, or anyone who likes to be prepared for emergencies: it removes 99.9% of waterborne bacteria and parasites, as well as microplastics from drinking water. For less than $20, this portable device filters 4,000 liters of clean water.
6. An armband to keep your cell phone easily within reach as you exercise
This armband will securely hold your phone while you exercise (it has a universal design to accommodate phones of all sizes) and even rotate it up to 180 degrees for optimal viewing — Amazon reviewers particularly find this product useful for walking, running, cycling, and hiking, but honestly it can be worn whenever and wherever you please. This pick can also hold a small key and excess headphone cables for your convenience.
7. This bonsai growing kit that's a hobby in a box
This kit has everything necessary to start four bonsai trees from the seeds. In fact, you get plenty of seeds of four excellent bonsai plants — and it even comes with potting mediums, plant markers, and instructions so that anyone can get started on this ancient, living art form.
8. A car safety kit that has the essentials for your car
If you love someone (including yourself), make sure they have a safety kit in their car. It might not be as pretty as some sets, but it's essential. This one has jumper cables, zip ties, a rain poncho, a flashlight, a few must-have tools and a first aid kit, all zipped into a case.
9. This bread-rising basket that makes perfect loaves
If you know someone who loves to bake bread, they will love receiving a rising basket. These are made with rattan that's lined with linen, and it's the perfect vessel to rise dough in before baking it. When bread rises in one of these, it has that signature ribbing pattern you know and love.
10. These whiskey stones that won't water down your adult beverage
Never deal with a watered down drink again — these whiskey stones will keep your drink perfectly chilled sans ice (just store them in the freezer when not in use in order to chill them). The set comes with six stones, each of which is made from natural granite that's polished. This pick makes a particularly great gift, but you'll definitely want to have a set on hand for your home bar, too.
11. A sushi & maki kit with everything to do sushi nights at home
Making sushi and maki isn't hard. Getting it perfect? That is hard. The right tools help, though, and this kit comes with them. There are molds, mats, spreaders, and chopsticks for four people to make sushi, futomaki, and uramaki at the same time, which is the making of a fun dinner party.
12. An accessories kit every wine lover wants
The fancy electric wine opener is only the flashy part of this wine kit. That part is slick, though. You just put it on the bottle and push a button. Then, it does the rest. There's also an aerator, foil cutter, and vacuum stopper included.
13. The ultimate grill kit for your patio master chef
This grill set has everything a grill commando needs (and doesn't have yet). Tongs, spatula, and grill fork? Check. Hot mitt and basting brush? Right here. Long knives, tongs, and scissors? You betcha. There's also grill brushes, pepper shakers, corn holders, skewers, and grill mats — and it all zips into a storage case.
14. This visor extender to keep the sun out of your eyes while driving
Driving with the sun in your eyes is certainly annoying, but it also can be dangerous. Luckily, this visor extender can help — utilize the non-slip elastic straps to attach it to your existing visor (it has a universal design, ensuring it is compatible with all cars and SUVs), and it's ready to go. The visor features polarized technology to reduce glare and an anti-scratch coating to ensure durability.
15. This blanket that makes you look like a burrito
For some reason, it's hilarious to see a cozy human wrapped up in a blanket that makes them look like a burrito —and this is the blanket to do it. The tortilla looks like it got a bit warm on the grill and toasted slightly, but it's an illusion because the fabric is very soft.
16. This vacuum-insulated mug that keeps your coffee warm
Most vacuum-insulated beverage cups are shaped like tumblers to fit in a car's cup holder. But what if you don't drink your coffee in a car? It's still nice to have coffee that stays hot for hours and doesn't spill. This Yeti Rambler mug is the answer. It's a high-quality, vacuum-insulated coffee mug that looks and drinks like a coffee mug.
17. A multitool that's also a pen for every nerd on your list
This multitool is so much more than a cool-looking pen with a ruler built-in, and it's great to have. There's a ballpoint pen with four refills, a spirit level, a ruler, a Phillips and a flathead screwdriver, a touchscreen stylus, and a pocket clip. See? There's a lot involved.
18. This hand warmer that also charges your phone
Having a hand warmer in your pocket on a cold day is wonderful. It boosts the effectiveness of a down coat or it gives your hands a quick recovery spot. This one gives you a quick visual temperature reference, too. When it glows blue it's at the lowest temperature (113 degrees Fahrenheit), green is medium (122 degrees Fahrenheit) and red is hot (131 degrees Fahrenheit). It's also a phone charger, though — so it's also convenient and useful.
19. This light therapy lamp that reviewers claim helps with mood, sleep, focus, & more
Dreary, gloomy days got you down? This light therapy lamp provides 10,000 lux of brightness to mimic the colors of daylight — this is said to potentially have numerous benefits for the body such as improved focus, a boost in energy, and sleep regulation. Amazon reviewers back up these claims with one reviewer writing, "It has made a huge difference in my energy, productivity, and mood being stuck in a poorly lit, fluorescent lighted office all day." And another commented, "I feel as if it has definitely improved my mood and sleep." Choose from three different brightness levels. And utilize the convertible stand to position the light as needed.
20. These gold-infused eye masks that help reduce unwanted puffiness
When your eyes are tired, these gold under-eye patches can help rejuvenate the skin around them. They're soaked in red algae extract, vitamins C and E, micro-proteins, 24-karat gold, and much more to reduce shadows and calm down the swelling. They are individually packaged, so you can do this anywhere.
21. These fizzy pucks that turn every shower into a spa-like experience
Toss one of these shower steamer pucks into the stream of your shower and enjoy an aromatic eucalyptus and menthol spa treatment while you shampoo. They dissolve slowly, releasing the trapped essential oils into the steam allowing the eucalyptus and menthol to clear your sinuses and restore your sanity.
22. A tracker for all the things you lose
Attach a Tile Bluetooth tracker to your keys, water bottle, pocket knife, or whatever you are afraid you'll lose. When it goes missing, ask your phone where it is. If it's within 200 feet, your phone will show you where it is and turn on the alarm in the tile so you can track it down. You can also ask your Amazon Alexa to find it. If it goes missing further away, you can enlist the help of the anonymous Tile Network to track it down.
23. This set of wireless earbuds that work for 6 hours at once
This set of wireless earbuds connect via Bluetooth to your phone and to each other for a completely wire-free listening experience. The earbuds offer up to six hours of use on one charge, and reviewers report the "sound quality is excellent." Plus, since the earbuds are IPX8 waterproof, you don't have to worry if you break a sweat or get caught in the rain while using them.
24. An electric food chopper for food prep in a flash
This electric food chopper is compact, affordable, and ideal for whipping up quick spreads and sauces. It features sturdy stainless steel blades, with a 1.5-cup capacity and dishwasher-safe parts for convenience. Create everything from hummus to homemade salad dressing to baby food in seconds.
25. The detail trimmer for noses, ears, & eyebrows
This ear and nose trimmer has two spinning blades that rotate 360 degrees to get rid of unwanted hair quickly and painlessly. It can be used dry or in the shower around areas like your nose, ears, edges, eyebrows, and more. Plus, it's even washable.
26. This water-resistant shower speaker that connects to Bluetooth devices
Fire up the hot water and crank up some tunes with this wireless shower speaker. Or, take the book you're listening to right into the shower. The water-resistant, USB-rechargeable speaker connects to Bluetooth devices up to 33 feet away, and it's easy to set up — just suction cup it to the wall or hang it from the shower caddy, and you're ready to belt out some tunes. Choose from five colors, including blue, black, and lime green.
27. A detangling brush with over 15,000 positive reviews
It's just a hairbrush, right? So why do more than 15,000 people on Amazon rave about it? Well, because it gets rid of tangles in fine or curly hair without breaking the hair or making the human attached to the hair feel any pain. The bristles are gentle but super effective — and I'm sure anyone who does their hair on the reg would like adding this to their routine.
28. An LED ring light that attaches to your tablet or laptop
Whether video conferencing, online teaching/learning, recording videos for social media, or something else, this LED ring light will provide the perfect amount of extra light. The device clips directly on to your laptop monitor or tablet (it also has a tripod stand should you want to use it freestanding), and there's three different light options and 10 brightness levels to choose from. This pick is powered by USB.
29. A foldable makeup mirror with its own lights
With 21 LED lights in this mirror, no one will complain they can't see to put on makeup or because the lighting is poor. This mirror magnifies two, three, and 10 times normal, too. Just look into a side panel to do finer work (like applying eyeliner or tweezing). It's powered by battery or a USB plug.
30. This beard balm that'll give your whiskers some shape
If you have a full beard with some unwanted frizz, this styling balm can help while conditioning it against breakage and dehydration. It's made from argon, avocado, almond, pumpkin seed, and apricot kernel oils infused with fruit and nut butters. Then, it's subtly scented with cedar, anise, and clove so that beard will smell as good as it looks.
31. This beard derma roller that promotes hair growth
This derma roller is designed specifically for use on beards, and it's said to help promote thicker, healthier hair overall. Amazon reviewers back up this product's effectiveness. "I started using a few weeks ago, and I can already see new growth," writes one fan. The derma roller is made from high-quality titanium and it features 0.25 millimeter needles. It's recommended to use this product once a week for best results.
32. A vacuum cleaner for unwanted blackheads & breakouts
This pore vacuum is a quick and painless way to do facial extractions at home. With six different suction heads, there is one that's right for your situation. Just warm your skin to open the pores, press the on button, and suck out unwanted blackheads and other blemishes gently (and without damaging your skin).
33. A self-standing umbrella designed to prevent drips
This cleverly designed umbrella has a reverse folding frame to prevent drips when you close it, and it stands up on its own for convenient storage. Plus, the double-layer canopy is windproof to withstand blustery weather, and the C-shaped handle provides a comfortable grip. Choose from eight colors and designs.
34. This sonic toothbrush that's powered by USB
A sonic toothbrush more effective than a manual one, which is why dentists love them — and this one has some extra perks. It's USB-powered, so there's no dedicated charging stand to take up space on the counter. A single charge lasts one month, and it's priced well.
35. A cool mist humidifier to moisten the air in your space
If your throat is scratchy at work or when you sleep, the air is probably too dry. This slim, cool-mist humidifier will deliver a steady stream of mist right to where you are so that your lungs and throat will remain lubricated and you can stop coughing. It has a clear dial, plugs in, and holds 1.7 liters of water.
36. A mandoline slicer with a safety knob & catch basin
This tool will turn out salad and stir fries super fast. It's a mandoline that fits onto on top of a container that catches and stores your sliced results. There are six blades: Two slicers and blades that make julienne ribbon, and spiral cuts. A knob keeps your hands protected while you slice. This is great for anyone who enjoys cooking with fresh vegetables.
37. This Himalayan salt & pepper grinder set for better flavor
Give up the ground salt and pepper. By the time it gets to your food, it's nearly devoid of flavor. Pour Himalayan sea salt and whole peppercorns into these gorgeous grinders and keep them where you eat or prep food so you can grind your spices as you use them. They're made of glass and stainless steel and come with a funnel to make filling them easy.
38. A compact belt bag that holds all the essentials
Whether you're going for a jog, running an errand, or going to a concert, this belt bag offers a convenient, hands-free way to tote the essentials. The adjustable bag is made from moisture-resistant material with a reflective safety strip and has enough room for a phone, keys, cards, and cash — there's even a handy port for wired headphones. Choose from seven colors.
39. This cleansing brush with 7 different heads for a variety of uses
This cleansing brush comes with seven brush heads, each of which can benefit your skin in different ways — for example, the short and soft brush is great for deep cleansing, the pumice stone is powerful to remove dead skin, and the makeup sponge is ideal for product removal. The rotating brush features two different speeds, and it's powered by AA batteries.
40. These organic lip balms that smell good & feel smooth
Simple, organic ingredients and delicious flavors are packed into these cute lip balm packages. When you want a blast of mint, strawberry, pomegranate, or vanilla, just swipe your lips with this rich mix of jojoba oil, coconut oil, mint, and shea butter. It will not only taste good, but it'll moisten and heal your lips.
41. A color-changing light strip that's easy to install
Unroll this strip light from the dispenser, stick it where you want it — or use the buckles to hold it in corners — and create lighting that changes with your mood. This is over 32 feet of flexible light tape with 5,050 LED bulbs embedded into it. There's even a remote control so you can set the color while lounging on the couch.
42. A fire starter that'll withstand wind & rain
Bring this fire starter along on your next outdoor adventure, and you'll be able to ignite a fire even if it's rainy and windy. Made from flint and steel, it delivers sparks straight to the included waterproof rope wick, which offers over three hours of continuous burn or thousands of single-strike uses. It's available in two sizes: small and large (featured above).
43. This handy wallet that attaches to your smartphone
For easy organization, this cell phone wallet attaches directly to your device or its case and provides storage for three cards and an ID. It's compatible with most smartphones, doesn't block the camera or ports, and has a snap closure to keep items secure. Plus, the wallet features RFID-blocking technology to help keep your credit card info protected.
44. A set of iPhone chargers so you always have one
Strip everything else away in modern life and that item is a phone charger. This is a set of three iPhone charges with 6-foot long, braided nylon cables. They will be appreciated. (Go ahead and buy them for yourself if you want to.)
45. This portable LED rope light
Whether you're looking for some dreamy decor for an outdoor party or just want to illuminate your camping site, this LED rope light lantern is a huge help. Measuring in at five feet, you'll also get handy universal noodle ties along with your lantern to help with set up. These are also great to throw in your car in case of an emergency.
46. A tripod that's also a selfie stick with a Bluetooth remote
This is the third hand you need for capturing amazing photos with a cell phone. The device extends from 8 to 48 inches in length, and it can be utilized as either a tripod (it features built-in, collapsible legs) or selfie stick. The included remote connects to your phone with Bluetooth so you can snap an image from up to 33 feet away. The product weighs just 8.5 ounces, and it closes up to a super compact size making it quite travel friendly.
47. This clever phone mount that holds your phone where you want it
This phone mount is brilliant. It suctions on where you have a suitable place in your car for the base. Then, the gooseneck arm snakes to exactly where you want to put the phone so it doesn't block your view (or your access to the car's controls). After setting it into place, your phone will be snug, stable, and right where you want it.
48. A thin wireless charger that fits in tiny pockets
If you want a wireless charger that doesn't look like a bulky piece of office equipment, this thin disk is it. It comes in several color options and looks elegant in any bedroom or living room. Plug it in via micro USB and set a Qi-compatible device on it to charge for an easy, modern end-of-day routine.
49. A phone or tablet stand that's height-adjustable
If you're reading a recipe, watching a movie, or on a video call, the height of the tablet or phone you're using matters. This stand adjusts from 7 to 8 inches tall, and the holder swivels. The angle also adjusts, so you can get your screen in exactly the right position. There's room for charging cables and it all sits on a heavy base that shouldn't easily tip over.
50. This set of resistance bands that's basically a gym in a bag
This is a complete home gym that comes in a tiny bag. All it takes a little knowledge, which is included via instructions. The bands offer resistance levels that range from 5 to 35 pounds, coded by color. You can double them up to make them heavier, too — and they have interchangeable handles and foot loops to work every muscle. There's even a door anchor and instructions included.
51. A set of lights you can stick under your cabinet to better illuminate your kitchen
When your home doesn't seem to have electrical outlets in the right places, it's time to switch to stick-on LED lights that turn on by touch, or by remote. These under-cabinet lights are great to help add a bit more light to your kitchen, although they can also be used under a bathroom vanity or in your closet. These are also a great, easy way to add a bit more safety to your home.
52. These workout dice that act like a personal trainer
Roll the dice to find out what your next workout will be. You won't get bored this way or have to come up with your own exercise regimen. Just roll to find out if you should do crunches, jumping jacks, squats, lunges, or push-ups (and how many reps of each). It's a fun way to mix it up.
53. This battery organizer with a built-in tester
There's nothing worse than trying to sort through a giant ziplock bag of batteries, which is why this organized case is a must-have — especially for people who have kids with electronics. Not only will this set let you know which types you're running low on, but it'll also test batteries to make sure they're still good. It's made out of durable plastic and available in multiple colors, in case you want it to match your home decor.
54. A hammock for relaxation on the hiking trail
If you're into the outdoors, this easy-to-pack hammock will become your new favorite thing. Made from parachute fabric, it's light enough to carry in a day pack and is easy to hang with the included straps. It's comfortable enough for two people to camp anywhere and get a restful night.
55. This plasma lighter that works anywhere without flames
Using an electric charge, this plasma lighter will start the campfire, light candles, or get the grill lit — even in a high wind. It has no flame and is easy to use. It's eternal, too, because you can recharge it via USB.
56. A water bottle with a built-in Brita filter
Hydration is important, which is why this water bottle is such an essential purchase. It's not just a water bottle, though. This is a Brita filter built into a water bottle so you can fill up anywhere and always drink pure, delicious water. The filter fits into the straw and a snap lid helps prevents leaks.
57. This hat that'll light the way on dark nights
Even if you can see cars driving by at night, they might not be able to see you — which is why this hat is a great solution for runners and people who work outside. Also great for hikers and campers, this hat will also ensure that you stay warm on chilly nights. The best part is that the hat is rechargeable. Just plug it into a USB when not in use, and the light will stay bright.
58. A plug-in trap to eliminate pesky insects at home
This plug-in insect trap features two types of light (blue and UV) and a sticky cartridge to draw in and contain pesky bugs. It doesn't have insecticides or odors, and it doesn't make a mess either. Just plug it in and watch insects practically disappear from your home. Amazon reviewers have successfully used the trap to get rid of fruit flies and gnats.
59. A zippered canvas organizer that's useful & sleek
Whether you need to wrangle office supplies, tech accessories, or travel items, this zippered organizer will come in clutch. It has a canvas exterior and a spacious interior with different pockets and mesh compartments to keep things in order. Plus, it folds down to a fraction of its size to save space between uses.
60. A gel-bead face mask that can be cooled to soothe headaches & tired eyes
Pop this mask of gel-filled beads into the microwave to warm it up or into the fridge to cool it down. Then, wear it for relief from headaches and stress or use it to calm tired eyes. It straps on, so you can relax while you wear it — and there is a soft, microfiber cover that goes against your skin.
61. A silicone mat with measurement markings for baking
When baking bread, rolling out cookies, or taking on more complicated baking projects, unroll this silicone baking mat onto the counter. It has all sorts of handy conversions printed on it and gives accurate sizing for your confections as you shape them. Plus, it's non-stick so you don't need extra oil or flour. It also makes cleanup really easy. Just pick it up, empty the detritus into the sink, roll it up, and stick it in a drawer.
62. A callus remover that's fast, effective, and easy
There's no need to slather your feet with creams or endure painful foot calluses. This machine sands them right off. It has three heads for any foot situation and works right in the shower. There's also a built-in light so you can see what you're doing — and it's rechargeable.
63. This Bluetooth label maker that connects to your phone
If your home or office could use some more organization, look no further than this compact Bluetooth-enabled label maker. Fans have raved about how easy to use it is, with one reviewer describing, "Honestly the system has a whole 'plug & play' feel to it, it's that simple." Use the coordinating iOS or Android app to connect it to your phone and print labels in over 60 fonts and in over a dozen languages. Plus, it's rechargeable.
64. A hanging toiletry organizer that's a must for travel
This travel toiletry organizer is roomy enough to hold hair care essentials, makeup, a tooth brush, jewelry, and more — but since it folds down it'll take up minimal space in your luggage. Once you arrive at your final destination, this pick boasts a hook on top, allowing you to hang it up for easy access. It's a must-have product for anyone that travels.
65. This desktop organizer that'll minimize the clutter
To bring a little bit of order to your cluttered desktop, this organizer can hold books, papers, plants, or office supplies. It's lightweight but sturdy enough not to fall over no matter how heavy your items are, and it's super easy to assemble.
66. These retractable gel pens that are erasable
For anyone who loves the feel of a pen but hates not being able to erase, these retractable pens will erase when you put the ink under heat. This pack of six gel pens offers great value, and the pens write so smoothly on paper. They're even refillable to minimize waste.
67. A cheese-making kit that will launch a foodie craft
Making soft cheeses like goat, mozzarella, ricotta, mascarpone, and burrata is surprisingly easy to do, if you know how — and this kit will teach your foodie peeps all about it. It has all the hard-to-find elements you need: rennet, fine cheese salt, citric acid, and cheese cloth (as well as detailed instructions).
68. This mug warmer that'll keep your cup of joe the perfect temperature
A mug warmer is one of the best life hacks for anyone who sips on coffee slowly. This one plugs into an outlet and has two temperature settings so you can find the perfect one for you and your beverage. It even has an auto shut-off after eight hours of use for extra safety.
69. A pocket-sized hair remover you can use daily
This little shaver is so easy to use that you can remove unwanted fuzz anytime, anywhere. It's gentle and uses one AA battery. Not to mention, it's small enough to keep in a purse or pocket. Use it to trim your brows or unwanted peach fuzz.