Pandemic telehealth was a boon to people with psychiatric conditions — what happens when it ends?
Psychiatric telehealth is far from perfect but experts say blanket guidelines are both impractical and unsafe.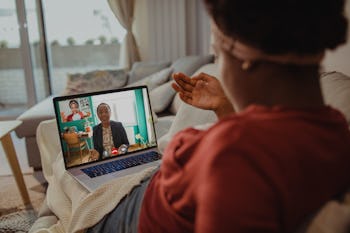 Getty/vorDa
People who see a psychiatrist through telehealth may be in for a rude awakening: For almost three years, psychiatrists have been able to see their patients virtually — and prescribe whatever prescriptions they deem necessary — as a result of those visits. But, on May 11th, the latter part of that equation will change. That's when the Biden administration will formally end the Public Health Emergency designation implemented in 2020 when the Covid-19 pandemic took hold. When it does, psychiatrists will have to see a patient in person at least once if they want to prescribe a controlled substance.
Some of the most commonly prescribed controlled medications include stimulants like Adderall and Ritalin for ADHD, benzodiazepines like valium, and medication for substance use disorders like suboxone, which doctors often prescribe for people with opioid use disorder. The telehealth change comes as an unprecedented nationwide shortage of ADHD drugs is already making it difficult for many people to access the medication their doctors have prescribed. While telehealth is far from perfect, adding those blanket restrictions could have dangerous consequences.
Jessi Gold, a psychiatrist and assistant professor of psychiatry at Washington University School of Medicine in St. Louis, says there are aspects of telehealth she doesn't like.
"There's a different connection with patients in person than over screen," she says. "When I can't see your whole body, I can't see if you're fidgeting or other things that might be useful to know. Distractibility is also big; when you're one-on-one in a room with someone, you're eliminating other distractions. That changes with telehealth."
David Reiss, a clinical psychologist and trauma expert, agrees. "I believe that in-person visits are preferable. Something is lost in not being in the same room, being able to observe each other, and even missing the subtleties that can improve communication by observing things like hand gestures," he says.
Both Reiss and Gold say their preferences come with a significant caveat: practicality.
For Reiss, masking eliminates any gains from being in person. If a doctor cannot even see facial expressions, "a virtual visit is much more effective than an in-person visit," he says. As many patients would want to mask during an in-person visit, a virtual visit may be the more practical option.
Gold says trying to change the regulations after nearly three years is a genie that's likely too hard to put back in the bottle, regardless of her personal preferences in an ideal world.
Because of the expansion of telehealth during the pandemic and the added stressors this period of time brought, "I think a lot of people sought [mental health] help that hadn't before or hadn't since they were kids," she says. "They haven't gone into an office; they've only done telehealth. So a big population there never had to go into the office. So that would be a big change for them."
Further, Gold says telehealth expanded who could access treatment. "Especially in rural areas where it's harder to find a provider, telehealth really changed who could get help."
Should in-person visits be mandatory for patients prescribed controlled substances?
Gold believes there are pros and cons to the idea and that it might make more sense for providers to determine who needs an in-person visit and who doesn't.
"On the ADHD side of things, when it's virtual, we don't get to do things like vitals and diagnostics," she says. "On the other hand, for people who have been on their meds for a long time, it's typically a very short visit and the same conversation. It doesn't always make sense for people to get in their car and drive to an appointment for a short, routine appointment."
She notes that the reasons for blanket guidelines often come down to insurance reimbursement, which she says is not necessarily consistent with what's best for the patient or the doctor.
"If you're a rural provider, and you feel fully comfortable not seeing people in person, which allows you to see more patients, that should be your choice," she says. But if you are a person who wants to see everyone every time, then that's what people know, they have to come in, and that's fine too."
Reiss wishes that instead of reverting to pre-pandemic guidelines, there was a more concerted focus on improving telehealth.
"If telehealth can be reasonably standardized with reasonable oversight, it would be a boon to the availability of mental health treatment, including appropriate use of controlled meds," he says. "But we are not there yet. In some areas, oversight and insurance restrictions choke off quality care; in others, it's a free-for-all."
Cerebral, a mental health telehealth startup, is reportedly under investigation by the Justice Department over alleged overprescribing of controlled substances like Xanax and Adderall (the company stopped prescribing stimulants shortly after); in December, the DEA announced that it was considering revoking the license of Cerebral's preferred pharmacy, Truepill for "wrongly filling thousands of prescriptions."
For Gold, those "prescription factories" should be addressed differently than "good clinicians making good diagnoses based on appropriate diagnostic criteria," she says. "And not by punishing patients that were getting meds all along or patients who finally got access to care and are appreciative of access to care and aren't misusing the system."
The dangers of abrupt changes to psychiatric medication
Perhaps the most immediate and serious risk of the change, as well as the existing shortages, is the danger of forcing patients to abruptly stop taking controlled substances.
Abrupt discontinuation of any prescribed medication can be dangerous, even if there is no risk of withdrawal," Reiss says. "But abrupt discontinuation of controlled meds is even more dangerous due to the risks of withdrawal, like seizures from discontinuation of benzodiazepines, or people [in treatment for substance misuse] relapsing to avoid withdrawal symptoms."
Some dangers arise separately from the potential physiological responses, like seizures or withdrawal.
"If patients are taking a medication to treat something, obviously when they stop the medication, the underlying condition isn't being treated. People with ADHD, for example, might engage in riskier behavior or substance misuse," Gold says. "They could drive really fast and crash their cars or roll through stop signs or any number of risky behaviors. Ultimately, most people take these medications because they have a real need that's being met by the medication."
While imperfect, both Reiss and Gold stress that a better approach to telehealth would be to try to make improvements to telehealth, like cracking down on bad actors, instead of forcing more people to make in-person visits.
"Inherently, more people have access to mental health treatment and continuity of care because telehealth exists," Gold says. "We should be thinking, 'how do we get more people care? And how do we get them good care?' Not 'how do we make it harder for them to do those things. We need to think more globally about the needs of the people we treat and the people who might need help in the future. Telehealth is an important part of that."